Your cart is currently empty
Why Do Cast Bullets Smoke When Fired
Why Do Cast Bullets Smoke When Fired?
Hard cast bullets actually cause less wear on a gun's barrel than typical jacketed bullets because they have lube grooves (see image below) filled with lube (which cause the smoke). As the bullet passes down the barrel, minute traces of lube are left inside the barrel, so when the hot gasses (burning powder) that are pushing on the base of the bullet, come into contact with the traces of lube, those gasses burn the lube and you get smoke. This lube makes it so the same amount of propellant (gun powder) moves the hard cast bullet more efficiently and faster than an equally weighted jacketed bullet moves. The lube allows for less friction and therefore, less barrel wear, but it does cause smoke.
Additionally, the lube grooves allow for less bullet surface to touch the riflings and this too reduces pressure and bore fouling when compared to bullets that do not have such grooves and have more bearing surface. You'll note that all the common mono-metal bullets such as those made by Barnes or Lehigh Defense, have grooves cut into them…………this is done to relieve pressure by reducing bearing surface. So, those grooves are considered pressure relief grooves, not lube grooves, but there is no reason those grooves could not carry lube as hard cast bullets do.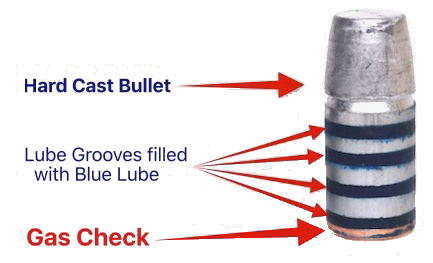 Click HERE to better understand the differences between 'Lead' and 'Hard Cast' Bullets.