Your cart is currently empty
.45 Super Pistol and Handgun Ammo
45 SUPER AMMO
45 Super Ammo - 230 gr.F.M.J.F.N. @ 1,100 fps/M.E. 618 ft-lbs
20 Round Box
ITEM 45S230 F.M.J.
45 Super is externally/dimensionally identical to 45 ACP or 45ACP +P and is designed to be used in 45ACP semi-auto pistols that have been fitted with stronger than normal recoil springs and a shock buffer, plus a couple of other modifications. While you can shoot 45 SUPER out of some stock 45ACP +P pistols such as the Glock 21, HK USP, or the full-sized all steel 1911, you will batter your pistol if you do not have them modified to handle the extra pressure and slide velocity of the 45 Super.

To learn about the modifications your 45 ACP pistol needs to reliably and safely fire 45 SUPER, contact Garey Hindman at 936-402-3484. Garey is the foremost authority on 45 Super modifications/conversions for your 45 ACP and Garey performs such conversions for a living.

The below velocities were fired from my Colt Gold Cup Govt. Model (5-inch) that was converted by Garey.
➤ 1,330 fps -- Item # 45S185 - (185gr. Jhp)
➤ 1,235 fps -- Item # 45S200 - (200gr. Jhp)
➤ 1,131 fps -- Item # 45S230 - (230gr. Jhp)
➤ 1,133 fps -- Item # 45S230FMJ - (230gr. FMJ-FLAT NOSE)
➤ 1,090 fps -- Item # 45S255 - (255gr. HARD CAST-FLAT NOSE)

As always with Buffalo Bore Ammunition, we use real-world firearms to give you real-world data and results.
All our 45 Super ammunition is loaded with flash suppressed powders so that if you have to fire in low light (when the criminal element is out) you will not be blinded by your own gunfire at the worst possible moment.

All three of the JHP loads were designed for anti-personnel use and for hunting small big game-like deer. The two solid bullet loads were designed for breaking large bones like a bear's shoulders or skull but will work for anti-personnel use as well if you need to shoot through cover like car doors or stick frame walls.
Item 45S230 FMJ - Exterior Ballistics Charts for several Muzzle Velocities
_______________________________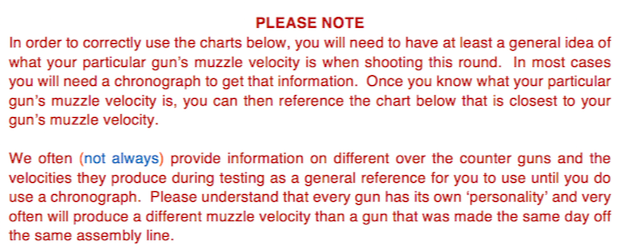 Muzzle Velocity @ 1300 fps for Item 45S230 FMJ
Muzzle Velocity @ 1200 fps for Item 45S230 FMJ
Muzzle Velocity @ 1100 fps for Item 45S230 FMJ
Field Proven pistol and handgun ammo. Maximum firepower ammo. Best ammunition for pistols and handguns for sale. Buffalo Bore. Strictly big bore. Strictly Business.
Attention!
You must be 18 or older to order ammunition. Ammunition must ship UPS ground. Due to Department of Transportation regulations, we cannot accept returns on Ammunition. Make sure to use the correct ammunition in your gun. Check local laws before ordering.
Great ammunition, never a misfeed and very clean--shoot it in my 45 Super Springfield Long Slide (6" barrel). Glad this isn't in a short ACP, for this ammo 'Speaks with authority.'