Your cart is currently empty
500 SMITH & WESSON
500 gr. Hard Cast LBT-WFN-GC @ 1,425 fps-Revolver or 1,600 fps-Rifle
20 Round Box
ITEM 18E
In recent months (this is 12-30-22) I have been working on making a truly heavy 500 S&W load for the likes of Cape Buffalo hunting or for shooting any large animal where deep penetration is required to make a clean kill. With the advent of the Big Horn Armory Model 89 and its increase in velocity over any revolver, the 500 S&W cartridge can be put to great use as a dangerous game cartridge. Hence this new 500 gr., hard cast, flat-nosed, gas-checked load.
I had hoped for a velocity of 1600 fps from my 18-inch carbines, and I was able to achieve that almost exactly, with safe pressures that are within SAAMI specifications. You'll note my real-world velocities in real-world guns below.
> 1,597 fps Big Horn model 89, 18-inch barrel
> 1,437 fps S&W X frame, 8-inch barrel
> 1,307 fps S&W X frame, 3.5-inch barrel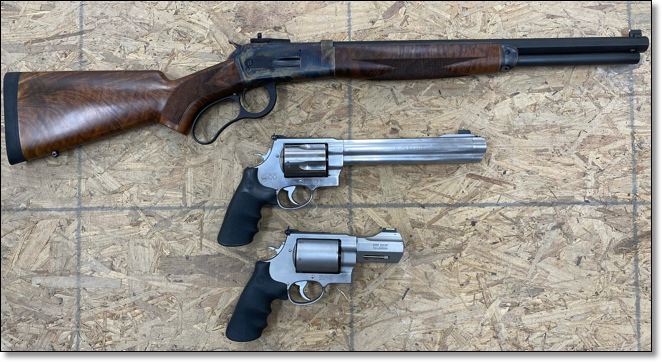 All three test guns gave excellent accuracy with this load, and while flash retardant propellant is used, in revolvers, this load flashes as does any full-power 500 S&W load. This bullet is hard and will not deform unless you punch a big shoulder bone at close range at rifle velocities. This bullet is gas-checked, hard cast, and properly lubed and, as such, will not lead foul any normal barrel. I would not hesitate to hunt any African DG with this load, except elephant.
For hunting NA game, our existing hard cast and monolithic solids will suffice just fine; however, I could see using this load on huge (over 1,000 lbs.) bear or AK/Yukon adult moose if a person chose to.
Good shooting, and God bless.
Tim
Field Proven pistol and handgun ammo. Maximum firepower ammo. Best ammunition for pistols and handguns for sale. Buffalo Bore. Strictly big bore. Strictly Business.
Attention!
You must be 18 or older to order ammunition. Ammunition must ship UPS ground. Due to Department of Transportation regulations, we cannot accept returns on Ammunition. Make sure to use the correct ammunition in your gun. Check local laws before ordering.
I got 100 rounds of this ammo as a birthday present and out of a 5 inch Custom BFR in Northern CA at 11AM it gets 1463 constantly! Absolutely brutal recoil but manageable with the excellent MRI Bisley grip. I've been using BBA for 13 years and as a former Green Beret it's all I use for any serious application.