Your cart is currently empty
Heavy .44 Special Pistol and Handgun Ammo
Heavy .44 Special Ammo
190 gr. Soft Cast HP (1,150fps)
20 Round Box
Item 14C
PRESS RELEASE FOR BUFFALO BORE 190gr. SOFT CAST HP HEAVY 44 SPL


Our purpose in developing this HEAVY 44 SPL load was to duplicate our renowned 38 SPL +P 158 gr. soft cast HP @ 1000 fps out of a 2-inch revolver, (Item 20A) but with a 190gr. 44 caliber bullet. This load was designed SPECIFICALLY for defensive use against humans. You can see our below velocities fired from my real world stock revolvers.
We use only real-world firearms in developing our published velocities and feel it is dishonest to use extra long laboratory test barrels that give false high velocities that over-the-counter carry guns cannot duplicate. You need to know what your ammo is doing in the real world, not a lab.
➤ 1156 fps - Ruger Super Blackhawk, 5.5-inch barrel
➤ 1098 fps - S&W MT Gun, 4-Inch barrel
➤ 1046 fps - S&W mod. 696, 3-inch barrel
➤ 1057 fps - S&W mod. 396, 3-inch barrel
➤ 1005 fps - S&W mod. 296, 2-inch barrel
We developed this bullet to be soft (6 BHN) enough to mushroom at impact speeds around 750 fps, yet we wanted it hard enough (pure lead is 4 BHN) that it would not lead a normal revolver barrel. This bullet accomplishes both requirements. Depending on impact velocities, expect about 18 inches of penetration in living mammalian tissues, which should give ample penetration at bad angles to disable even very large men.
This bullet was also designed with a special crimp groove and the case mouth is heavily crimped and this bullet will NOT jump crimp in the lightweight alloy revolvers, provided you rotate the unfired rounds and thus do not expose unfired rounds to the recoil of more than about 10 firings.
We are using a flash suppressed powder so you won't become blinded by your own gunfire in the likely event you drop the hammer in a low-light defensive situation.
This ammunition is for use in ALL 44 SPL and 44 MAG. firearms except for the Charter Arms Bull Dog. No, this ammo won't blow up your Bull Dog, but if you shoot more than a few hundred rounds of this ammo in a Bull Dog, the gun will get looser than it already was, will go out of "time" and stop working.
Item 14C - Exterior Ballistics Charts for several Muzzle Velocities
_______________________________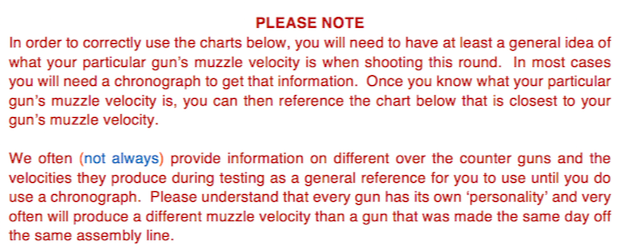 Muzzle Velocity @ 1400 fps for Item 14C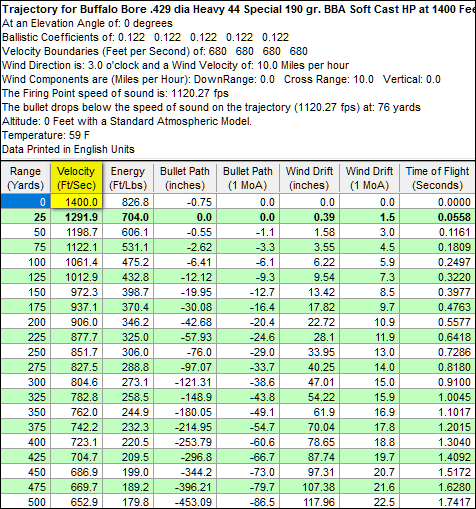 Muzzle Velocity @ 1300 fps for Item 14C
Muzzle Velocity @ 1200 fps for Item 14C
Muzzle Velocity @ 1100 fps for Item 14C
Muzzle Velocity @ 1000 fps for Item 14C
Muzzle Velocity @ 900 fps for Item 14C
Muzzle Velocity @ 800 fps for Item 14C
Muzzle Velocity @ 700 fps for Item 14C
Field Proven pistol and handgun ammo. Maximum firepower ammo. Best ammunition for pistols and handguns for sale. Buffalo Bore. Strictly big bore. Strictly Business.
Attention!
You must be 18 or older to order ammunition. Ammunition must ship UPS ground. Due to Department of Transportation regulations, we cannot accept returns on Ammunition. Make sure to use the correct ammunition in your gun. Check local laws before ordering.
Currently there are no reviews for this product. Share your opinion with others, be the first to write a review.