Your cart is currently empty
454 Casull Pistol and Handgun Ammo
454 Casull Ammo
360 gr. L.B.T. - L.W.N. @ 1,425 fps/M.E. 1,623 ft lbs
20 Round Box
ITEM 7C
Big Game up to 2,000 lbs.
The .454 Casull is one cartridge that Buffalo Bore Ammunition does not load to its full pressure limit. When loaded to its full pressure potential the .454 Casull can become unreliable and unpleasant to shoot. At upper-pressure levels, heavy bullets tend to jump crimp - tying up the cylinder. (wouldn't this be great in an emergency) Also, fired brass can stick in the chambers.
Buffalo Bore Ammunition feels that a 360 gr. bullet at 1,425 fps (or 325 gr. bullet at 1,525 fps) is still very powerful, comfortable to shoot, and TOTALLY RELIABLE. At these levels, these bullets give up nothing in killing performance.
Item 7C - Exterior Ballistics Charts for several Muzzle Velocities
_______________________________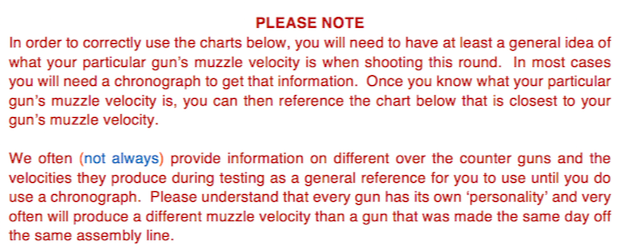 Muzzle Velocity @ 1800 fps for Item 7C
Muzzle Velocity @ 1700 fps for Item 7C
Muzzle Velocity @ 1600 fps for Item 7C
Muzzle Velocity @ 1500 fps for Item 7C
Muzzle Velocity @ 1400 fps for Item 7C
Muzzle Velocity @ 1300 fps for Item 7C
Muzzle Velocity @ 1200 fps for Item 7C
Muzzle Velocity @ 1100 fps for Item 7C
Field Proven pistol and handgun ammo. Maximum firepower ammo. Best ammunition for pistols and handguns for sale. Buffalo Bore. Strictly big bore. Strictly Business.
Attention!
You must be 18 or older to order ammunition. Ammunition must ship UPS ground. Due to Department of Transportation regulations, we cannot accept returns on Ammunition. Make sure to use the correct ammunition in your gun. Check local laws before ordering.
I used your 360gr ammo to harvest a black bear. 1 shot at 22 yards. If you have the skill and the will, this is your ammo!
Buffalo Bore continues to impress me with their heavy cast ammo. This is my first time using their 360gr 454 ammo, but definitely not my last. Good balance of power without the punishing recoil/blast often found in full pressure loads. For critter defense in the mountains of Colorado, I think I found my ammo
I used this ammo on a water buffalo and a large (450 pound) wild boar. The performance and stopping power were amazing! In my opinion this is the best 454 in the market for large game.
Cabelas carries the B.Bore product line and after noticing they had some in .454 I purchased a box. Now after 6 years and and 8 deer later I never bothered seeking another brand. Now if only my elk chances would win the Michigan elk lottery my 360gr. load might drop something bigger. (Ruger S.R.H. Burris 2x posi lock scope)