Your cart is currently empty
455 WEBLEY
200 gr. Hard Cast FN @ 900 fps/ME 360 ft-lbs
20 Round Box
BUFFALO BORES 455 WEBLEY AMMUNITION-AKA 455 ELEY or 455 COLT
Friends, for many years we've been asked by our customers to produce some powerful and effective 455 Webley loads. At this date (04-30-21) we are in the midst of the largest and longest ammo shortage since WW2 and we would not be bringing out a new item under these conditions, but I bought these 455 test guns and some 455 Webley components before this shortage started, so I can get this done during a massive shortage of components.
Our first load is as follows—a 200 gr. flat nose, hard cast, plain base bullet at 900 FPS from service length (around six inches) revolver barrels. This is a serious self-defense load for the old Webley chambered revolvers and is SAFE TO SHOOT in any (this includes the old Webley's) revolver thus chambered assuming the revolver is in ordinary shooting condition…..Many of these old Webley revolvers should not be fired with any make of ammo. Hopefully, I won't get a gillion emails asking if your old Webley is OK for use with this ammo. If you have questions about the suitability of your old Webley, for shooting any ammo, I am a guy on the internet and cannot see or touch your gun, so please do not ask me. You'll need to go to a qualified gunsmith to inspect your revolver. This load operates at or under the SAAMI max average pressure standard of 13,200 PSI, and all of our 455 WEBLEY loads feature bullet diameters of 0.454 to 0.455 inches.
You'll note the velocities from real word revolvers, not laboratory long test barrels. This load will turn your old Webley revolver into a very capable self-defense tool against humans.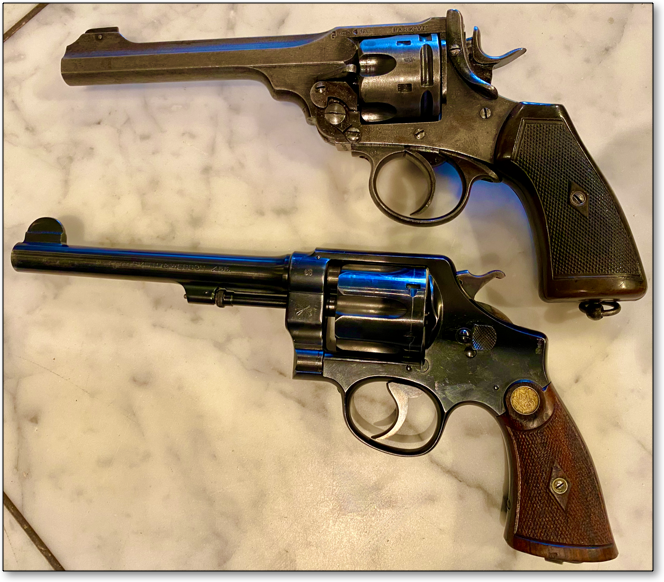 ➤ 899 fps -- Webley MK V1, 6-inch barrel
➤ 918 fps -- S&W Hand Ejector, 6.5-inch barrel
Additionally, we've engineered a flash suppressed propellant into this load. Most human predators operate in low light, so a low muzzle flash is very important to the shooter so he does not go blind from his own muzzle flash, in the midst of a life-altering emergency. If sales of this load are encouraging, we will likely bring out a 265 gr. load at around 750 FPS at a future time when demand for ammo, in general, has subsided and we can find time to do the development of other 455 Webley loads.
Good shooting and God bless
Tim Sundles
Field Proven pistol and handgun ammo. Maximum firepower ammo. Best ammunition for pistols and handguns for sale. Buffalo Bore. Strictly big bore. Strictly Business.
Attention!
You must be 18 or older to order ammunition. Ammunition must ship UPS ground. Due to Department of Transportation regulations, we cannot accept returns on Ammunition. Make sure to use the correct ammunition in your gun. Check local laws before ordering.
Currently there are no reviews for this product. Share your opinion with others, be the first to write a review.