Your cart is currently empty
DANGEROUS GAME 416 RUGER
SKU:
416 Ruger DG 350 SOLID/20
"DANGEROUS GAME" 416 RUGER
350 gr. SOLID Mono-Metal @ 2,650 fps / 5,457 ft-lbs
20-Round Box


BUFFALO BORE DANGEROUS GAME 416 RUGER

ITEM 416 RUGER DG 350 SOLID
Buffalo Bore's rifle cartridges that are intended for use on dangerous game, are full-powered, but we do NOT try to milk every extra FPS out of them as we would prefer to have low pressures that leave room for bad circumstances such as a barrel with rainwater, dust, or other debris in it. There is no good reason to have pressures so high as to cause function issues with your rifle under dangerous or adverse/sloppy conditions. This is serious ammunition for when the "chips are down" circumstances. This load is SAAMI compliant.
This is our 350 gr. Solid, FN, Lehigh Defense bullet, for use on those bad angle shots of a charging or running away wounded Buffalo or an elephant brain shot. If you want super deep straight-line penetration from your 416 Ruger, this is the load. It will penetrate several feet through mammalian muscle and bone.
This "SOLID" bullet shoots very close to the same point of impact as our 350 gr. TSX load at 150 yards from my test rifle.
We chose a 350-gr. solid, versus the more typical 400 gr. solid as testing indicates the 350-gr. bullet, with its higher velocity (and lower recoil), penetrates as deeply as any 400-gr. solid we could find, but with a flatter trajectory, higher velocity, and less free recoil.
You'll note I've purchased a Ruger Guide Gun as a test platform for developing this load. This is because I really like this style of a rifle (20-inch barrel, all stainless, three-position safety that locks the bolt, adjustable length of pull, iron sights and moisture impervious, strong stock) and 30 years ago, had to pay thousands of dollars to get a rifle designed and custom made like the Ruger Guide Gun series, which retails for only around $1,000.00. These rifles only have 20-inch barrels, so you can expect that longer barrels will give higher velocities as Ruger barrels are generally not fast for length but give average/normal velocities per length. A 24-inch barrel with the right types of internal dimensions could easily give another 100-150 fps. This is a great place to ask you to read an article on "VELOCITY VERSUS BARREL LENGTH".
The American gun industry has been duplicitous in claiming bullet velocities. It's typical for ammo companies to use very long machine mounted test barrels to get very high velocities, but in the real world, with real firearms, you simply will not achieve those results. 23 years ago, Buffalo Bore started to publicly expose this practice and today we are starting to see a few ammo companies get honest with velocities by using real-world guns to generate published velocities. About 35 years ago, (long before I was Buffalo Bore Ammunition) I bought my first chronograph as I had a deep interest in ballistics. (this is being written in 03-2020) I was immediately stunned by how low ACTUAL velocities were, versus published velocities, when it comes to the big ammo companies' products. When I started Buffalo Bore Ammunition, I chose not to be dishonest regarding published velocities.

➤ 2,651 fps — 416 Ruger Guide Gun — 20-inch bbl
You may note that this 350-gr. SOLID bullet shoots about 100 fps faster than our same load with the 350 gr. TSX bullet. This illustrates how different bullet materials and designs match up with certain barrel internals and can affect internal ballistics and thus external ballistics.
ITEM 416 RUGER DG 350 SOLID - Exterior Ballistics Charts for several Muzzle Velocities
_______________________________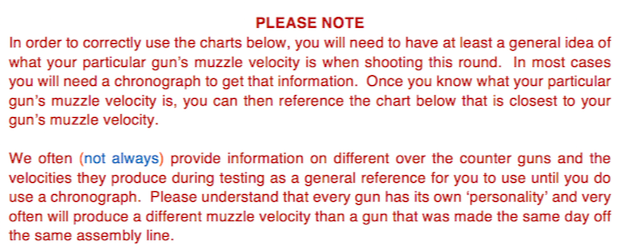 Muzzle Velocity @ 3000 fps for ITEM 416 RUGER DG 350 SOLID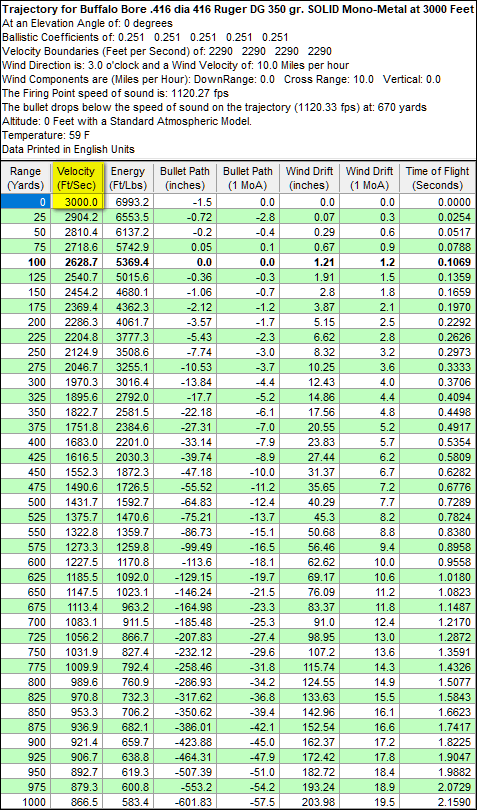 Muzzle Velocity @ 2900 fps for ITEM 416 RUGER DG 350 SOLID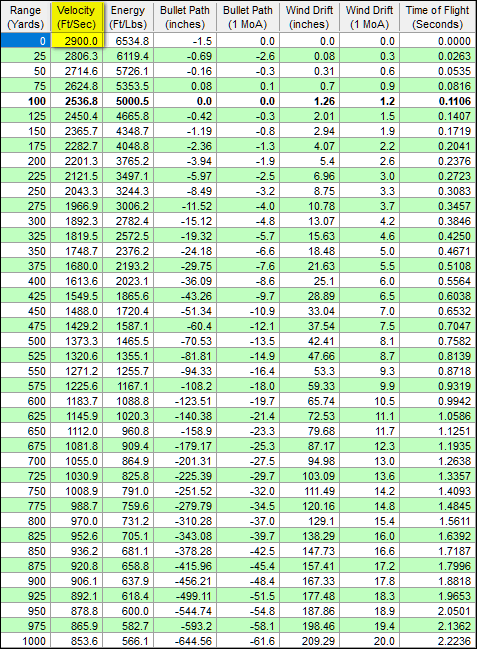 Muzzle Velocity @ 2800 fps for ITEM 416 RUGER DG 350 SOLID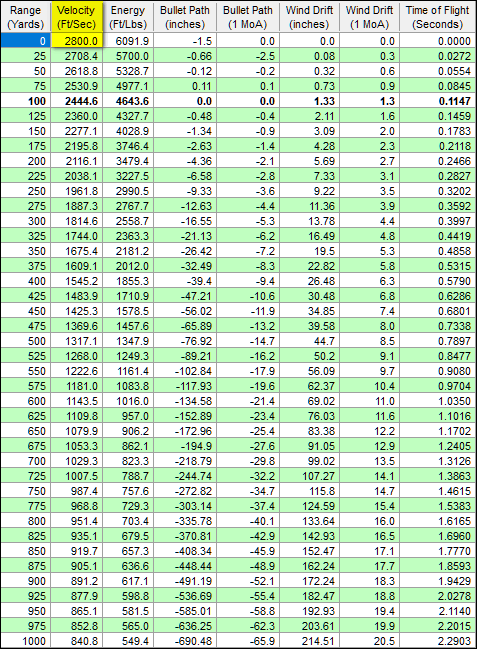 Muzzle Velocity @ 2700 fps for ITEM 416 RUGER DG 350 SOLID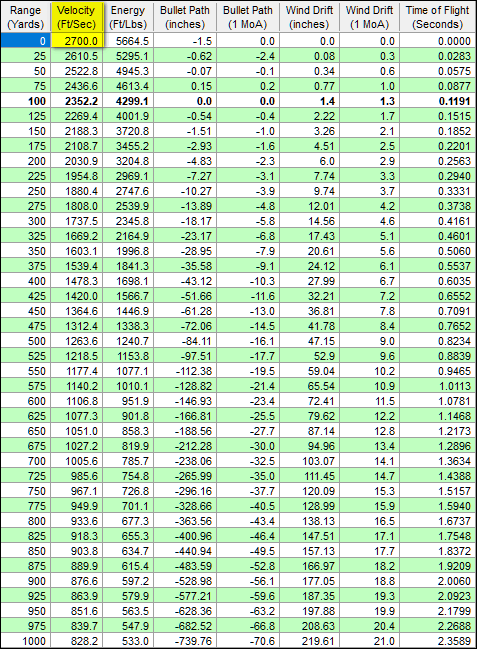 Muzzle Velocity @ 2600 fps for ITEM 416 RUGER DG 350 SOLID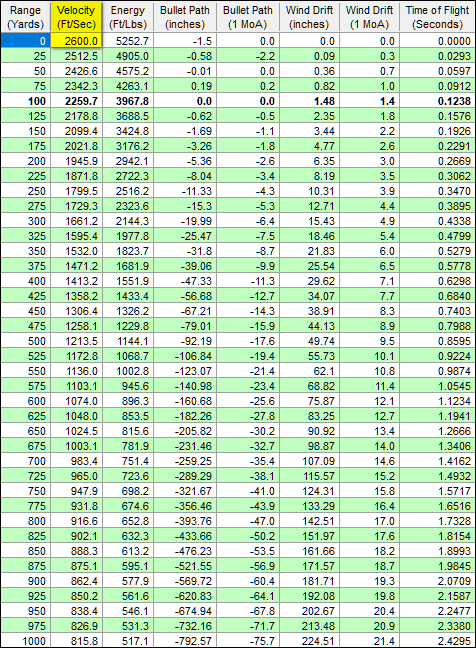 Muzzle Velocity @ 2500 fps for ITEM 416 RUGER DG 350 SOLID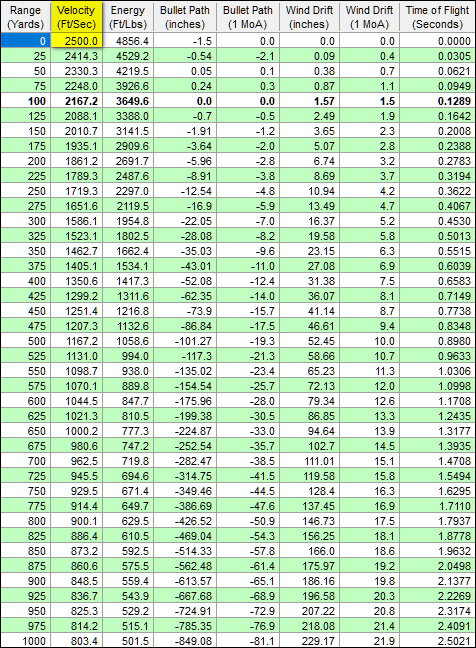 Muzzle Velocity @ 2400 fps for ITEM 416 RUGER DG 350 SOLID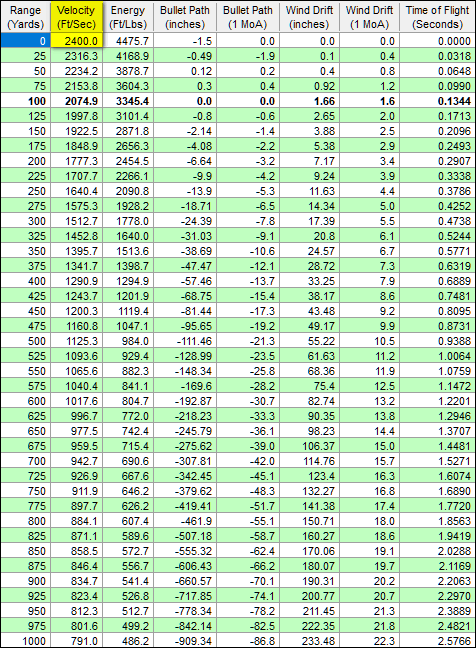 Muzzle Velocity @ 2300 fps for ITEM 416 RUGER DG 350 SOLID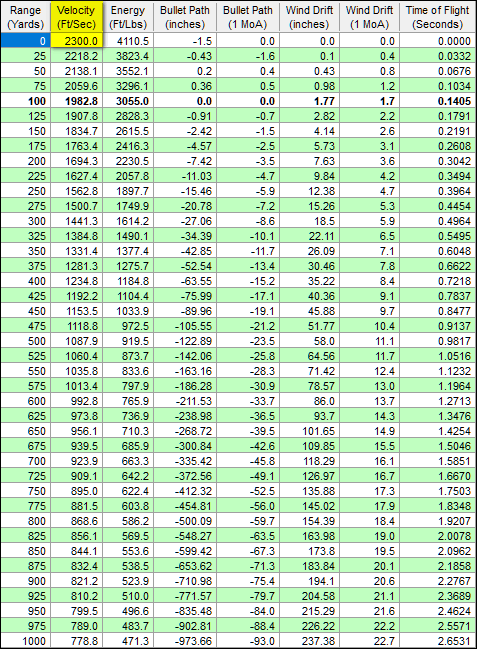 Field Proven rifle and gun ammo. Maximum firepower ammo. Best ammunition for rifles and guns for sale. Buffalo Bore. Strictly big bore. Strictly Business.
Attention!
You must be 18 or older to order ammunition. Ammunition must ship UPS ground. Due to Department of Transportation regulations, we cannot accept returns on Ammunition. Make sure to use the correct ammunition in your gun. Check local laws before ordering.
Currently there are no reviews for this product. Share your opinion with others, be the first to write a review.