Your cart is currently empty
DANGEROUS GAME 10MM AUTO - Mono-Metal
"DANGEROUS GAME" 10MM AUTO - Mono-METAL
190 gr. Mono-Metal FN @ 1,200fps / ME 607 ft-lbs
20 Round Box
ITEM 21DG 190
Friends, as of today's date, (07-13-19) we are releasing our new 10MM Auto Dangerous Game load. It features the new Lehigh Defense 190 gr., flat nose, Mono-Metal bullet. This bullet was designed by me, with the help of Lehigh Defense. There are a number of dynamics I do not like (they are not simple) in developing the 10MM DG cartridge, with its very limited case capacity, versus seating a very long-for-weight, Mono-Metal bullet into that small casing, while keeping pressures down, but velocities up. In spite of the difficulties with these internal ballistics' dynamics, we were able to design a very capable 10MM load that utilizes a bullet designed to never expand or deform on mammals and thus penetrate deeply in a straight line as it encounters big bones, muscle, and liquids, etc. The testing and design work took months as I wanted this load to be nothing but right, right, right!
We were able to engineer the use of a flash suppressed powder into this load. This is important as most wild critters come out as darkness approaches and if your own muzzle flash blinds you with the first shot, you've just created a huge problem for yourself and the others you may be protecting.
This new DG load will do anything our famed Item 21C will do, but with less smoke and with much cleaner burning, due to the hard cast bullet/lube used in Item 21C. Our Item 21C and Item 21A have killed countless attacking/menacing grizzly and moose in AK. This new DG load will work the same way.
I hesitated to bring out a "Dangerous Game" load in 10MM as I do not see the 10MM cartridge as a truly dangerous game cartridge, but I do know it is a compromise cartridge for that purpose, (that comes in lightweight, high capacity, and small-sized pistols) that has been used many times, successfully for that purpose. We had so many requests and even pre-orders that we decided to bring this load to the public. Lehigh Defense was patient and helpful in making many samples for my testing, at no charge. We now have a very impressive 10MM DG load.
Below, you'll find our test velocities, fired from real-world pistols, NOT LABORATORY TEST BARRELS!
➤1,258 fps -- Custom 1911 Long Slide -- 6-inch
➤1,213 fps -- Custom 1911 -- 5-inch
➤1,172 fps -- Glock model 40 -- 6-inch
➤1,106 fps -- Colt Delta Elite circa 1987 -- 5-inch
➤1,111 fps -- Glock model 20 -- 4.6-inch
After much load development testing with the 10MM cartridge over the last 35 years, I very much see why folks like it as an outdoors protection cartridge… polymer-framed pistols are lightweight, high capacity, accurate and affordable and if the ammo is designed properly, a very deep-penetrating bullet can be used that will break large bones and destroy the internal organs hidden behind those bones. Even though I know this cartridge has been used successfully to stop many large animal (grizzly and moose) attacks, I feel you are walking on thin ice using it as such, so please practice, practice, practice at moving targets and in low light, so you'll be prepared should that need ever arise. Please read this article:
Remember that it is the human threat you'll find around trailheads or public camping and fishing areas that are more dangerous than the human habituated bear. This load will kill humans too, but if you have to shoot a human miscreant in order to protect others, be cognizant that this bullet will go through several humans with one shot if you lined them up correctly, so be careful of the over-penetration issue, should you choose to shoot humans. While we are on this subject, this load would be good for penetrating soft barriers such as stick frame walls, wooden doors, windshields, sofas or many other items a bad guy may have taken cover behind.
This ammo was designed for humans to protect humans. Use with discretion and precision and go into the great wilds with confidence. Good shooting, and God bless.
Tim Sundles
Item 21DG 190 - Exterior Ballistics Charts for several Muzzle Velocities
_______________________________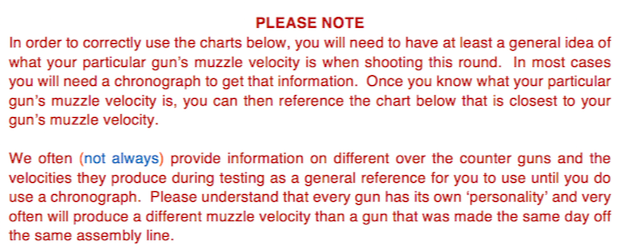 Muzzle Velocity @ 1500 fps for Item 21DG 190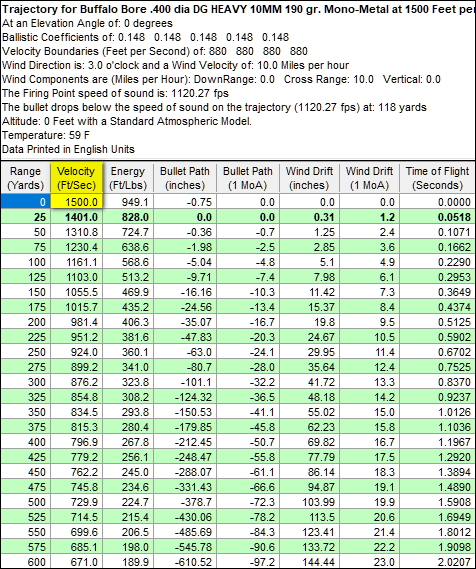 Muzzle Velocity @ 1400 fps for Item 21DG 190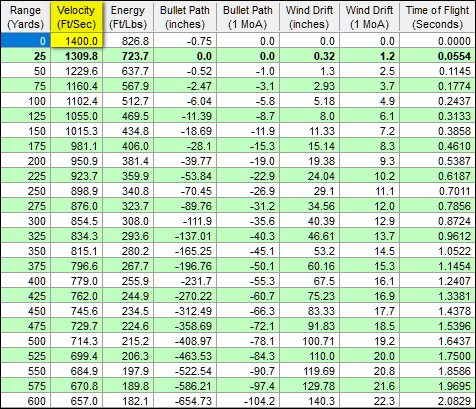 Muzzle Velocity @ 1300 fps for Item 21DG 190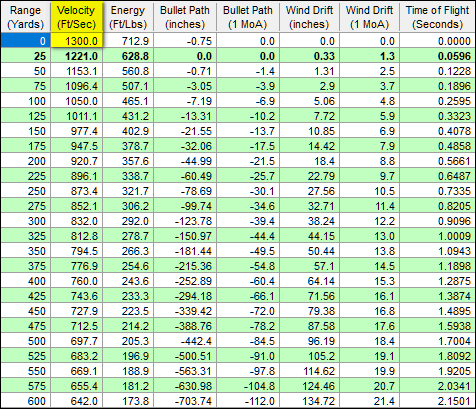 Muzzle Velocity @ 1200 fps for Item 21DG 190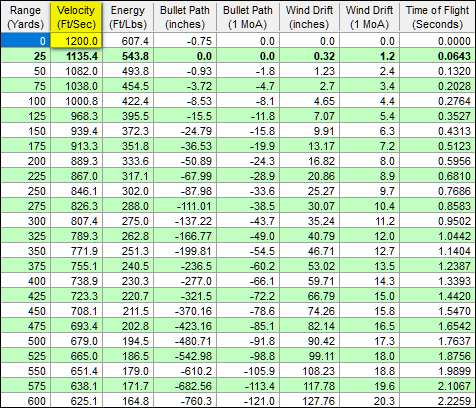 Muzzle Velocity @ 1100 fps for Item 21DG 190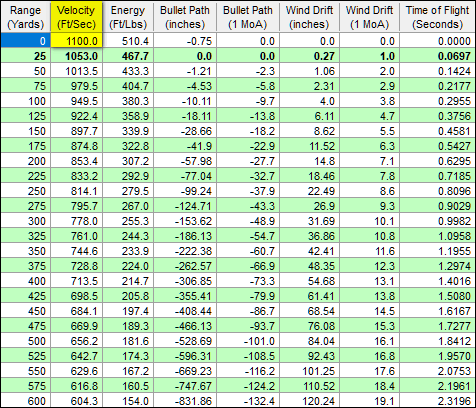 Muzzle Velocity @ 1000 fps for Item 21DG 190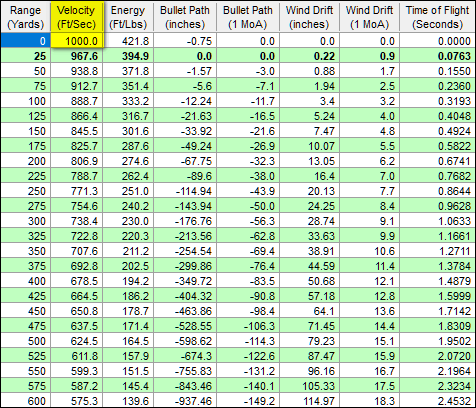 Muzzle Velocity @ 900 fps for Item 21DG 190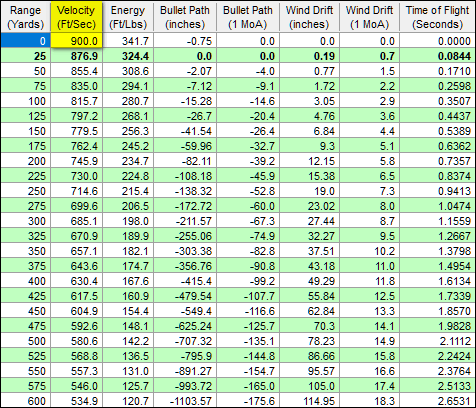 Field Proven pistol and handgun ammo. Maximum firepower ammo. Best ammunition for pistols and handguns for sale. Buffalo Bore. Strictly big bore. Strictly Business.
Attention!
You must be 18 or older to order ammunition. Ammunition must ship UPS ground. Due to Department of Transportation regulations, we cannot accept returns on Ammunition. Make sure to use the correct ammunition in your gun. Check local laws before ordering.
I%u2019ve used Buffalo Bore ammo in my 10Mm 45LC & 454 Casull For the price you pay vs the value of your life Their ammo is the best I%u2019ve ever used & im willing to pay a bit more for the stopping power & accuracy
I USED THIS AMMO IN MY GLOCK 20 AND I FEEL COMFORTABLE USING IT.
My brother and I both have Glock 40 MOS. We use 24lb NDZ springs- also tried to 22lb NDZ springs. Both springs performed rapid-fire with this ammo PERFECTY!! We both shot soooo slightly better with the 24lb spring. We also shot 220 Hard Cast rapidly with both springs and everything worked flawlessly.