Your cart is currently empty
DANGEROUS GAME 45-70 GVT MAGNUM - Mono-Metal
"DANGEROUS GAME" 45-70 MAGNUM - Mono-Metal
380 gr. Mono-Metal WFN @ 2,075 fps / 3,632 ft-lbs
20 Round Box
ITEM 8DG 380
At the time of this writing (02-19) I've long wanted to introduce a line of mono-metal, non-expanding, dangerous game loads for our large handgun and 45-70 offerings. These new "Dangerous Game" (DG) loads are super high quality, very powerful, and will live up to their namesake.
"MONO-METAL" BULLETS
Mono-metal bullets have a few advantages (a couple of disadvantages too) over typical non-expanding hard cast bullets. These advantages may or may not be meaningful to each individual, depending on your usage. The advantages are that they are cleaner burning/firing than hard cast bullets. Also, hard cast bullets can smear their nose profile when they hit large bones at close range/high velocity. When the flat nose smears and changes shape, it can impact straight-line penetration. The disadvantages are cost and case capacity issues……..Mono-metal bullets made of copper or brass alloys are lightweight for their length. As an example, the 380 gr. bullet used in our DG 45-70 load is as long as a 500+ gr. hard cast bullet, depending on its alloy. This means that (for example) the 45-70 casing, with its limited capacity, will have much less propellant capacity when this long bullet is seated into it, so with this limited powder/case capacity, we have to get creative in choosing a propellant that will give us the velocity we need, but not burn so fast as to raise pressures beyond 43,000 PSI. The case capacity issues become more complex with casings that are much smaller than 45-70, like say a 44 mag. casing. Lead-based bullets are heavy for their length and generally allow for much more case/propellant capacity. By choosing correct propellants, we can generally get great velocity from the long-for-weight mono-metal bullets. We've long ago learned that flat-nosed, lightweight, mono-metal bullets penetrate far deeper (in a straight line too) than the typical lead-based bullet of similar weight—FAR DEEPER!
This 380 gr. mono-metal, 45-70 load will make a huge hole due to the size of the nose meplat and will penetrate so deeply in living flesh and bone, as to amaze folks. As such, it is not the best deer bullet as you could kill four+ whitetails with one shot if you have them lined up correctly. On small animals like deer, you're better served with an expanding bullet that penetrates much less and due to the large caliber mushroomed nose makes a bigger, yet more shallow wound channel. Deer are thin-bodied.
Below are actual real-world velocities (not laboratory test barrels that give false high velocities) taken from some of my real-world 45-70's, which you can see in the photo.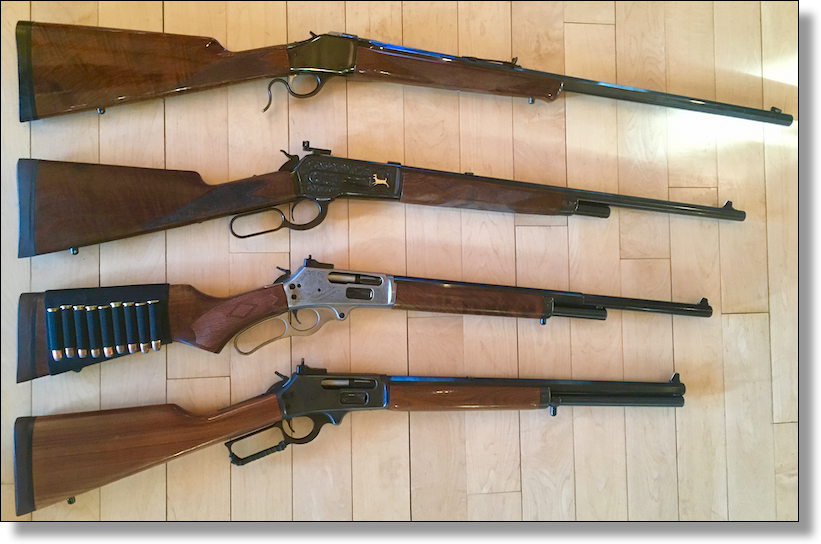 ➤ 2,135 fps -- Browning Miroku 1885, 28-inch
➤ 2,068 fps -- Winchester Miroku 1886, 22-inch
➤ 2,047 fps -- Marlin 1895, 20-inch
➤ 2,021 fps -- Marlin 1895, 18.5-inch

As fate would have it, the velocities were what I'd expect in correlation to the above barrel lengths, but this is a good place to ask you to read this article, as that is not always the case.
This ammo fed and cycled reliably in every lever-action rifle we shot it in. It also gave excellent to good accuracy in every test gun we tried, which was several different makes and models.
Large animals such as Bison, Cape Buffalo or even Elephant are the types of animals this load is designed for. You can shoot bull elk length-wise with this load and expect the bullet to exit. If I were fishing the salmon-choked rivers of AK, where 1,000+ lb. bears are common, I'd have a good 45-70 slung over my shoulder with either this load or our Item 8A, in it. This is a great elk/moose load as you can take a going away (Texas heart shot) shot and the bullet will likely exit the chest. I like loads that give me more room for various types of shots and conditions. (Fewer limitations) Having killed dozens of bull elk, I can testify that big older bulls rarely stand broadside in an open meadow and wait for you to shoot them—they are usually moving away and doing so in timber, so if your only shot is going away, you can take that shot with this load.
Be safe and have fun.
Tim
Item 8DG 380 - Exterior Ballistics Charts for several Muzzle Velocities
_______________________________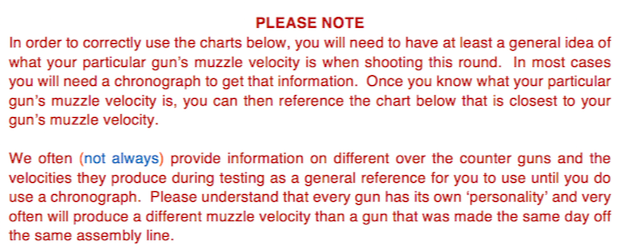 Muzzle Velocity @ 2500 fps for Item 8DG 380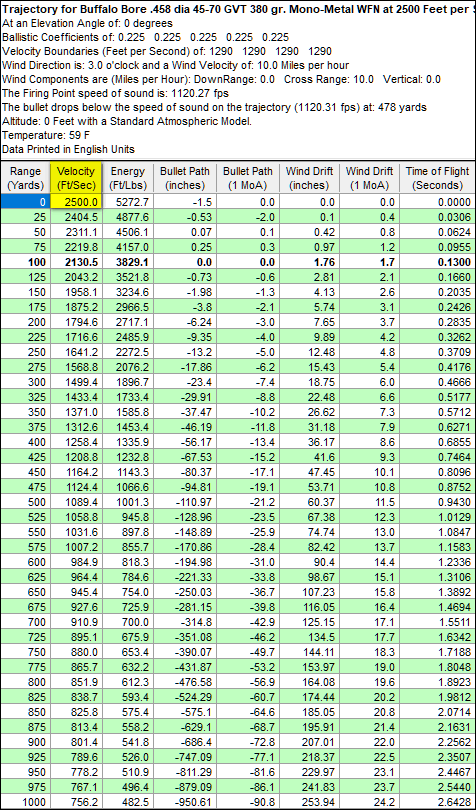 Muzzle Velocity @ 2400 fps for Item 8DG 380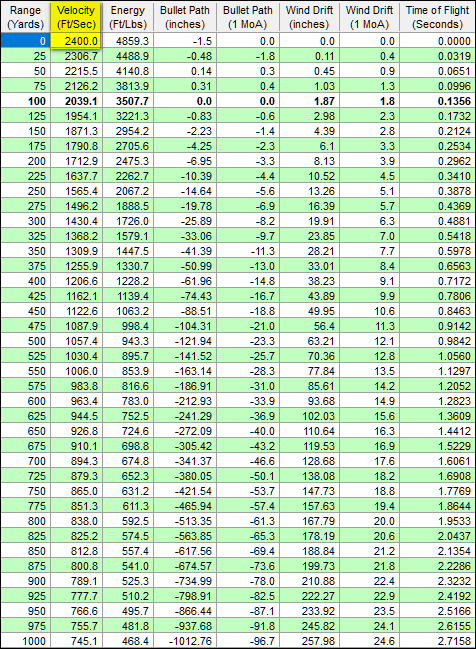 Muzzle Velocity @ 2300 fps for Item 8DG 380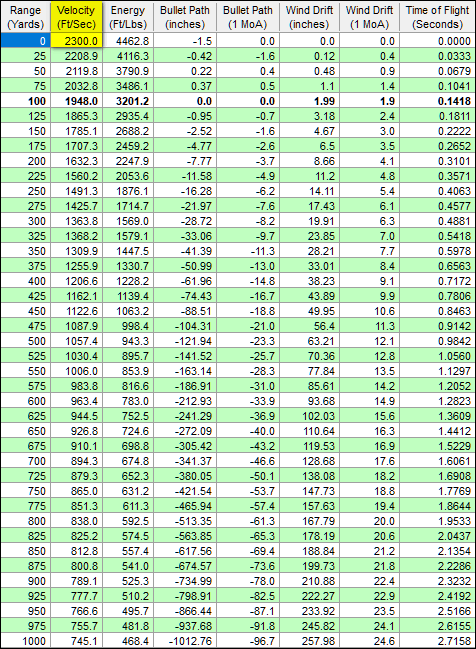 Muzzle Velocity @ 2200 fps for Item 8DG 380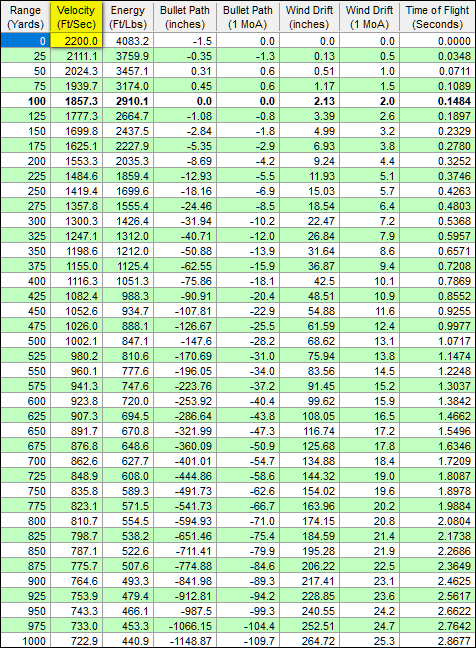 Muzzle Velocity @ 2100 fps for Item 8DG 380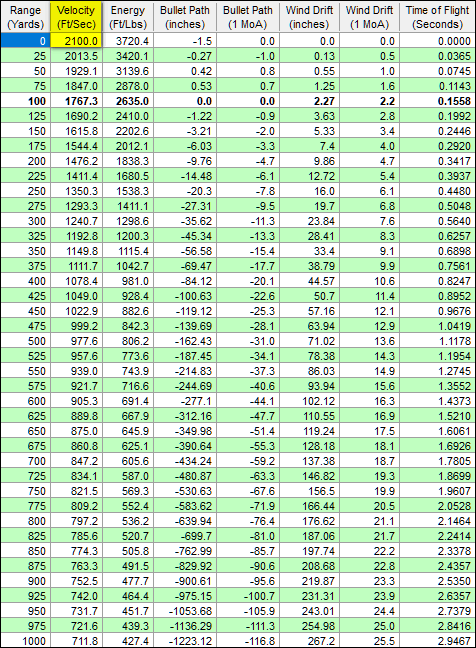 Muzzle Velocity @ 2000 fps for Item 8DG 380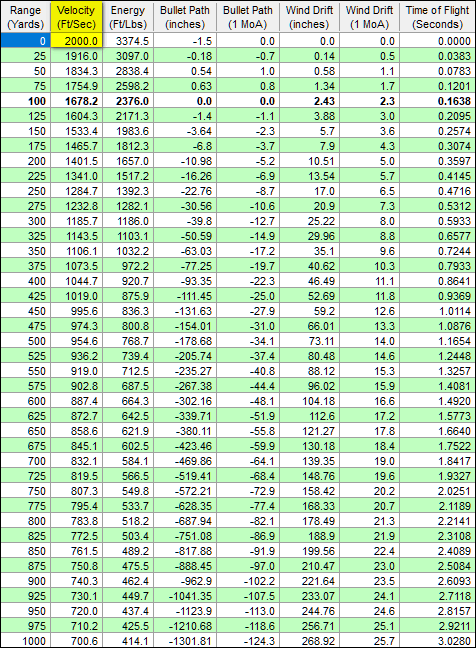 Muzzle Velocity @ 1900 fps for Item 8DG 380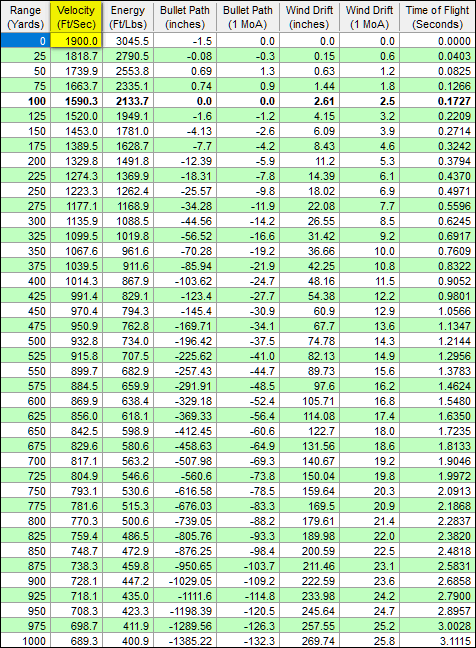 Muzzle Velocity @ 1800 fps for Item 8DG 380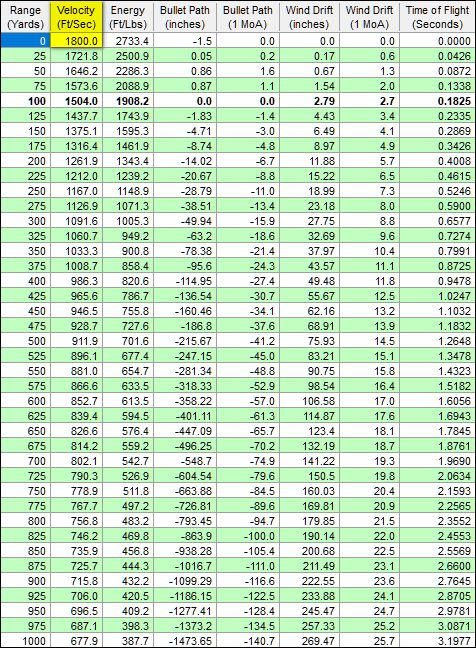 Muzzle Velocity @ 1700 fps for Item 8DG 380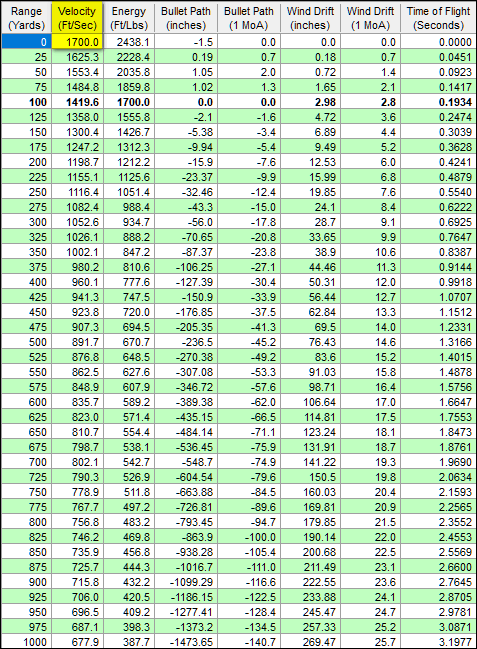 Muzzle Velocity @ 1600 fps for Item 8DG 380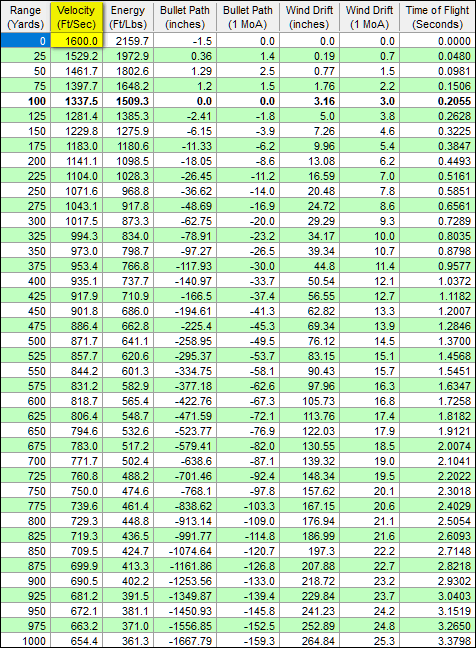 Muzzle Velocity @ 1500 fps for Item 8DG 380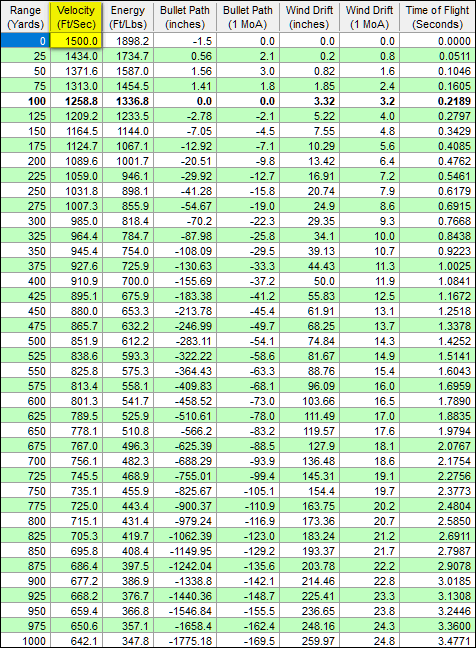 Field Proven rifle and gun ammo. Maximum firepower ammo. Best ammunition for rifles and guns for sale. Buffalo Bore. Strictly big bore. Strictly Business.
Attention!
You must be 18 or older to order ammunition. Ammunition must ship UPS ground. Due to Department of Transportation regulations, we cannot accept returns on Ammunition. Make sure to use the correct ammunition in your gun. Check local laws before ordering.
this ammunition is guaranteed to drop elk , bear , moose or ANYTHING else on the planet . without any problem whatsoever .