Your cart is currently empty
45-70 GVT MAGNUM - SINGLE SHOT & BOLT ACTION - LEAD-FREE
BUFFALO BORE's NEW 45-70 GVT MAGNUM LEAD-FREE
FOR SINGLE SHOTS & BOLT ACTIONS
350 gr. Barnes TSX spitzer @ 2,150 fps / 3,591 ft lbs
20 Round Box
ITEM 8P
For many years we've been asked to manufacture a Magnum 45-70 GVT. load, utilizing a spitzer design bullet for greater aerodynamic qualities for those using single shot and magazine box bolt action rifles, who choose to shoot long range.
Of course, we delayed doing so in an effort to avoid the liability of someone loading such a cartridge into a tube-fed firearm (such as most lever action designs) and experiencing a magazine tube detonation under recoil. The reason that flat nosed bullets are used in magazine tube fed rifles is to keep the nose of the bullet from detonating the primer in front of it, in the magazine tube, under recoil. If a pointy (Spitzer) nosed bullet hits the primer in front of it, in a magazine tube, under heavy recoil, it is possible for that pointy bullet to detonate the primer in front of it. So, with this ammo, we are putting warnings on the label of each box, which addresses the fact that this ammo is for use only in single shot or bolt action rifles that utilize a magazine BOX, not a magazine TUBE! We are restating that warning right here in this product press release. Many people in America are interested in and even enamored by firearms, with good reason……guns are fun, powerful and dangerous. With that realization comes responsibility……..the shooter must learn what he is doing and the risks of what he is doing. Gun Safety has been taught to the public for over 100 years, but most gun safety courses are taught at beginner levels and almost all states require no such training in order to simply buy a firearm and ammo and start shooting, whereas if a person turns of age and wants to start driving a motor vehicle, that person must first pass written and driving tests, hence we have a LARGE segment of the shooting public, that has little to no training. We know that in America if you are irresponsible and hurt yourself or another, you can simply sue as heaven forbid any person at fault should ever accept responsibility for their actions. Only in America, can a person buy a cup of coffee from McDonald's, then spill that coffee in their lap and get badly burned and then sue McDonald's (AND WIN) for selling hot coffee! This type of irresponsible action, coupled with the ability to sue due to no fault of the manufacturer, scares the hell out of ammo manufacturers, with good reason. So please remember that if you load ANY magazine tube with this ammo and then fire the firearm and blow your gun and your body to pieces, it is nobody's fault but yours.
It is entirely safe to load this ammo, one round at a time into any chamber of any safe lever action rifle and shoot it via single shot mode, with no ammo in the magazine tube.
With its high ballistic coefficient, this bullet will give enhanced long-range applications over the normal flat nosed bullet, that normal 45-70 ammo sports. Muzzle velocities from 22-inch barrels run around 2,160 fps and out of 26-inch barrels, around 2,260 fps, but this is a good place to ask you to read my article on VELOCITY VERSUS BARREL LENGTH. Please understand that the 45-70, being straight walled (not bottle-necked) and utilizing medium burning rate powders, is very efficient and you simply do not get huge velocity gains by using barrels longer than about 18 inches.
A LITTLE ABOUT THE ABILITIES OF THIS LOAD:
This Barnes all copper, 350gr. TSX spitzer bullet is of controlled expansion design. Being all copper it penetrates quite deeply, so depending on the actual impact velocity and the bones struck, expect at least two feed of straight-line penetration in muscle and bone and up to perhaps four feet. Barnes all copper TSX bullets out-penetrate (by a large percentage)the normal penetration you'd expect from a bullet of the same weight that is a lead-based "cup and core" design. This bullet would work well on animals as large as Bison or Cape Buffalo and anything smaller.
The Cartridge OAL (Over-All-Length) is 2.821 inch +/- .005. The variance/tolerance comes from the manufacturing process of extruding/forming the bullet nose. This will allow you to check your inside magazine box dimension for compatibility.
This new load is loaded to the same pressures as our other 45-70 Magnum loads, which is between 39,000 PSI and 43,000 PSI……this load being 39,000 PSI. For comparison purposes, the 450 Marlin is SAAMI specified to be loaded up to a max. average pressure of 43,500 PSI.
As such, the single shot and magazine box bolt action firearms this ammo should be fired in is as follows:
New England Arms Handi Rifle, T/C Encore, ALL falling block actions made of modern steel such as Ruger #1 and #3, Shiloh, Christian and Pedersoli Sharps, CVA Centerfire Rifles and Siamese Mauser bolt actions. It is up to the shooter to determine if any other firearm other than those listed here is safe at these pressures. It is also up to the shooter to determine if his/her firearm is in normal operating condition.
Good shooting; be safe and God bless,
Tim
Item 8P - Exterior Ballistics Charts for several Muzzle Velocities
_______________________________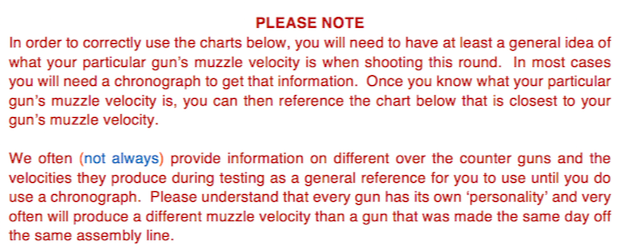 Muzzle Velocity @ 2500 fps for Item 8P
Muzzle Velocity @ 2400 fps for Item 8P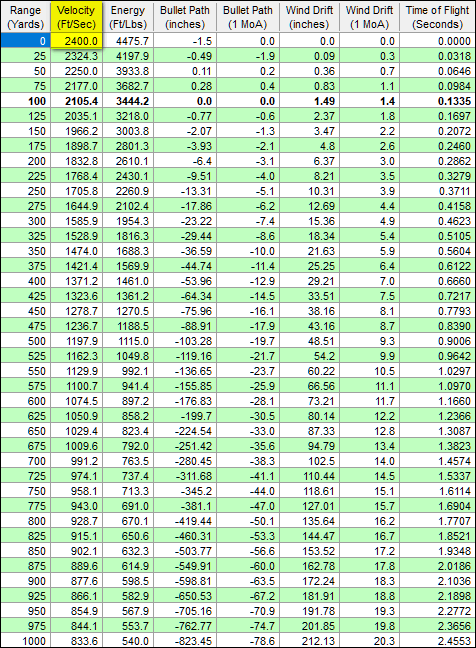 Muzzle Velocity @ 2300 fps for Item 8P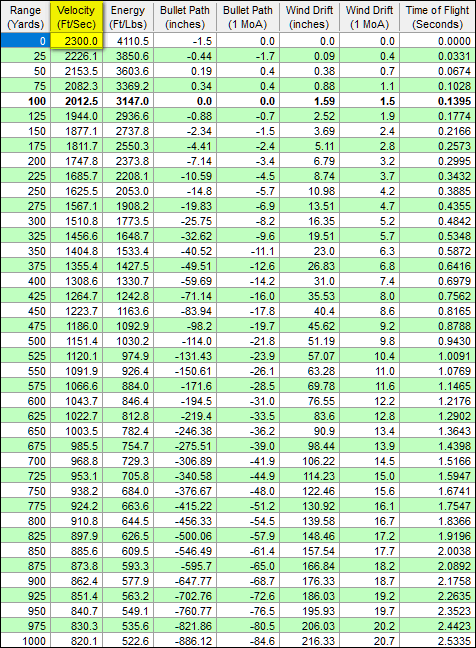 Muzzle Velocity @ 2200 fps for Item 8P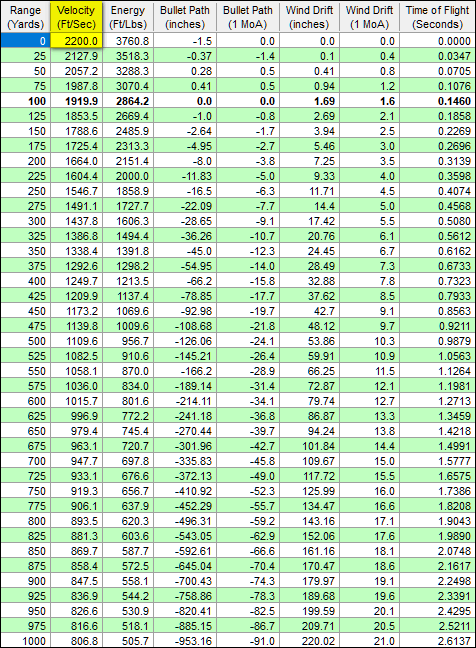 Muzzle Velocity @ 2100 fps for Item 8P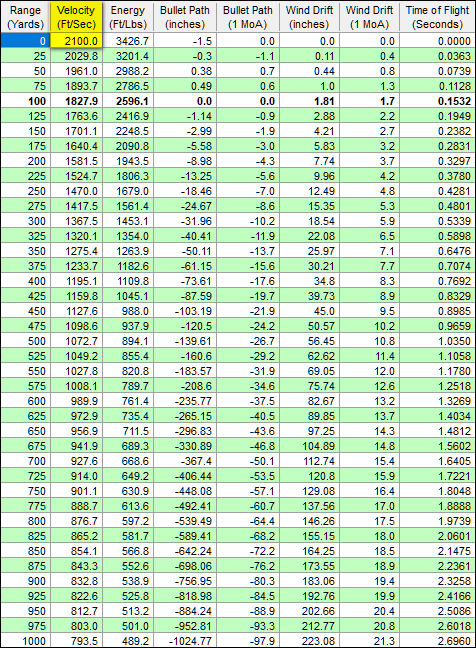 Muzzle Velocity @ 2000 fps for Item 8P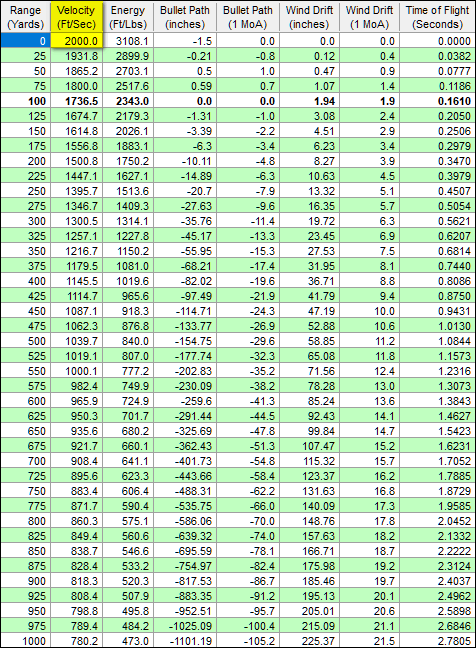 Muzzle Velocity @ 1900 fps for Item 8P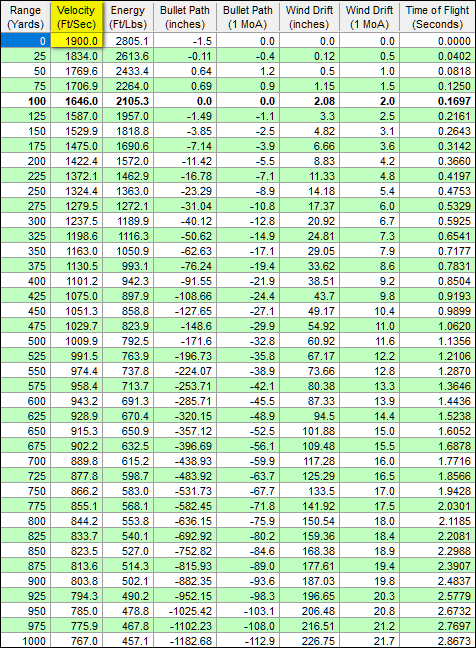 Muzzle Velocity @ 1800 fps for Item 8P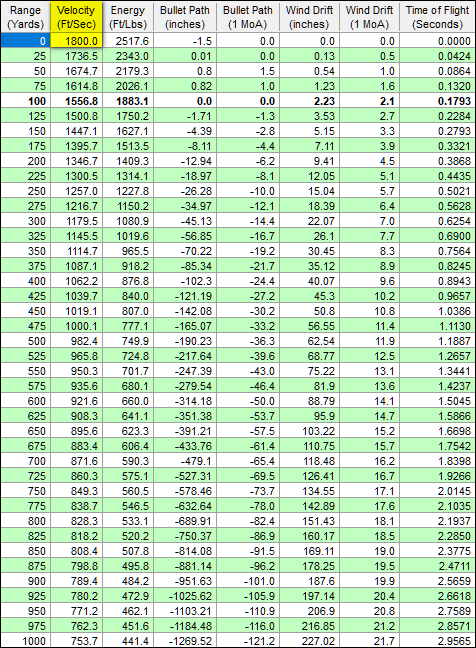 Muzzle Velocity @ 1700 fps for Item 8P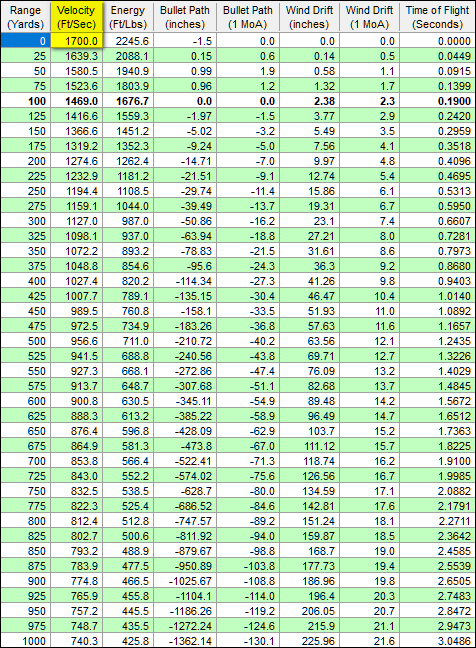 Muzzle Velocity @ 1600 fps for Item 8P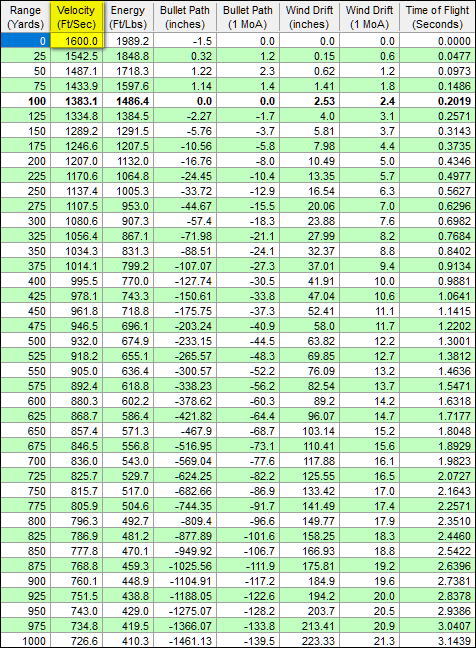 Muzzle Velocity @ 1500 fps for Item 8P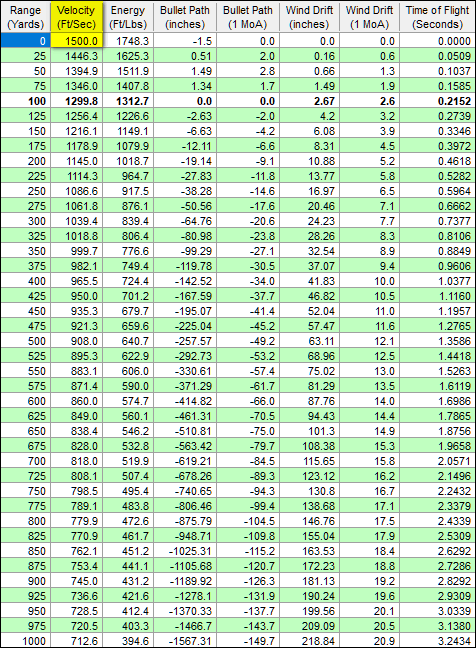 Muzzle Velocity @ 1400 fps for Item 8P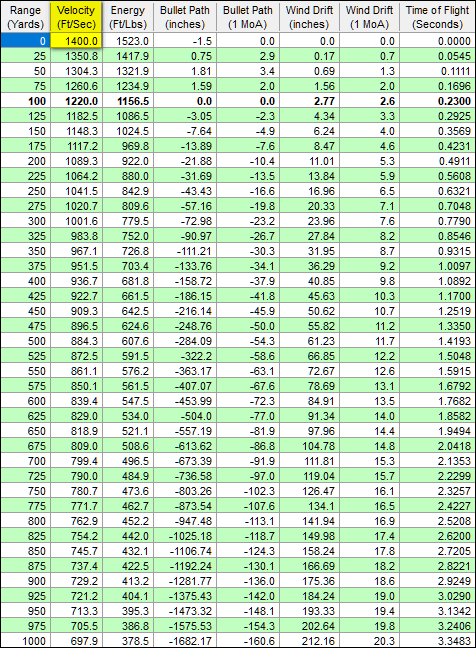 Muzzle Velocity @ 1300 fps for Item 8P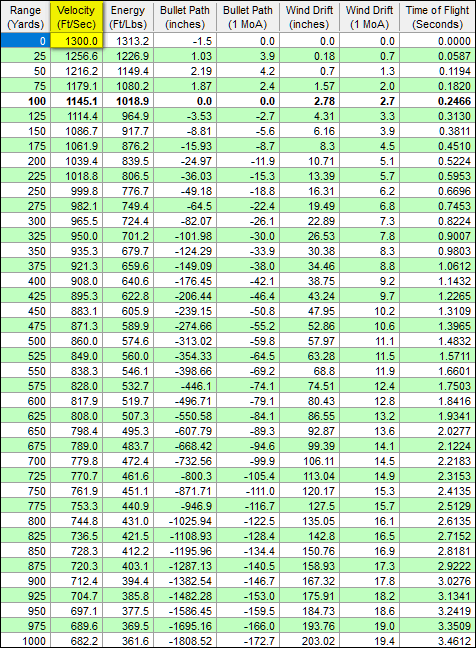 Field Proven rifle and gun ammo. Maximum firepower ammo. Best ammunition for rifles and guns for sale. Buffalo Bore. Strictly big bore. Strictly Business.
Attention!
You must be 18 or older to order ammunition. Ammunition must ship UPS ground. Due to Department of Transportation regulations, we cannot accept returns on Ammunition. Make sure to use the correct ammunition in your gun. Check local laws before ordering.
Currently there are no reviews for this product. Share your opinion with others, be the first to write a review.