Your cart is currently empty
HEAVY 357 MAG Pistol and Handgun Ammo
BUFFALO BORE HEAVY 357 MAG
180 gr. JHP (1,500fps/M.E. 899 ft. lbs.)
20 Round Box
ITEM 19L
Our 357 mag. ammo adds more power than ever before to the 357 Mag. This ammo is safe to shoot in ANY all steel 357 revolver - this includes J-frames. This ammo is no harder on your gun than any other normal 357 ammo. Please don't phone or email us and ask if this ammo is safe in your gun. It is, providing your gun is in a safe condition for use with any normal 357 ammo.
We don't recommend this ammo be fired in super light alloy revolvers as bullets may jump crimp under recoil, but the ammo itself won't hurt these super lightweight revolvers. These revolvers are simply so light that the recoil is severe enough to cause crimp jump.
The below velocities are offered so that you can see what guns/barrel lengths give what velocities with this new 357 mag. ammo. You'll note that the carbine velocity is around 500 fps faster than most revolvers bbl. Lengths. This is due as much to the lack of a barrel/cylinder gap in the rifle, as it is to the longer barrel of the rifle/carbine. These loads reach their maximum velocity in 16 inches of barrel, so if all things are equal, any barrel longer than about 20 inches, will cause bullet drag and will generate slower velocities as the barrel gets longer. This is a good place to ask you to read----VELOCITY VERSUS BARREL LENGTH
This load is the result of popular demand. Many folks who hunt deer and medium sized hogs/black bear want an expanding bullet that is heavier than our 158 gr. JHP load. We are utilizing the excellent Hornady XTP bullet and we very much like its accuracy and controlled expansion design. This bullet does expand, so do not expect several feet of straight line penetration like you'll get with our non-expanding hard cast 180 gr. load. (Item 19A) When impacting flesh and bone at normal 6-inch revolver speeds, (1500 fps) this bullet will expand readily to about 60 caliber and penetrate about 18-25 inches depending on which bones are struck and the exact impact speed.
Remember that this is a MAX. load, designed just for hunting big game up to 350 lbs., so I expect that a few mass produced guns of every make may exhibit sticky extraction, which is pretty easy to cure. My alternative is to water this load down like the bigger ammo companies do, so I'll never get a complaint, but I want this load to stay a MAX. hunting load for critters of 350 lbs. or less, so I prefer not to water the load down to account for tooling marks left by reamers in some chambers…….instead, I'll ask you to read----STICKY EXTRACTION OF FIRED CASINGS. Extraction was just fine in all my test guns, but these are known guns I've been shooting for some time and they have glass smooth chamber walls with no tool marks. ANYTIME you fire a MAX. pressure load, the smallest flaw in your gun will become apparent. The alternative is to shoot weaker ammo.
A myth that I intend to dispel right here, is that 357 Mag. loads need a 4-inch to 6-inch barrel to be any faster than 38 SPL+P loads of the same bullet weight. What a crock! This is a myth I've heard dozens or perhaps hundreds of times, but I've heard it so many times, I now block it out and get out of that conversation (walk/run away) before I get insulting to the guy repeating that rumor as I am fed up with folks that repeat stuff they have heard, as if it is truth, but they really have no idea. Any person with a chronograph, that goes to the trouble to test velocities, knows how untrue that myth is, yet folks just keep repeating it, because they heard someone tell that to them, so it must be true?!?!?! Our poor shooting industry operates on more myth than truth, so I aim to chip away at the BS and replace it with truth where I can. Look at the below velocities out of 2.5 and 3-inch barrels and tell me with a straight face that any 38 SPL+P loads could achieve such velocities with a 180 gr. bullet! These are real world velocities taken from real-world over-the-counter firearms. I also have some two-inch revolvers chambered in 357 mag., but they are scandium cylindered and I will not fire a load that generates this type of recoil from a 12 OZ revolver, as all sorts of problems can arise. I use only our "Tactical" 357 loads or 38 SPL loads in revolvers with scandium cylinders.
➤ 1,258 fps -- S&W model 66-4, 2.5-inch
➤ 1,351 fps -- S&W model 65-5, 3-inch
➤ 1,356 fps -- S&W Mt. Gun, 4-inch
➤ 1,501 fps -- Ruger GP 100, 6-inch
➤ 1,840 fps -- Marlin 1894, 18-inch
Item 19L - Exterior Ballistics Charts for several different Muzzle Velocities
_______________________________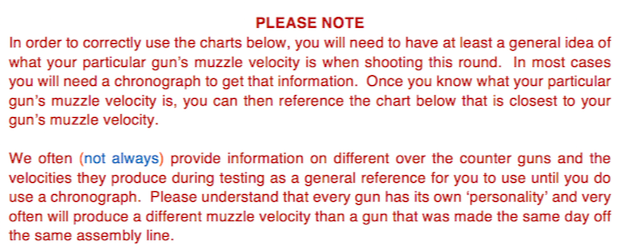 Muzzle Velocity @ 2000 fps for Item 19L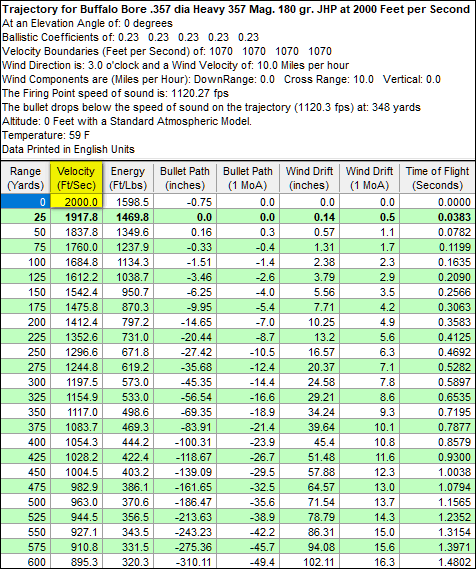 Muzzle Velocity @ 1900 fps for Item 19L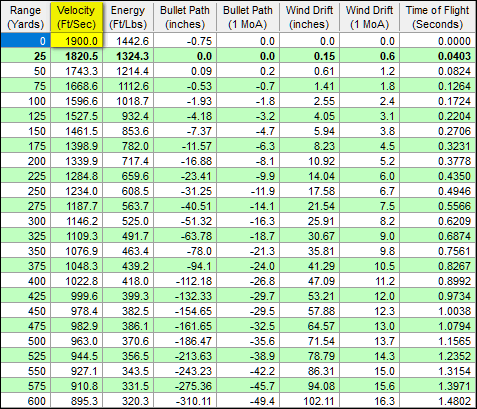 Muzzle Velocity @ 1800 fps for Item 19L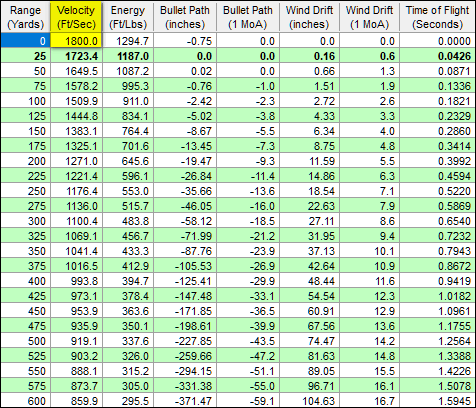 Muzzle Velocity @ 1700 fps for Item 19L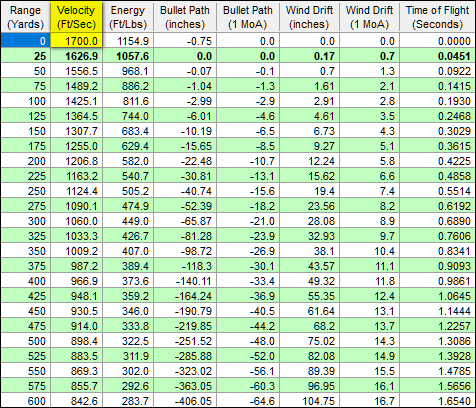 Muzzle Velocity @ 1600 fps for Item 19L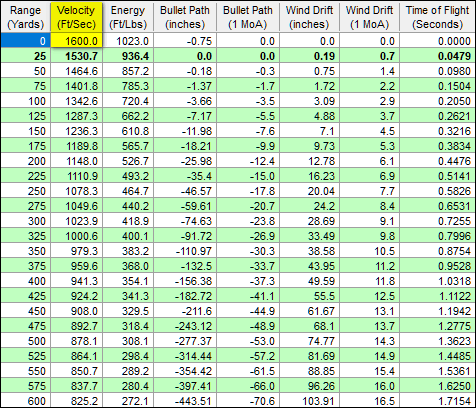 Muzzle Velocity @ 1500 fps for Item 19L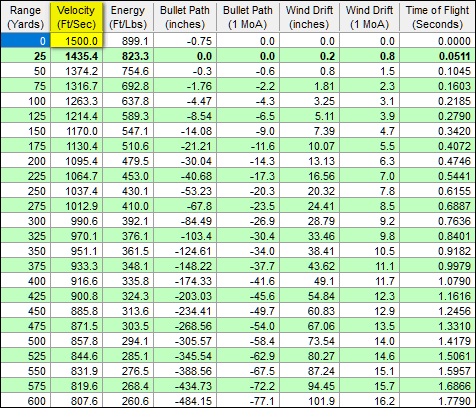 Muzzle Velocity @ 1400 fps for Item 19L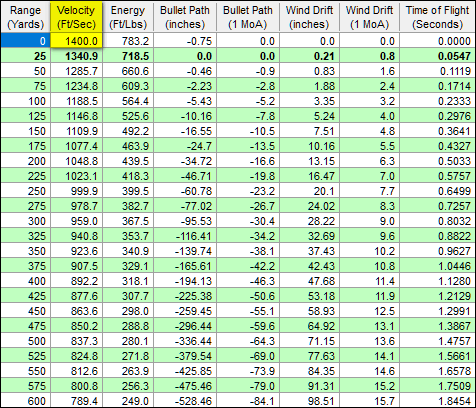 Muzzle Velocity @ 1300 fps for Item 19L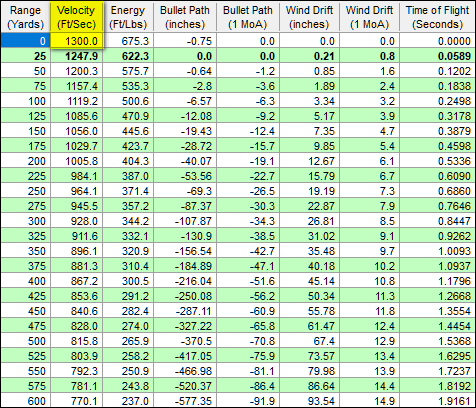 Muzzle Velocity @ 1200 fps for Item 19L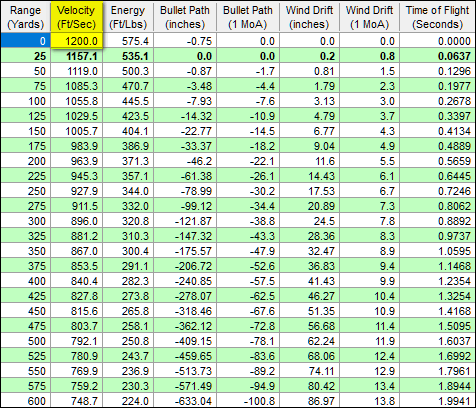 Muzzle Velocity @ 1100 fps for Item 19L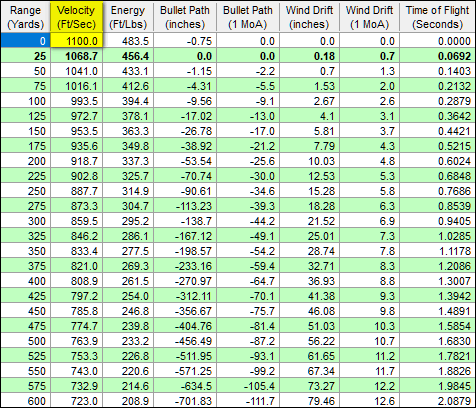 Field Proven pistol and handgun ammo. Maximum firepower ammo. Best ammunition for pistols and handguns for sale. Buffalo Bore. Strictly big bore. Strictly Business.
Attention!
You must be 18 or older to order ammunition. Ammunition must ship UPS ground. Due to Department of Transportation regulations, we cannot accept returns on Ammunition. Make sure to use the correct ammunition in your gun. Check local laws before ordering.
Great 180 Grain Ammo Jacketed Hollow Point,
(AWESOME)
Just checked the MV on these myself from my old 4 inch barreled Ruger Service Six and my 16 inch barreled Rossi 92 and these rounds did not disappoint! 1330 from the revolver and 1730 from the rifle! In case you were wondering, that's over 700 and 1200 ft/lbs respectively!
Wow, again, wonderful ammo from Buffalo Bore. This is a very heavy load in my little Ruger Wiley Clapp GP100 with a 3" barrel but there is virtually no muzzle blast, the fireball that comes from cheaper ammo is more of an irritant to me than the push of the recoil. I find this and the 180gr hard cast very manageable in the little gun and thus great woods care ammo in a packable little revolver.
I have been bugging Tim for over a year now for this round, he finally came through. I wanted this round for my lever gun to use for a bear hunt and deer, hogs. Shoots very accurate to 75yds, 5 shot group best with Skinner peep sights was 2.5" most groups 3". Shot a big tan and black hog on my deer lease that was easily 350. Double lung complete pass through at 55yds. He went about 60yds and died. Great round. Thanks Tim. nu