Your cart is currently empty
PREMIUM 243 WIN. BIG GAME SUPERCHARGED
PREMIUM 243 WIN. BIG GAME SUPERCHARGED
100 gr. Nosler Partition @ 3,150 fps/ME 2,203 ft. lbs
20 Round Box
ITEM 43G
BUFFALO BORE PREMIUM SUPERCHARGED 243 WIN. AMMO
The 243 Winchester cartridge is a very useful and versatile cartridge for almost anywhere in North America, which is why we are making a huge selection of loads for it.

When I turned 15, (I'm 59 as of the date of this writing—02-07-18) I bought my first 243 Winchester rifle……..a Browning BLR. By the time I was 17, I had two of them. I never fired factory ammo in either of them, but used only my hand loads. When using purpose designed ammo, the 243 Win. is good for "grenading" small critters like woodchucks, for collecting pelts on foxes, coyotes or wolves or for hunting deer sized game animals. My 243's spend a lot of time riding on a four-wheeler or hiking with me. I've killed black bear and deer with them. I long ago lost track of how many rock chucks and crows have been blown to smithereens with them and if I am in a particularly bloody mood, tree squirrels can be vaporized into nothing more than wet spots on surrounding branches, if you use the right type of ammo.

I do not advocate hunting elk sized animals with even the best 243 big game loads, but it could certainly be done. One of my hunting buddies that grew up in the Salmon, Idaho area, was given a 6MM Remington for his 16th birthday and like most ranching kids, they make do with what they have because ranchers do not spend a lot of money on frivolities like multiple guns. From the time he was 16 till his late 40's, he killed his bull elk and mule deer, each year with that 6MM Remington, which for all practical purposes is a 243 Winchester ballistic equivalent. He killed 30 bulls with that 6MM rifle before he broke down and bought a much more powerful elk rifle. HE NEVER LOST ANY BULL HE SHOT in all those years because he understood the characteristics and limitations of his rifle/ammo and stayed within them. If he could get within a 100 yards, he would head shoot them, but if he could not get that close, which was normally the case, he would wait for a double lung shot and put a 100gr. Nosler Partition hand loaded bullet through both lungs and let the bull run about 50 to 150 yards before piling up.

The light recoil and great accuracy of this little cartridge allow the shooter to do a number of fun chores with it. Ammo selection is critical for the job at hand. We will eventually make the following 6 different loads.
1. Item 43A — 55gr. Nosler B. Tip @ 4,100 fps
2. Item 43C — 70gr. Nosler B. Tip @ 3,650 fps
3. Item 43D — 90gr. Sierra FMJ Spitzer @ 3,300 fps — "PELT SAVER"
4. Item 43E — 85gr. Barnes TSX @ 3,350 fps
5. Item 43F — 100gr. Sierra Spitzer flat base @ 3,150 fps
6. Item 43G — 100gr. Nosler Partition @ 3,150 fps
This write-up is in regards to item # 43G, which utilizes the 100gr. Nosler Partition spitzer bullet. This bullet is designed to kill big game. It has a fragile nose that will expand at very long ranges (over 500 yards) but the heavy tapered jacket, partition, and hardcore keep this bullet from coming apart even on very close range on big shoulder bones. This bullet/load will accomplish the same thing as our item # 43E, but if you or your rifle prefer the Nosler bullet over the Barnes TSX, you'll have that option with this load. Killing animals up to 300-400 lbs. is what this load is designed to do, but that does not mean you can't shoot the occasional errant coyote with it as well. As pointed out above, I have a friend that has killed many bull elk with this bullet.
See my real world velocities in real world rifles……
➤ 3,063 fps -- Rifles Inc. -- 22-inch
➤ 3,038 fps -- Marlin XS7 -- 22-inch
➤ 3,065 fps -- Savage Model 11 -- 20-inch
➤ 2,960 fps -- Steyr -- 20-inch
Item 43F - Exterior Ballistics Charts for several Muzzle Velocities
_______________________________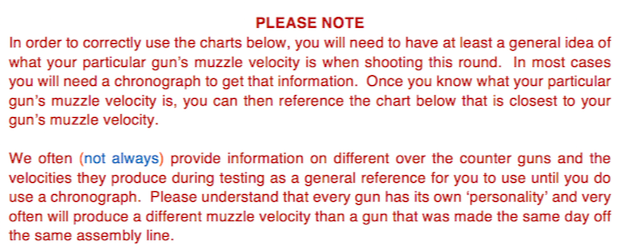 Muzzle Velocity @ 3500 fps for Item 43G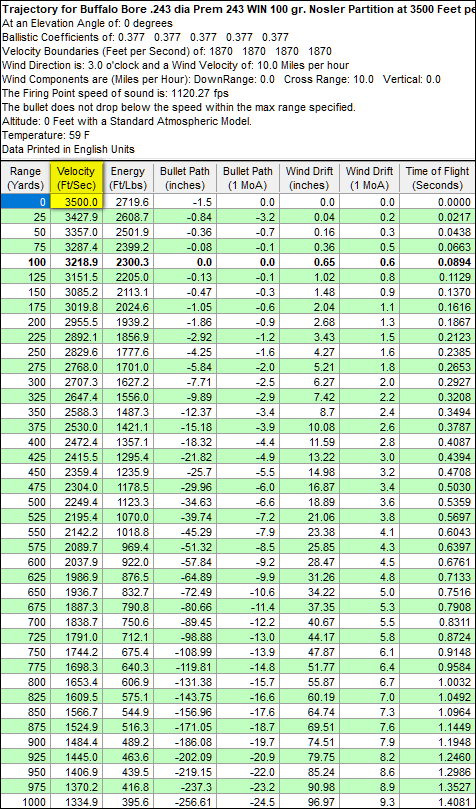 Muzzle Velocity @ 3400 fps for Item 43G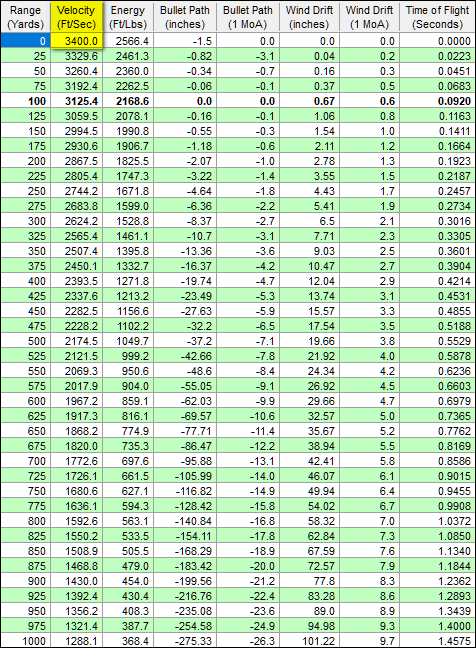 Muzzle Velocity @ 3300 fps for Item 43G

Muzzle Velocity @ 3200 fps for Item 43G
Muzzle Velocity @ 3100 fps for Item 43G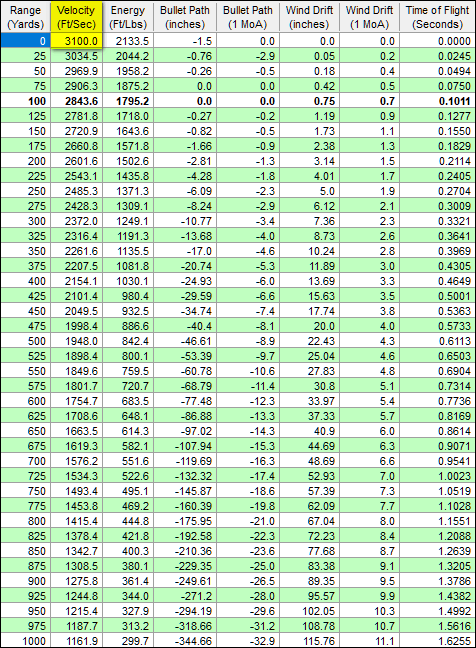 Muzzle Velocity @ 3000 fps for Item 43G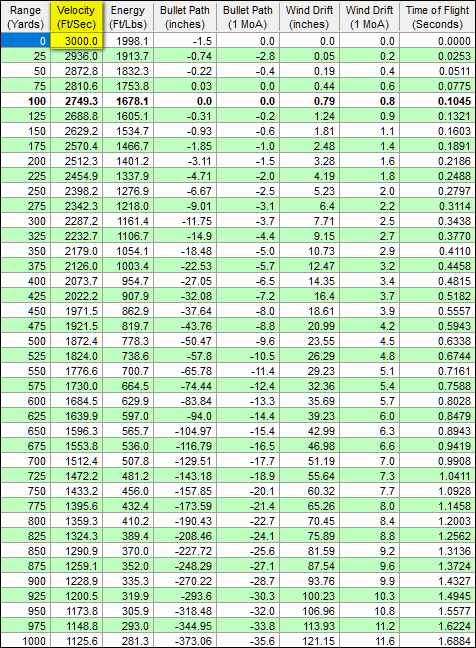 Muzzle Velocity @ 2900 fps for Item 43G
Muzzle Velocity @ 2800 fps for Item 43G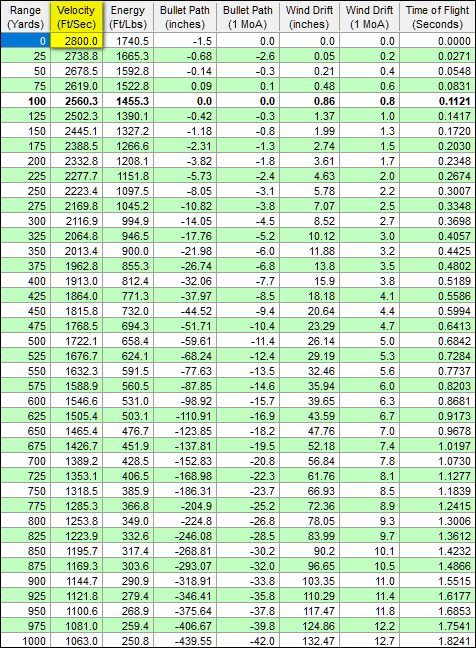 Muzzle Velocity @ 2700 fps for Item 43G
Muzzle Velocity @ 2600 fps for Item 43G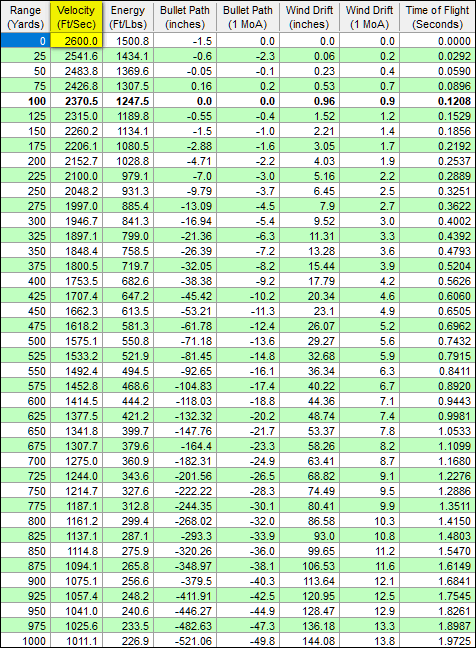 Muzzle Velocity @ 2500 fps for Item 43G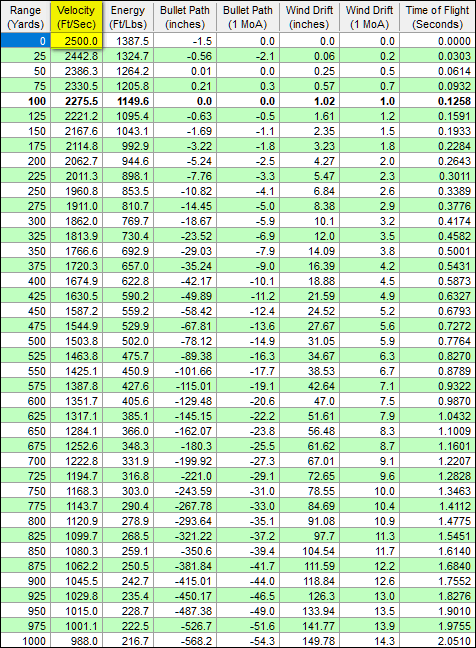 Muzzle Velocity @ 2400 fps for Item 43F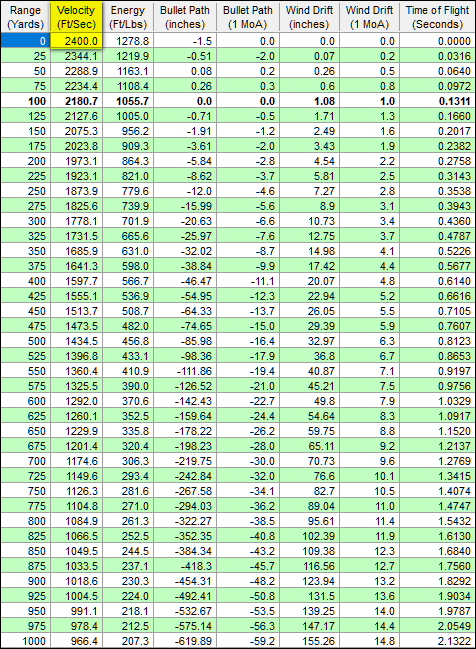 Muzzle Velocity @ 2300 fps for Item 43G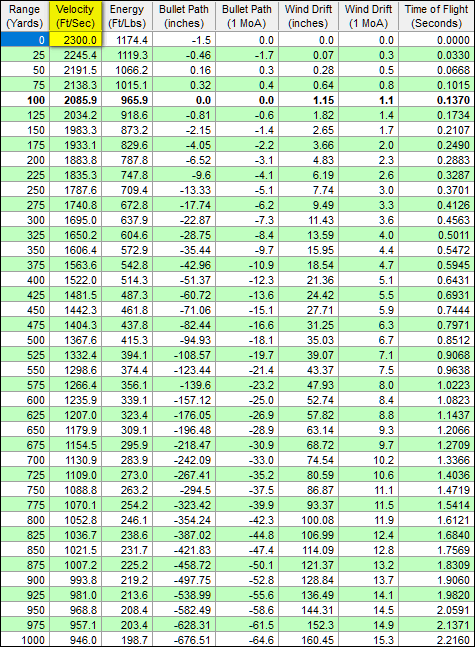 Muzzle Velocity @ 2200 fps for Item 43G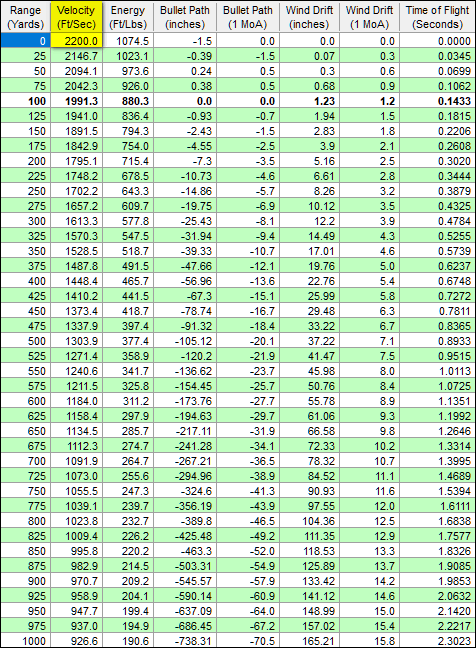 Muzzle Velocity @ 2100 fps for Item 43G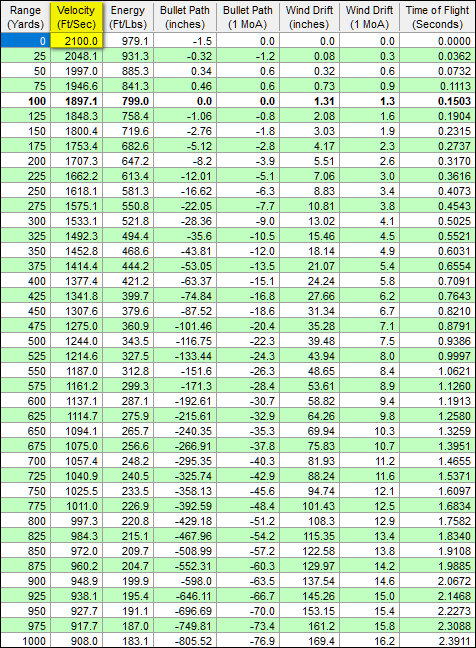 Muzzle Velocity @ 2000 fps for Item 43G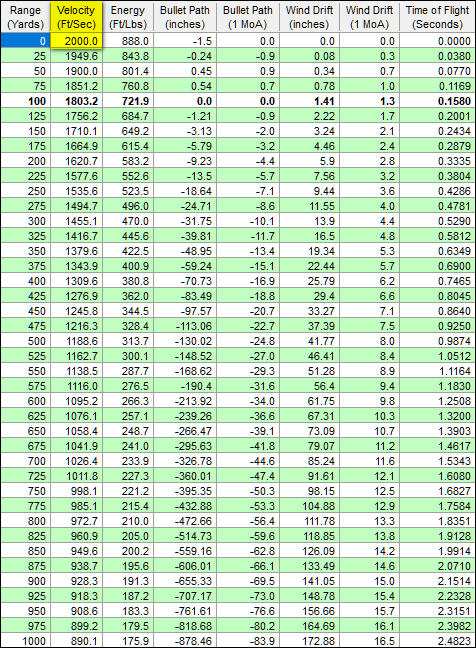 Muzzle Velocity @ 1900 fps for Item 43G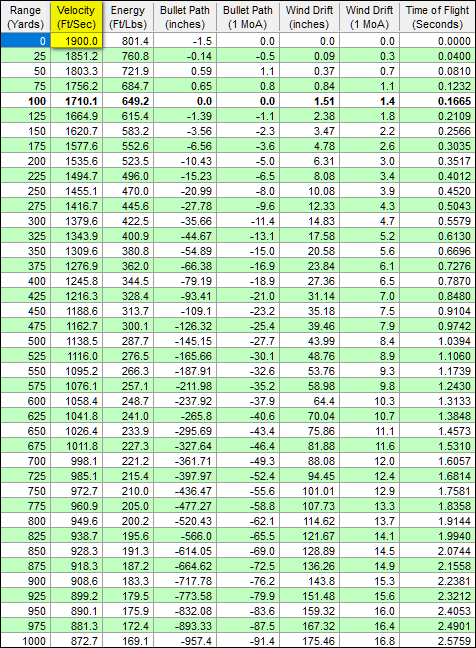 Field Proven rifle and gun ammo. Maximum firepower ammo. Best ammunition for rifles and guns for sale. Buffalo Bore. Strictly big bore. Strictly Business.
Attention!
You must be 18 or older to order ammunition. Ammunition must ship UPS ground. Due to Department of Transportation regulations, we cannot accept returns on Ammunition. Make sure to use the correct ammunition in your gun. Check local laws before ordering.
Currently there are no reviews for this product. Share your opinion with others, be the first to write a review.