Your cart is currently empty
BUFFALO BORE 50AE OUTDOORSMAN
380 gr. Hard Cast - FN - GC @ 1,250 fps / ME 1,318 ft lbs
20 Round Box
ITEM 50AE-380 HC

BUFFALO BORE'S 50 ACTION EXPRESS AMMUNITION

As of this writing, (11-28-17) I've been shooting big game with 50 caliber handguns for 30 years. In 1987 I received John Linebaugh's serial #2, 500 Linebaugh revolver and started loading for it and shooting it—a lot…..I still own it. I've owned and used many 50 caliber revolvers since then……..Not only do I currently have 5 different 500 Linebaugh revolvers that I use often, but I own several 50 JRH revolvers (this is a great cartridge) and several 500 S&W revolvers and carbines. So, what I'm trying to explain is that I am no stranger to killing things with 50 caliber handguns. In the last 30 years of shooting big game animals with these guns, I've learned that bullet diameter kills (See this link on the Taylor KO formula) almost all by itself, assuming enough penetration. At the limited velocities of handgun cartridges, which fire bullets with low sectional densities when compared to most rifle cartridges, it is generally a mistake to expand handgun bullets when hunting big game, as that expansion, with low sectional density bullets at the relatively low velocities of handguns, really limits penetration. While bullet expansion is desirable for certain applications, (such as shooting smaller big game like deer or average hogs and average black bear) it is a mistake on larger game animals. Hence we have only one 50AE load that is designed to expand and all three of the others are not………and I guarantee you that the non-expanding loads are deadly on deer too, by virtue of the bullet diameter.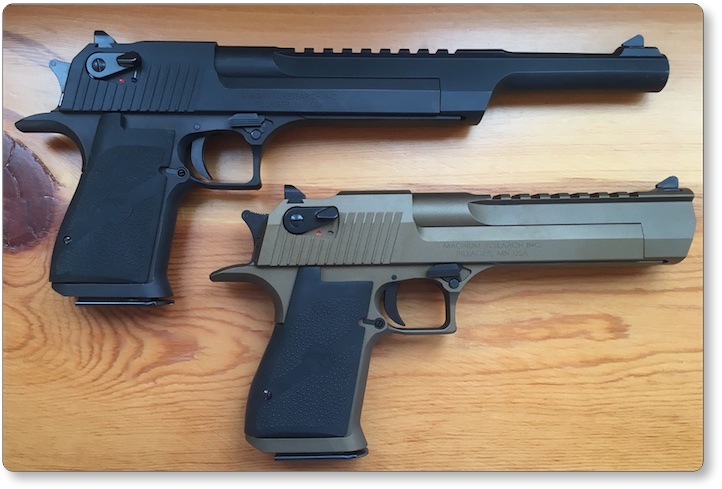 50AE-380 HC
Features a gas checked hard cast bullet. Magnum Research warns against using hard cast bullets in the Desert Eagle, as the gas port can become fouled and I suppose this is true with soft bullets (
these are very hard at around 22 BHN
) with a plain base. Our load features a very hard bullet with a gas check on the base and in several hundred rounds of firing, did not foul the gas port on either pistol. This is the load I would use if I was hunting animals weighing over 1,400 lbs. and up to perhaps 2,000 lbs. Honestly, when shooting animals in the 2,000 lb. range, I would prefer flinging a heavier 50 cal. bullet at higher velocities than the small 50AE case can generate. A cartridge such as the
500 JRH
or
Linebaugh
would be preferable to the 50AE, but if you want to hunt such big critters with the 50AE, this would be my load of choice.

In my two test pistols shown above, this load generated the following velocities.

➤ 1202 fps---6-inch Desert Eagle

➤ 1350 fps---10-inch Desert Eagle


This is a very fine and affordable load for any critter weighing up to around 800 lbs. If this load utilized an expanding bullet, I'd say not to use it on any animal weighing over 350 lbs., due to the lack of penetration it would give with a big expanded bullet nose of around 100 caliber. This load features the Berry's bullet. In our testing, it was accurate in both Desert Eagle test guns and would be a great all-around plinking/fun and big game load.
In the two test guns pictured, Item # 50AE 300 FMJ-FN generated the following velocities.
➤ 1461 fps---6-inch bbl., Desert Eagle
➤ 1655 fps---10-inch bbl., Desert Eagle
This is a high quality, high-performance load for big game. Because it expands to about an inch on the bullet's nose, it has only enough penetration for animals weighing no more than about 400 lbs. Of course, penetration depth will always vary based on some unknowns, such as which bones are hit from what angles, etc. With bullet expansion around .100 caliber, (an inch) This is the deer/black bear/hog load from hell.
In my two test guns, Item # 50AE 325 JHP generated the following velocities.
➤ 1,374---6-inch Desert Eagle

➤ 1,573---10-inch Desert Eagle
This load is designed to penetrate deeply enough for animals weighing up to around 1,400 lbs. This load again features a Berry's bullet, but this bullet was designed to be tough enough to withstand 500 S&W velocities of around 2,000 fps, so you know this bullet will hold together at the relatively slow velocities of the much smaller 50AE cartridge.
In my two test guns, this load generates the following velocities.
➤ 1.345 fps---6-inch Desert Eagle

➤ 1,500 fps---10-inch Desert Eagle

All of these 50AE loads were quite accurate in my two Desert Eagle test guns. We are using a flash suppressed propellant for all of these 50 AE loads, but in the shorter 6-inch gun, I noticed huge muzzle flashes anyway. This does not happen with the longer 10 barrel.
Good shooting and God bless,
Tim

ITEM 50AE-380 HC - Exterior Ballistics Charts for several Muzzle Velocities
COMING SOON
_______________________________


Field Proven pistol and handgun ammo. Maximum firepower ammo. Best ammunition for pistols and handguns for sale. Buffalo Bore. Strictly big bore. Strictly Business.
Attention!
You must be 18 or older to order ammunition. Ammunition must ship UPS ground. Due to Department of Transportation regulations, we cannot accept returns on Ammunition. Make sure to use the correct ammunition in your gun. Check local laws before ordering.
Currently there are no reviews for this product. Share your opinion with others, be the first to write a review.