Your cart is currently empty
HEAVY 32 H&R MAG. +P OUTDOORSMAN
HEAVY 32 H&R MAG. +P OUTDOORSMAN
130 gr. Hard Cast Keith @ 1,125 fps
20 Round Box
Item 36B
This HEAVY 32 H&R MAG. +P OUTDOORSMAN load is designed for those who need a very deep penetrating hard cast heavy load. This load should penetrate about three feet into flesh and bone. While we have not tried it, based on our knowledge of other like-designed revolver loads in 357, and 44, this bullet should easily penetrate a large bear's skull. The bullet is 21-22 BHN and is properly lubed and will not substantially lead foul barrels.
We are using a flash retarded powder so that the shooter will not be blinded by his/her own gunfire in low light situations.
See our below velocities fired from real-world, over-the-counter revolvers. We do not use long laboratory barrels to establish our published velocities as this will produce unrealistically fast velocities and will not tell the customer what his/her gun is producing in the real world where it matters.
➤ 1164 fps - USFA Sparrow Hawk 7.5-inch
➤ 1139 fps - Ruger Black Hawk 5.5-inch
➤ 1133 fps - Ruger SP101 3-inch
You'll note the absence of the Taurus Titanium 2 inch revolver we referenced in the press release of our 100gr. JHP 32 H&R +P load. (ITEM 36A) We elected to remove the Taurus data from this press release as not only did we have to polish the tool marks out of the Taurus chambers to get smooth extraction as we mentioned in the item 36A press release, but our particular Taurus would "key hole" cast bullets. We did not experience this with any other test guns, including many that are not referenced here. Only the Taurus would not shoot hard cast bullets well and only the Taurus gave sticky extraction of fired cases unless we polished the chambers. We experienced no issues of ANY sort with ANY of our other test guns.
This load is safe for use in all 32 H&R Mag. and 327 Federal firearms, except for, as of this writing, (05-17-11) the long out-of-production H&R revolvers. Do not use ANY+P ammunition in the original H&R revolvers.
Item 36B - Exterior Ballistics Charts for different Muzzle Velocities
_______________________________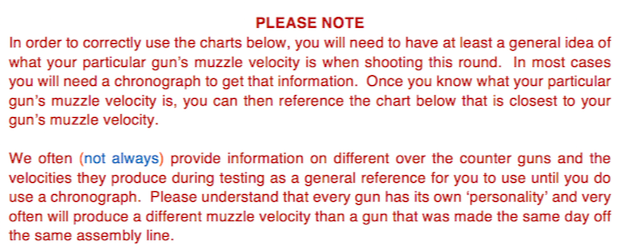 Muzzle Velocity @ 1600 fps for Item 36B
Muzzle Velocity @ 1500 fps for Item 36B
Muzzle Velocity @ 1400 fps for Item 36B
Muzzle Velocity @ 1300 fps for Item 36B
Muzzle Velocity @ 1200 fps for Item 36B
Muzzle Velocity @ 1100 fps for Item 36B
Muzzle Velocity @ 1000 fps for Item 36B
Muzzle Velocity @ 900 fps for Item 36B
Muzzle Velocity @ 800 fps for Item 36B
Field Proven pistol and handgun ammo. Maximum firepower ammo. Best ammunition for pistols and handguns for sale. Buffalo Bore. Strictly big bore. Strictly Business.
Attention!
You must be 18 or older to order ammunition. Ammunition must ship UPS ground. Due to Department of Transportation regulations, we cannot accept returns on Ammunition. Make sure to use the correct ammunition in your gun. Check local laws before ordering.
Currently there are no reviews for this product. Share your opinion with others, be the first to write a review.