Your cart is currently empty
458 SOCOM HUNTING & SNIPING AMMO
458 SOCOM HUNTING & SNIPING AMMO
400 gr. JFN (1550 fps / 2,134 ft.lbs.)
20 Round Box
ITEM 47D
As per popular demand, Buffalo Bore is introducing 6 new 458 SOCOM loads that will fill every possible need 458 SOCOM shooters may have. For those who want to hunt big game, destroy cars or houses, or do close range sniping with an AR platform firearm, the 458 SOCOM has no equal. Our hunting loads for the medium-sized game (Item 47A and Item 47B) will hammer deer, medium sized hogs and bear with aplomb. Items 47C and 47D will cleanly take big game animals weighing over 2,000 lbs. Items 47F and 47G will handle subsonic, suppressed sniping, (to about 200 yards) or close range hunting needs on 2,000+ lb. game animals.
Item 47D is very versatile for hunting North American game. It utilizes the many decades old Speer 400gr. JFN bullet. I have a ton of experience shooting this bullet in various 45-70 loads over the years. This is an old technology bullet that fills a few roles so perfectly, that it would be a shame to ever update, discontinue or change it. Here's what I can tell you about this bullet………at impact speeds around 1800 fps on large mammals, this bullet will over-mushroom and usually come apart, but the 458 SOCOM cannot launch a 400gr. bullet anywhere close to this speed. At impact speeds of around 1600 fps, this bullet mushrooms to about one inch in diameter holds together and penetrates deeply (At least 24 inches). At impact speeds around 1500 fps, it mushrooms nicely (roughly .85 caliber) and will penetrate about 30 inches. As impact speeds get slower, it mushrooms less and penetrates more deeply until it stops mushrooming at impact speeds around 1,000 fps. Of course, what I am stating is in general terms, the size of mushroom and depth of penetration will vary depending on which bones and other body parts are struck.
*Final Release = 1,550 fps
We reduced the velocity of our final product and item 47D does not reach the 1649 fps we listed below but falls almost exactly 100 fps shy of that. We did this on purpose, as accuracy was simply stellar at 1550 fps and fell off at higher velocities. We would prefer unparalleled accuracy over a bit more speed any day with a cartridge like the 458 SOCOM, which is fired mostly out of very accurate AR platform rifles. Of course, these results were obtained in our test rifle and your mileage may vary in your individual rifle.
As we bring each new 458 SOCOM item # to market, we will elaborate further on each individual load.
Below are the velocities achieved in my personal Wilson Combat 458 SOCOM, with a 16-inch barrel.
➤ Item 47A----1901 fps
➤ Item 47B----1875 fps
➤ Item 47C----1710 fps
➤ Item 47D----1550 fps -- *final release product is 1550 fps
➤ Item 47E----1675 fps
➤ Item 47F----1075 fps
➤ Item 47G----1115 fps
Item 47D - Exterior Ballistics Charts for several Muzzle Velocities
_______________________________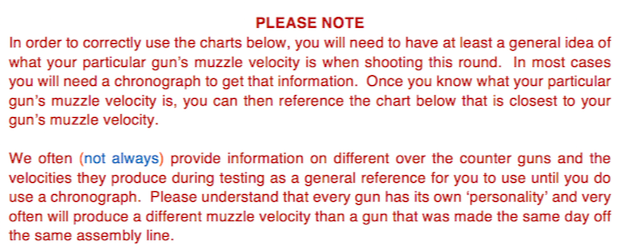 Muzzle Velocity @ 2000 fps for Item 47D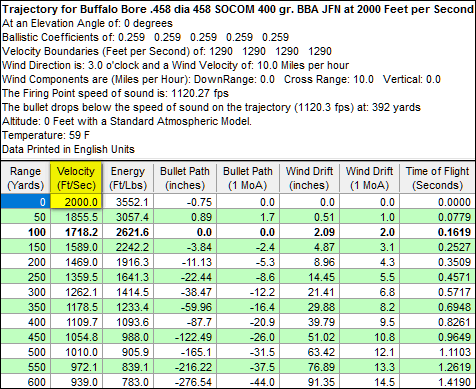 Muzzle Velocity @ 1900 fps for Item 47D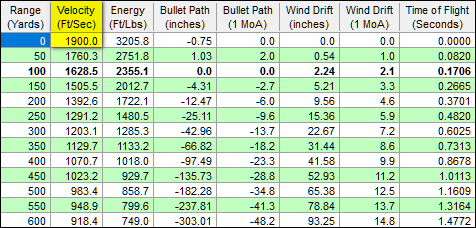 Muzzle Velocity @ 1800 fps for Item 47D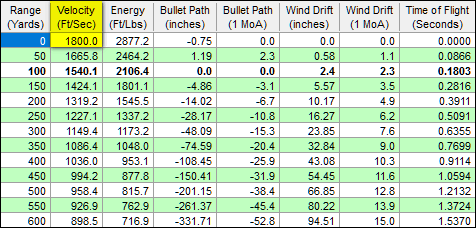 Muzzle Velocity @ 1700 fps for Item 47D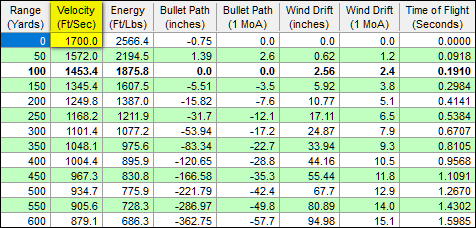 Muzzle Velocity @ 1600 fps for Item 47D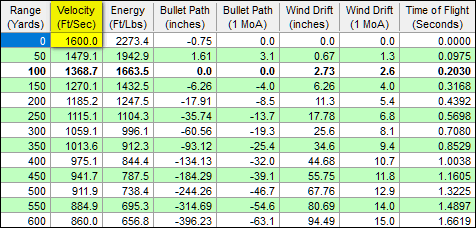 Muzzle Velocity @ 1500 fps for Item 47D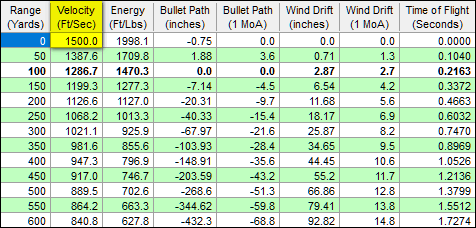 Muzzle Velocity @ 1400 fps for Item 47D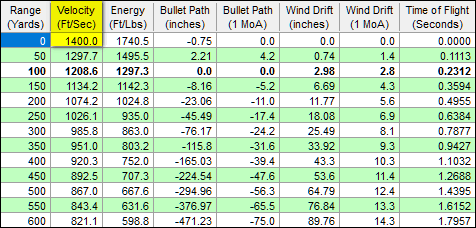 Muzzle Velocity @ 1300 fps for Item 47D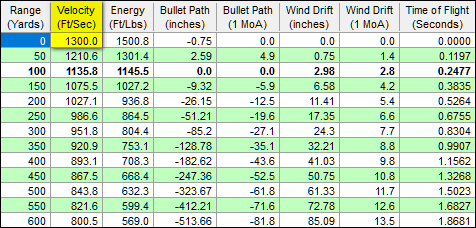 Field Proven rifle and gun ammo. Maximum firepower ammo. Best ammunition for rifles and guns for sale. Buffalo Bore. Strictly big bore. Strictly Business.
Attention!
You must be 18 or older to order ammunition. Ammunition must ship UPS ground. Due to Department of Transportation regulations, we cannot accept returns on Ammunition. Make sure to use the correct ammunition in your gun. Check local laws before ordering.
Currently there are no reviews for this product. Share your opinion with others, be the first to write a review.