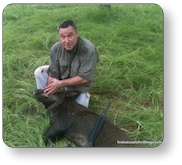 We had stalked this bad boy (150 lb Boar) on two previous hunts passing up some nice sows and younger boars. But the older ones are almost as smart as deer. Fortunately, boars are always nose to the ground chasing sows!  I finally got a shot on the third hunt when he was trying to manage a group of sows and he gave me a shot.  
Neck shot, bullet went in halfway between ear and shoulder. The boar went 10 yds and dropped.  A clean humane harvest thanks to Buffalo Bore Ammunition !
This hunt was featured on Loiusiana Feral Hogs web site.
'Chico' Fowler