Your cart is currently empty
500 JRH - aka 500 S&W SHORT
BUFFALO BORE 500 JRH - aka 500 S&W SHORT Ammo
440 gr. Hard Cast FN @ 1,325 fps
20 Round Box
ITEM 44A
Due to a large number of requests over the years and my affection for this effective big game cartridge, Buffalo Bore is announcing a line of different loads in 500 JRH. Item #44A is a 440gr. hard cast, gas checked, flat nosed, .500 inch diameter bullet @ an advertised velocity of 1325 FPS out of the typical 5.5 to 6 inch barreled revolver. This bullet is hard cast, properly lubed and gas checked and will not cause lead fouling in any normally functional barrel.
Since wild animals and wild criminals roam mostly in low light, we've been able to engineer a flash retarded powder for the making of this load. Being blinded by your own muzzle flash at the time of imminent danger is very bad tactically and could cost your life or the lives of loved ones.
As an added bonus, this ammunition can be used/fired in any 500 S&W chambered firearm.
The 500 JRH cartridge was designed by gun builder Jack Huntington (775-355-6898) to fit the Freedom Arms model 83 and other similarly sized revolvers. As such, it has nearly the same case head (.006 smaller in diameter) as the 500 S&W. With its slightly smaller case head, it will fit the tight ratchet system of the Freedom Arms model 83 and will still work great in any 500 S&W firearm…………but if you want a smaller more packable revolver than the giant X frame S&W, this cartridge fits right into any converted Ruger Blackhawk, Red hawk or FA model 83.
Magnum Research (BFR) has been making their fine factory revolver chambered in the 500 JRH (Pillager Model) for years, but sales have been limited due to a lack of factory ammunition, which is why Buffalo Bore has come on-board.
Anytime you use a hard recoiling cartridge in a middleweight (such as the Magnum Research Pillager, FA model 83 or Ruger Black hawk conversion) or lightweight revolver, the recoil of fired cartridges acts as a kinetic bullet puller for the remaining unfired cartridges in your cylinder. Our bullet is designed with a special crimp groove that is custom fitted to our crimp die, so we get very little bullet pull or "crimp jump". I repeatedly fired 4 rounds in my Magnum Research 5 shot cylinder and then measured the remaining fifth round. Every time, that fifth round had grown in length by about .020 inch after being exposed to the recoil of four firings. There is enough room in the cylinder for that over-all cartridge length to grow by over .100 inch and still let the cylinder rotate. So, if you shoot three rounds (for example) and then reload, just be certain to rotate your cylinder so that those two cartridges that were already exposed to recoil and have started to grow, will be fired first, the next time you shoot.
See my below real-world velocities from real-world firearms, not laboratory test barrels.
➤ 1,333 fps -- Magnum Research Pillager -- 5.5 inch barrel
➤ 1,378 fps -- S&W X frame 500 S&W -- 9 inch barrel
Item 44A - Exterior Ballistics Charts for several Muzzle Velocities
_______________________________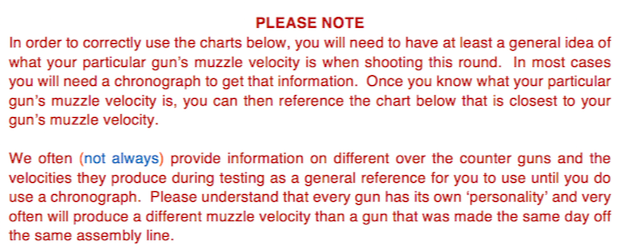 Muzzle Velocity @ 1700 fps for Item 44A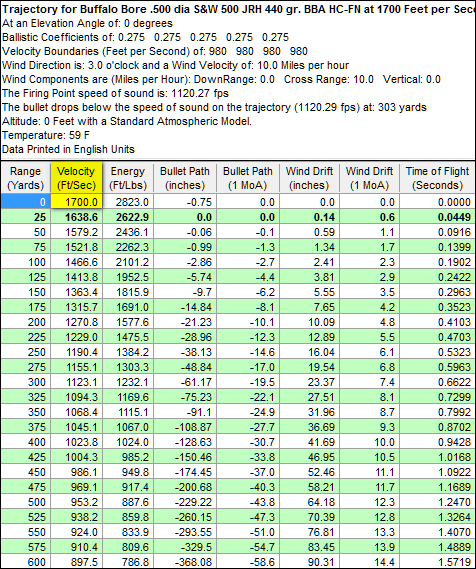 Muzzle Velocity @ 1600 fps for Item 44A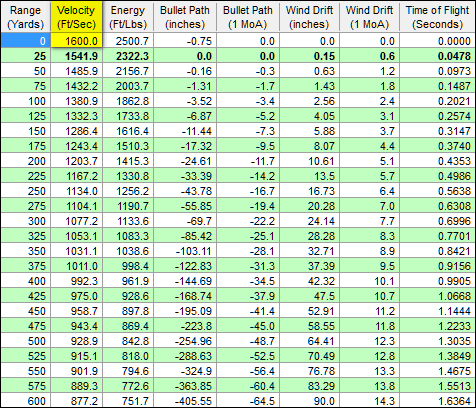 Muzzle Velocity @ 1500 fps for Item 44A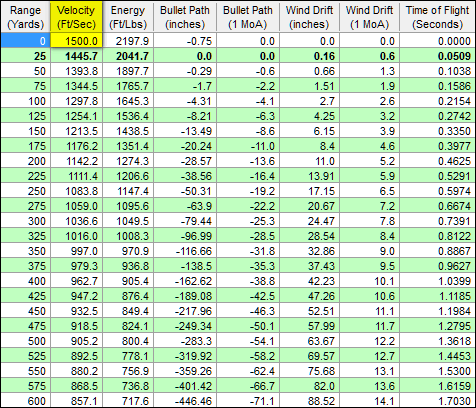 Muzzle Velocity @ 1400 fps for Item 44A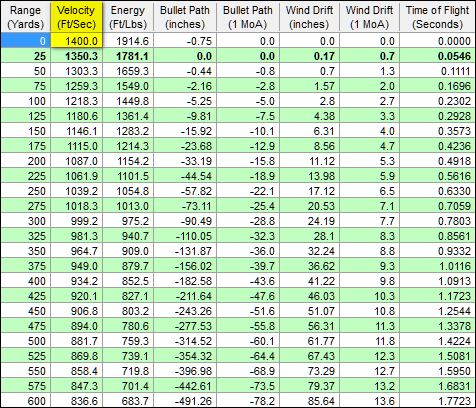 Muzzle Velocity @ 1300 fps for Item 44A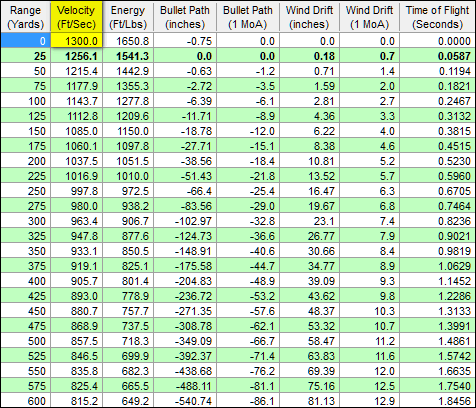 Muzzle Velocity @ 1200 fps for Item 44A
Muzzle Velocity @ 1100 fps for Item 44A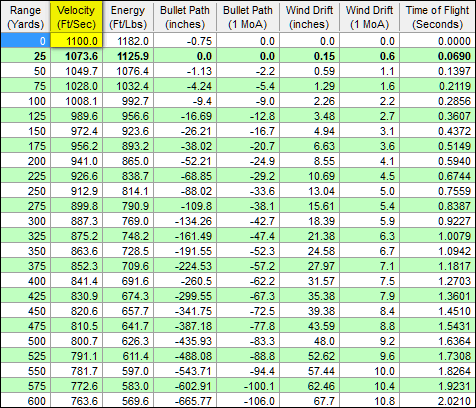 Muzzle Velocity @ 1000 fps for Item 44A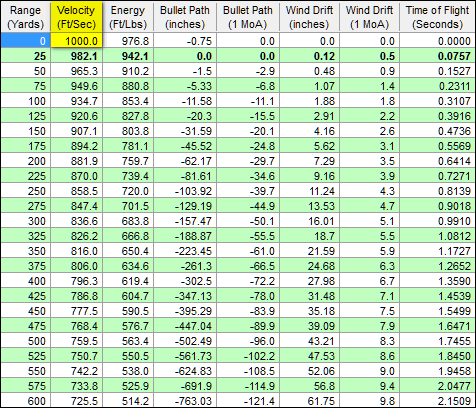 Field Proven pistol and handgun ammo. Maximum firepower ammo. Best ammunition for pistols and handguns for sale. Buffalo Bore. Strictly big bore. Strictly Business.
Attention!
You must be 18 or older to order ammunition. Ammunition must ship UPS ground. Due to Department of Transportation regulations, we cannot accept returns on Ammunition. Make sure to use the correct ammunition in your gun. Check local laws before ordering.
Currently there are no reviews for this product. Share your opinion with others, be the first to write a review.