Your cart is currently empty
Buffalo Bore 9MM +P OUTDOORSMAN
147gr. Hard Cast FN @ 1100 fps
20 ROUND BOX

ITEM 24L
PHIL SHOEMAKER, AN ALASKAN GUIDE FOR 33 YEARS, USES 9MM OUTDOORSMAN IN AN S&W 3954 TO STOP AN ATTACKING GRIZZLY
Scroll down to see This Story
Many folks who enjoy the outdoors are not "gun people"…….they recreate in the outdoors but may own only one or two guns. They may own a typical 9mm pistol for personal protection in the home or on the streets, but they do not own a dedicated outdoors handgun that is the typical "woods" gun, such a 454 Casull or a 44 magnum. We've designed this 9mm load, just for those people who own a 9mm pistol and wish to carry it in the woods for defense against black bears or even grizzly. This ammunition will give them a fighting chance and in keeping with that theme, it may be helpful to read my essay on "Stopping bears with Handgun or Rifle Cartridges".
This 9mm load is rated @ +P pressures (not +P+) and as such is safe to use in any/all 9mm chambered pistols that are in normal operating condition. The hard cast bullet (not lead, but hard cast) will not lead foul a functional barrel that is in a normal state of operation, including polygonal barrels, in any make of pistol, including Glock pistols. It may be helpful to read my essay on "Hard Cast Bullets in Polygonal barrels".
Many encounters with wild animals and the human criminal element will happen in low light and for that reason, we've utilized a flash retarded powder in this load. There is no need to be blinded by your own gunfire at the very moment of need when protecting yourself or loved ones.
This load is designed to penetrate deep (4 to 6 feet) in a straight line, through flesh and bones and that flat nose does considerably more terminal damage, as it crushes its way through tissues, than a round nose bullet does as it slips and slides it way through tissues and that crushing action, keeps the bullet nose forward and ensures very deep straight-line penetration. Round nose bullets tend to get sideways as they slip and slide through tissues and this often causes them to veer off the path. This bullet is designed to crush through a large bear skull, coming and going.
While this bullet will over-penetrate humans, even 300+ lb humans, wearing heavy winter coats, there is nothing wrong with using it for defense against humans in situations where over-penetration is not a liability……..sometimes over-penetration is desirable if we need to shoot through car doors, windshields, stick frame walls, or any other softcover, in stopping a threat.
As per usual, Buffalo Bore does not believe in the industry-wide duplicitous use of extra-long laboratory test barrels to determine published velocities. These barrels do not give real-world velocities, but always give much higher velocities than stock firearms. Below, see the velocities developed by some of my personal 9MM pistols. All of these pistols cycled/functioned flawlessly with this load and gave anywhere from good to excellent accuracy.
➤ 1,088 fps ------ SIG P226 Elite - with 5-inch threaded barrel
➤ 1,116 fps ------ H&K USP Tactical - with 4.7-inch threaded barrel
➤ 1,096 fps ------ Browning Hi-Power - with 4.6-inch barrel
➤ 1,083 fps ------ Glock model 19 - with 4-inch barrel
➤ 1,089 fps ------ Walther P88 - with 4-inch barrel
➤ 1,021 fps ------ Ruger LC9 - with 3-inch barrel
➤ 1,024 fps ------ SIG P938 - with 2.9-inch barrel
ALASKAN GUIDE, PHIL SHOEMAKER, USES 9MM OUTDOORSMAN ROUNDS IN AN S&W 3954 TO STOP AN ATTACKING GRIZZLY - See story and photos below.
Tim,
Two days ago I was guiding a couple from NY on a fishing trip and decided to pack my S&W 3954 pistol. When we were approaching the stream we bumped into a large boar who must have been sleeping as we were talking loud just so we wouldn't surprise one. Over the past 33 years I have lived and guided here on the Alaska peninsula I have never had to kill a bear in defense of life but this bear was different.
We were in thick brush and I was only 8 or 10 feet from the bear when he started growling and huffing. I began yelling and it eventually ran around, behind my two clients, into the brush. But within 15 seconds it came charging back from the area behind us and popped out of the brush 10 feet from me! I had the little S&W in my hands and was thinking I was probably going to have to shoot it but as it cleared the brush it headed toward my clients. The man had enough sense to grab his wife and fall backward into the tall grass. The bear seemed to lose track of them, even though it was less than 3 feet away from them and it was highly agitated! It then swung toward me, I was 6 or 8 feet away, and I fired the first shot into the area between the head and shoulder. It growled and started wildly thrashing around, still basically on the feet of my clients. My next shot hit it in the shoulder and it began twisting and biting at the hits and I continued firing as fast as I could see vitals. Five shots later it turned into the brush and I hit it again and it twisted and fell 20 feet from us!
We hiked out and I flew back to camp to report the incident to F&G and pick up my daughter to go back and skin the bear for F&G.
You are the first person I have told this story to as I haven't decided whether to write it up or not, or where, but thought you should know that your ammo WORKS. We recovered 4 of the bullets and I took a photo of the back of the bear after the hide was removed that shows an entry on one side of the back and the tip of the bullet on the off side ...
Phil Shoemaker
www.grizzlyskinsofalaska.com


Item 24L - Exterior Ballistics Charts for several different Muzzle Velocities
_______________________________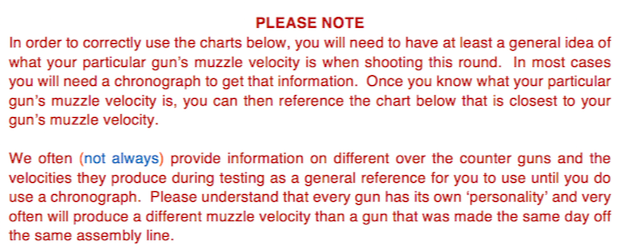 Muzzle Velocity @ 1500 fps for Item 24L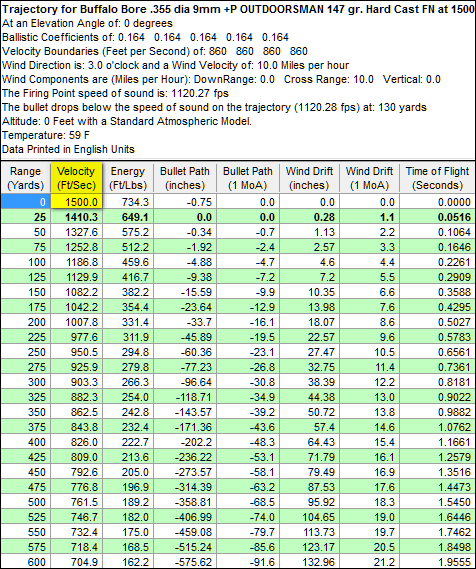 Muzzle Velocity @ 1400 fps for Item 24L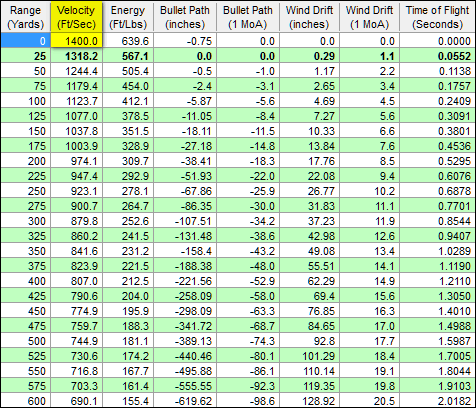 Muzzle Velocity @ 1300 fps for Item 24L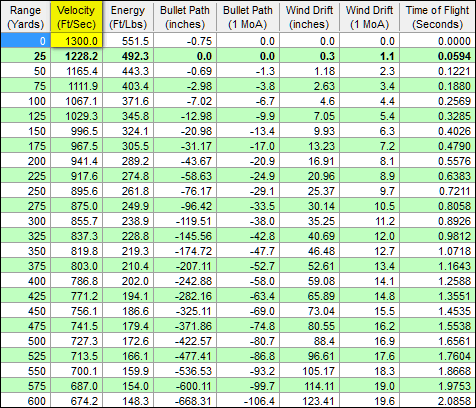 Muzzle Velocity @ 1200 fps for Item 24L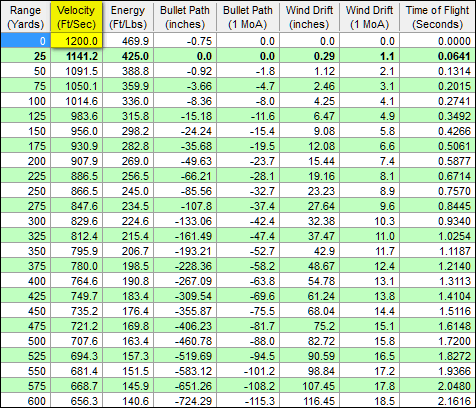 Muzzle Velocity @ 1100 fps for Item 24L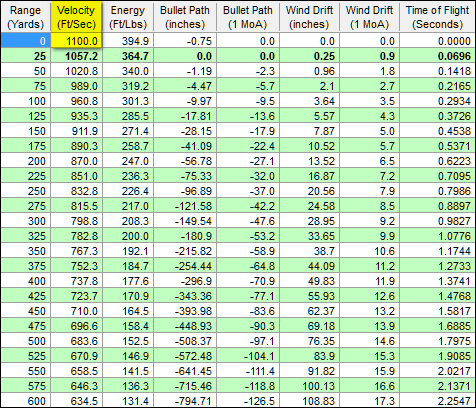 Muzzle Velocity @ 1000 fps for Item 24L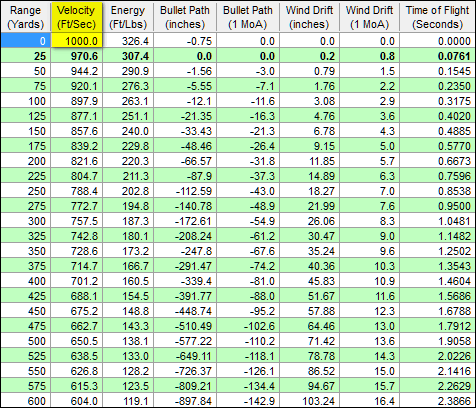 Muzzle Velocity @ 900 fps for Item 24L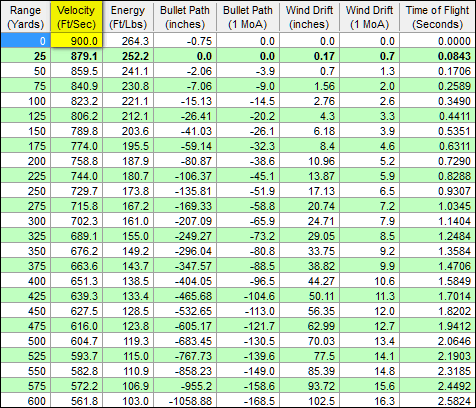 Field Proven pistol and handgun ammo. Maximum firepower ammo. Best ammunition for pistols and handguns for sale. Buffalo Bore. Strictly big bore. Strictly Business.
Attention!
You must be 18 or older to order ammunition. Ammunition must ship UPS ground. Due to Department of Transportation regulations, we cannot accept returns on Ammunition. Make sure to use the correct ammunition in your gun. Check local laws before ordering.
Excellent cartridges. They come out very hot of my Springfield Hellcat Pro. No FTL/FTE.
Been doing extensive ballistics testing with a large volume of different brands that make 9mm defensive handgun rounds. I will say, this round performed awful in my tests. Through 4 layers of denim and synthetic gel it penetrated between 69 - 74 inches. It's the only realistic representation of when Indiana Jones fired once at a threat presented and 3 bad guys behind the initial threat fell over stone cold dead. Say what you want about 9mm, I would rely on this for any wilderness threat I might encounter with 100% faith in it should I be unable to avoid contact with a bear or any other dangerous wildlife. Properly placed I'm confident that this round will travel through the memories of any mammal I may encounter. Tim I'd really like to test the LEAD FREE 115 P if you have any of that laying around. Hope all is well. Keep making great defend ammunition. 115 going over 1500fps through my blaster. %uD83D%uDC4D%uD83C%uDFFB%uD83D%uDC4D%uD83C%uDFFB
I ordered some of these for mountain carry. We cut firewood commercially in black bear and cat country. I am not planning on hunting bear or cats with 9mm. This is all I have and I don't expect to actually use them to defend against an attack but I will have something that may discourage if worst comes to worst. These are fairly hot coming out of a Glock 19 and all those I test fired went bang fed and ejected 100%.
I use the hard cast 9mm in a back up magazine for carry purposes, specifically should I need to shoot an adversary behind cover. I carry a full size XD Mod.2 with 16 1 and 2 spare mags. This is in my third and always with me. I pray I never need it, but "be prepared". It fires 100% without FTL or FTE issues. Good round. Can be used as outdoor defense, but for that, I have the .45acp.