Your cart is currently empty
9mm Standard Pressure, Ball Ammunition - 500
BUFFALO BORE 9MM
125gr. FMJ-RN STANDARD PRESSURE (BALL)
500 Count Bulk Pack

This Bulk Pack Has Free UPS Ground Shipping
ITEM 24K
After much consideration, we believe there is a need for high quality, full power, "ball" 9MM ammunition that will feed through the older 9MM pistols that exist throughout the world in large numbers. Browning High Power's, Colt 1911's and German Lugers are just a few of the older/classic 9MM pistols that were originally designed to cycle only with "ball" ammo.
Typical JHP expanding 9MM defense ammo has only existed for about three or four decades and has only become super popular for the last two decades and all currently produced 9MM pistols are manufactured to feed JHP (jacketed hollow point) ammunition. However, for seven or eight decades the classic 9MM pistols were made to function/feed/cycle with ball ammo and many of those pistols will not reliably function with any ammo but ball style. So we are now producing a high quality, full power, standard pressure, 9MM ball load to service all those classic 9MM pistols—and it will feed/cycle through all currently made pistols as well. Ball style ammunition has feeding advantages because of its round nose smooth profile. This ammunition is made by us, in the same facility, by the same people, as our other 9MM loads. It features flash suppressed powders so as to not blind the user in low light situations, which is a huge advantage as there is a great likelihood that if you need to fire in self-defense, it will happen in low light when the criminal element is out-and-about.
Through the use of modern propellants, we are also able to propel this 125gr. bullet at velocities traditionally typical of the lighter 115gr. bullets and do so at standard (SAAMI compliant) pressures, so this is a very potent ball load. Being standard pressure, it is safe for use in ALL 9MM firearms in normal operating condition.
We continue to use over-the-counter pistols in establishing our advertised velocities. The industry-wide duplicitous practice of using extra-long laboratory barrels to establish published velocities is dishonest to the customer who needs to know what their ammo is doing in the real world, where it will be used.
➤ 1,165 fps -- SIG P226 Elite with 5.0-inch threaded barrel
➤ 1,155 fps -- Browning High Power with 4.6-inch barrel
➤ 1,037 fps -- S&W Shield with 3.1-inch barrel
Item 24K - Exterior Ballistics Charts for several different Muzzle Velocities
_______________________________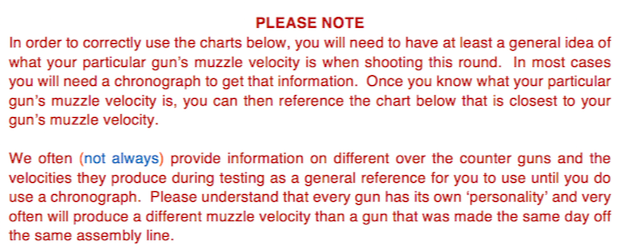 Muzzle Velocity @ 1400 fps for Item 24K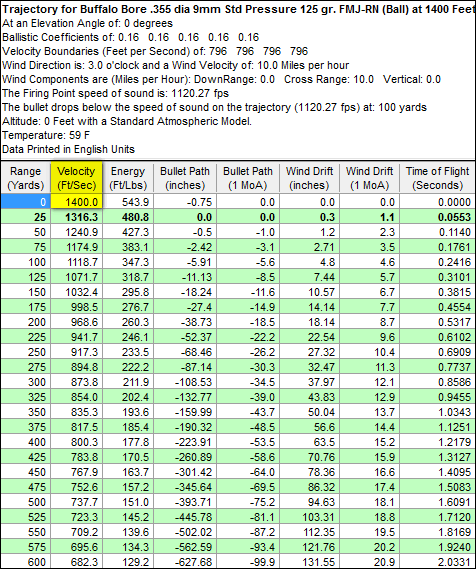 Muzzle Velocity @ 1300 fps for Item 24K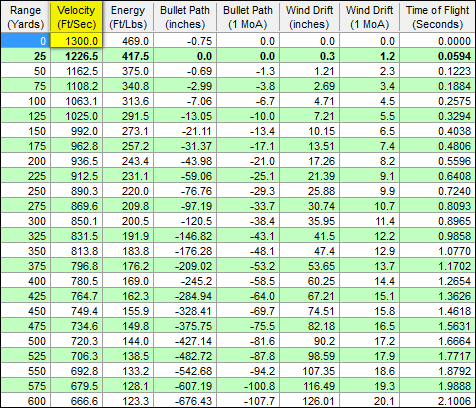 Muzzle Velocity @ 1200 fps for Item 24K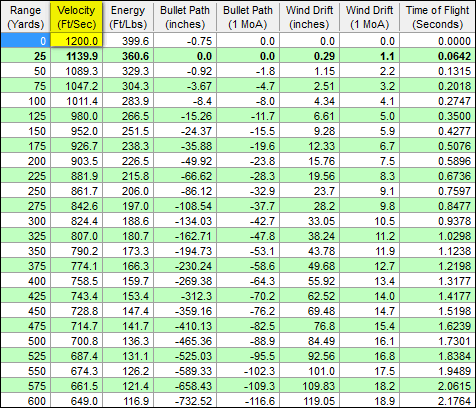 Muzzle Velocity @ 1100 fps for Item 24K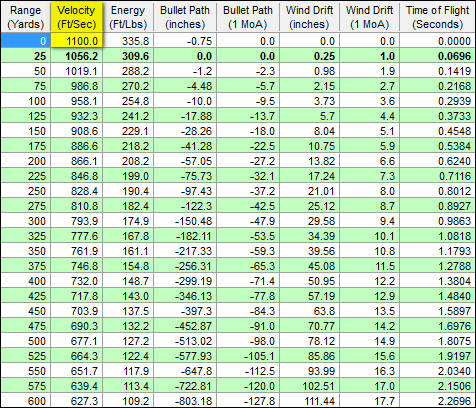 Muzzle Velocity @ 1000 fps for Item 24K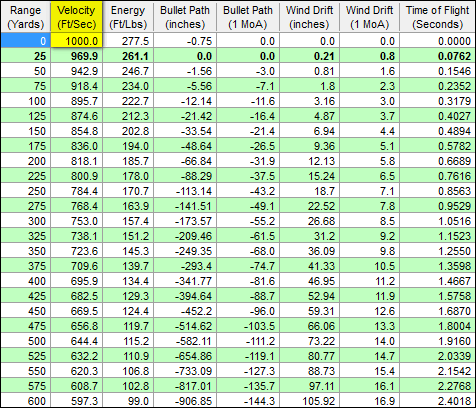 Muzzle Velocity @ 900 fps for Item 24K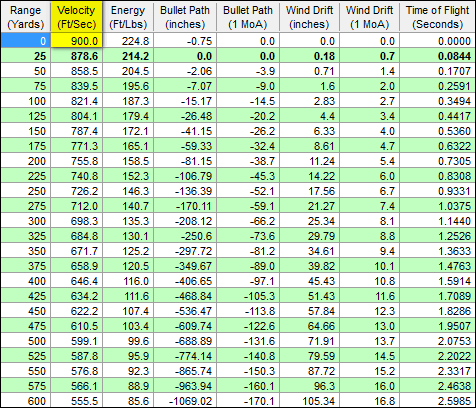 Muzzle Velocity @ 800 fps for Item 24K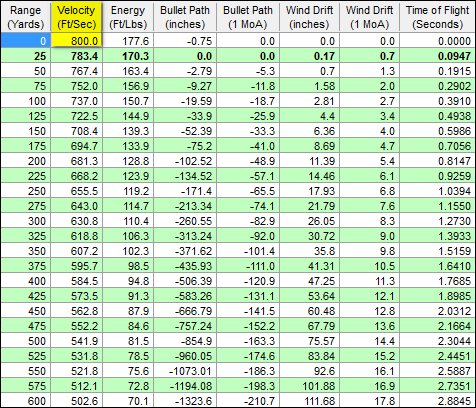 Field Proven pistol and handgun ammo. Maximum firepower ammo. Best ammunition for pistols and handguns for sale. Buffalo Bore. Strictly big bore. Strictly Business.
Attention!
You must be 18 or older to order ammunition. Ammunition must ship UPS ground. Due to Department of Transportation regulations, we cannot accept returns on Ammunition. Make sure to use the correct ammunition in your gun. Check local laws before ordering.
Currently there are no reviews for this product. Share your opinion with others, be the first to write a review.