Your cart is currently empty
40 S&W OUTDOORSMAN Std Pressure Low Flash Pistol and Handgun Ammo
40 S&W OUTDOORSMAN Standard Pressure, Low Flash Ammo
200 gr. Hard Cast Flat Nose (1,000 fps)
20 Round Box
ITEM 23F
How times have changed! A handgun cartridge with the title of "OUTDOORSMAN" would historically be a revolver cartridge. However, these days many folks carry "street" or "home defense" pistols when they want to take a hike in the woods or go camping. Due to customer requests, here is our new "Outdoorsman" 200gr. hard cast flat nosed 40 S&W standard pressure load. We've designed this deep penetrating load for use against wild animals where large bones such as a black bears shoulders or skull may need to be penetrated. This ammunition may also have tactical applications in situations where you may wish to defeat soft cover such as stick frame walls, car doors, windshields, sofas or whatever cover a bad guy may have jumped behind. Expect roughly 30 inches of straight-line penetration in flesh and bone.
Today's polymer framed, light weight, reliable, accurate, affordable, high capacity pistols are a great tool for use in the woods if you run proper ammo for that purpose. My wife has three Glock 23's that she uses for woods carry simply because they weigh no more than her three inches J frame steel 357 mag., but hold almost three times the ammo and don't chew her hand up as much. Plus, properly tailored 40 S&W ammo, is as formidable as 357 mag. ammo.
By using a hard cast bullet, we are able to gain velocity over jacketed bullets as hard cast alloy is much slicker than typical bullet jacket material. Hence more velocity can be developed with less pressure. If you are looking for a jacketed alternative to this load, see our Item 23C. You'll note that this 200gr. bullet is moving as fast as most 180gr. 40 S&W jacketed bullets while staying within standard pressure limits. This is accomplished in part by using a hard cast bullet.
This is a standard pressure cartridge which means it operates within SAMMI specifications for pressure. Therefore, it is safe for use in all ("all" means all) 40 S&W chambered pistols. Also, this bullet is NOT lead but is hard cast and it is OK for use in all Glock pistols. The nasty rumor that Glock advises against using hard cast bullets in their pistols is untrue. If you'll go to our "Technical Articles" category (on our web site) and read the articles, "Difference Between Lead & Hard Cast Bullets" and "Hard Cast Bullets in Polygonal Barrels", you'll gain much knowledge on the subject.

We are utilizing a flash suppressed powder so the shooter will not be blinded by his/her gunfire. This matters, as most wildlife as well as the criminal element, becomes much more active in low light.
As per usual, Buffalo Bore utilizes real world over-the-counter firearms to develop our advertised velocity. We feel the duplicitous practice of using extra-long laboratory barrels that generate false high-velocity readings is misleading to the customer as he/she will never see these velocities duplicated from real world carry guns.
➤ 1033 fps -- Custom 1911 with Nowlin barrel, 5 inch
➤ 989 fps -- Browning Hi Power, 4.6-inch barrel
➤ 967 fps -- Taurus PT 100, 4.6-inch barrel
➤ 962 fps -- Glock model 23, Gen. 2, 4-inch barrel
➤ 969 fps -- Glock model 23, Gen. 4, 4-inch barrel
➤ 961 fps -- Sig model 229, 4-inch barrel
➤ 976 fps -- Kahr model PM40, 3-inch barrel
All pistols showed good to excellent accuracy and all of them, except the tiny Kahr, cycled/functioned flawlessly. Micro 40's, such as the Kahr PM40, have very little slide travel and they can be finicky cyclers. While my PM40 gave very high velocities and great accuracy, it failed to cycle reliably 100% of the time and would therefore not be a candidate for use with this load. This is not a reflection on the quality of the PM40, which is a very high-quality pistol. Nor does this mean the larger Kahr pistols would not reliably cycle this load. In fact, this does not mean that your INDIVIDUAL Kahr PM40 won't cycle this ammo as ALL pistols are individuals and should be thoroughly tested with any ammo you intend to stake your life or the lives of others on.
Item 23F - Exterior Ballistics Charts for several Muzzle Velocities
_______________________________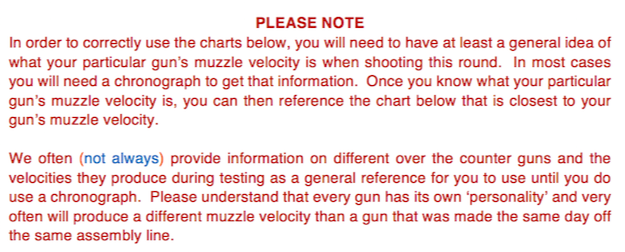 Muzzle Velocity @ 1300 fps for Item 23F
Muzzle Velocity @ 1200 fps for Item 23F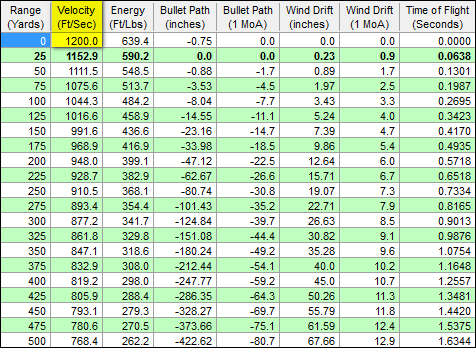 Muzzle Velocity @ 1100 fps for Item 23F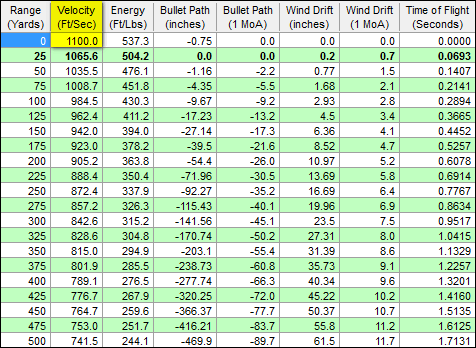 Muzzle Velocity @ 1000 fps for Item 23F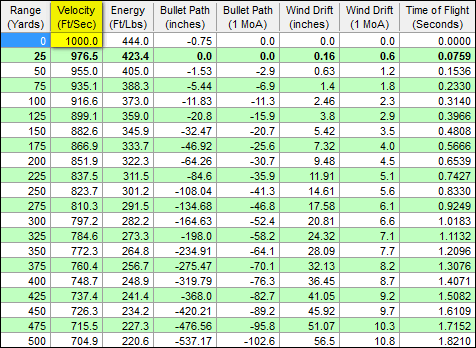 Muzzle Velocity @ 900 fps for Item 23F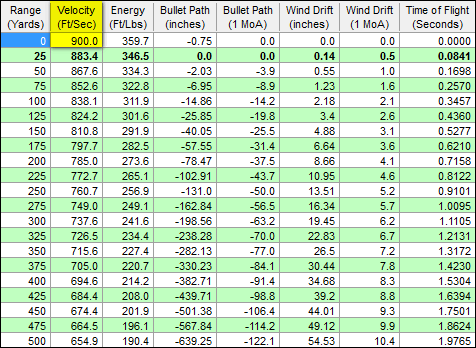 Muzzle Velocity @ 800 fps for Item 23F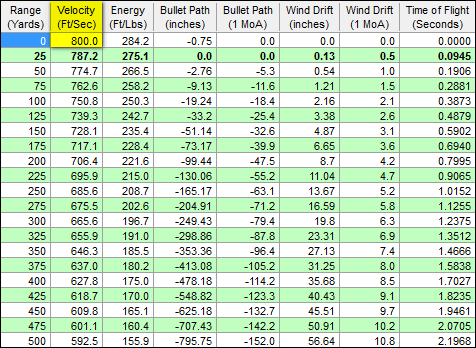 Muzzle Velocity @ 700 fps for Item 23F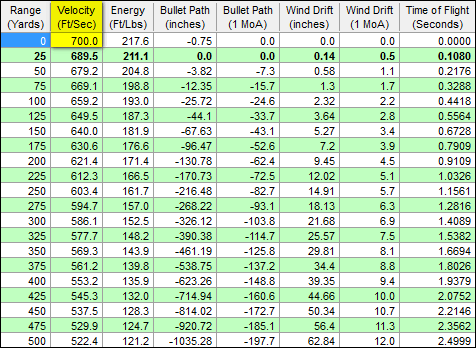 Field Proven pistol and handgun ammo. Maximum firepower ammo. Best ammunition for pistols and handguns for sale. Buffalo Bore. Strictly big bore. Strictly Business.
Attention!
You must be 18 or older to order ammunition. Ammunition must ship UPS ground. Due to Department of Transportation regulations, we cannot accept returns on Ammunition. Make sure to use the correct ammunition in your gun. Check local laws before ordering.
Currently there are no reviews for this product. Share your opinion with others, be the first to write a review.