Your cart is currently empty
SUBSONIC HEAVY 9MM STANDARD PRESSURE Pistol and Handgun Ammo
SUBSONIC HEAVY 9MM STANDARD PRESSURE
147 gr. FMJ-FN Point 1000 fps
20 Round Box
ITEM 24J
This new subsonic 9MM Parabellum/Luger ammo was designed to fill the need for full power suppressible ammo. While this ammo is full power, it is "Standard Pressure" and falls within the SAAMI guidelines of 35,000 PSI, so it is designed for use in ALL 9MM handguns, suppressed or otherwise and will not cause accelerated wear in your firearm. This 147gr FMJ-FN bullet will not mushroom in mammalian tissue at these impact velocities and will penetrate roughly 30 inches, depending on how much bone is struck and how much clothing must be penetrated. This is enough penetration to incapacitate even very large men that are heavily clothed and are struck at bad angles. Since it non-expanding, this bullet is designed to defeat soft cover such as stick frame walls, car doors, sofas or other types of items any perpetrator may have jumped behind during a gun fight. In a fight, there can be advantages to ammunition that will shoot through cover. Expanding bullet designs are not as reliable for this type of work. This FMJ-FN type of bullet design can also be advantageous for use as an "outdoor" type load as it will pierce a bears skull and keep going. For those wanting an easy shooting, full power, standard pressure 9mm load that will penetrate deeply and is designed for all 9mm pistols, this is it.
This ammunition utilizes a flash suppressed powder that will not substantially affect your eyes in low light, which is when most civilian shootings occur in the US as that is when the criminal element is most active.
We carefully chose our velocity range for this ammo to remain subsonic at temperature down to -20°F. Here is a sample of the speed of sound in air at various Fahrenheit temperatures.
1. 1128 fps -- 70°F
2. 1086 fps -- 32°F
3. 1028 fps -- -20°F
Our velocities are recorded from real world over-the-counter pistols, so you can see roughly what your pistol is developing in the real world. The industry wide use of long laboratory barrels to establish advertised velocities is misleading the public, who will be firing ammo out of real pistols.
➤ 1015 fps -- Sig P226 Elite threaded barrel, 5.0-inch
➤ 938 fps -- Sig P226 MK25 threaded barrel, 5.0-inch
➤ 1020 fps -- H&K USP Tactical threaded barrel, 4.7-inch
➤ 930 fps -- Beretta 92F, 4.7-inches
➤ 1006 fps -- Browning Hi Power, 4.6-inch
➤ 974 fps -- Glock model 19, 4.0-inch
➤ 931 fps -- Sig P938, 3.0-inch
As you can see, several of the shorter barreled pistols generate higher velocities than some of the longer barrels. This demonstrates that internal ballistics have much more to do with barrel internal dynamics than with length alone.
Item 24J - Exterior Ballistics Charts for several different Muzzle Velocities
_______________________________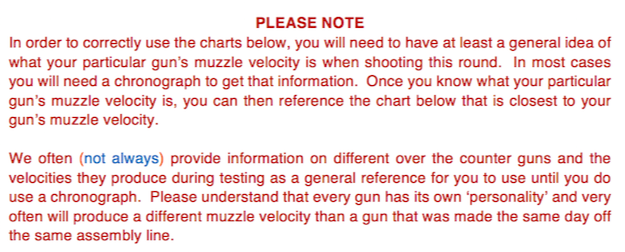 Muzzle Velocity @ 1300 fps for Item 24J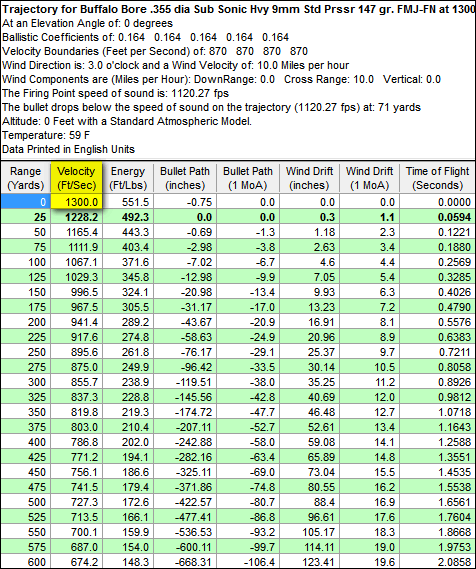 Muzzle Velocity @ 1200 fps for Item 24J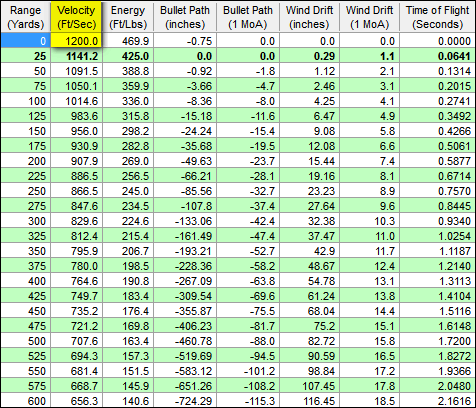 Muzzle Velocity @ 1100 fps for Item 24J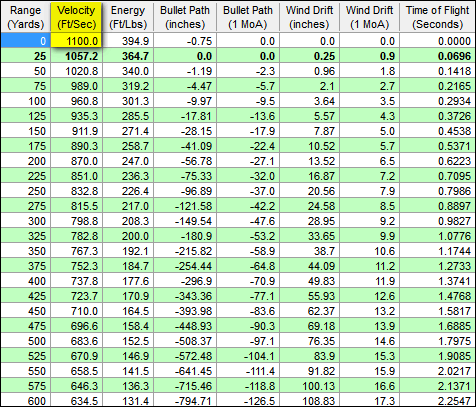 Muzzle Velocity @ 1000 fps for Item 24J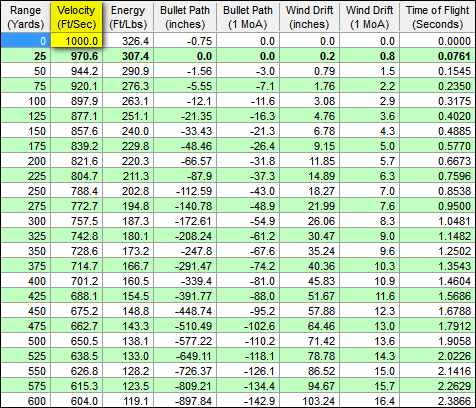 Muzzle Velocity @ 900 fps for Item 24J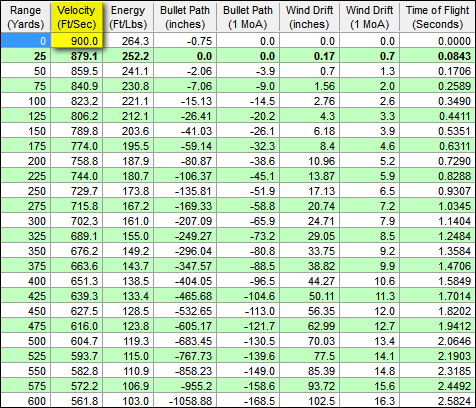 Muzzle Velocity @ 800 fps for Item 24J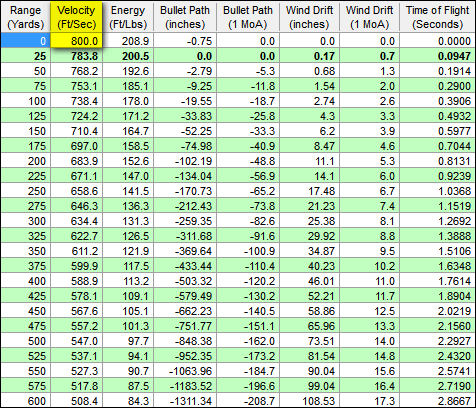 Field Proven pistol and handgun ammo. Maximum firepower ammo. Best ammunition for pistols and handguns for sale. Buffalo Bore. Strictly big bore. Strictly Business.
Attention!
You must be 18 or older to order ammunition. Ammunition must ship UPS ground. Due to Department of Transportation regulations, we cannot accept returns on Ammunition. Make sure to use the correct ammunition in your gun. Check local laws before ordering.
GOT A CHANCE TO SHOOT A BOX OF THE SUBSONIC [ 24J20] VERY GOOD AMMO , I HAD NO PROBLEMS AT ALL USING RUGER SR9