Your cart is currently empty
BUFFALO-BARNES 45-70 MAG +P LEAD FREE
BUFFALO-BARNES LEAD-FREE 45-70 MAG. +P
350 gr. BARNES TSX-FN @ 2,150 fps
20 Round Box
ITEM 8G
This is a super powerful 45-70 +P (or magnum) loading. It is externally identical to SAAMI spec. 45-70 ammo, but internally it generates FAR more power and pressure. So, our 45-70 ammo will fit/chamber into any 45-70 firearm; HOWEVER, its use should be limited to firearms that are built to take the +P pressures it generates.
Its use should be limited to the following firearms: All Marlin 1895 (1895 Marlins are simply 336 actions, with a 45-70 barrel screwed on) iterations made since 1972, all Browning 1885 and 1886 copies, Rossi Rio Grande, New England Arms Handi Rifle, T/C Encore, ALL falling block actions made of modern steel such as the Ruger #1 and #3, Shiloh, Christian and Pedersoli Sharps, Henry Lever Action Rifles, all Winchester 1886 iterations made since 1915, CVA Centerfire Rifles and all Siamese Mauser bolt actions.
This all copper expanding 350gr. TSX-FN long-for-weight bullet will penetrate about as deep as the typical premium 400gr. + lead core partition expanding bullet, yet it gives the benefits of a lighter bullet, which means it recoils less and has flatter trajectories.
We were not able to develop velocities as fast as we'd like because the long-for-weight all copper bullet crowds the limited powder capacity of the 45-70 casing. Still, 1,900+ fps is very fast and is very powerful and for those who like the benefits of the all copper Barnes TSX-FN bullet, it is a worthwhile trade-off. As an added benefit for many, this reduced velocity also means significant recoil reduction.
As always, Buffalo Bore uses real-world firearms to generate our published velocities. We feel the industry wide duplicitous practice of generating advertised velocities from extra long laboratory barrels is dishonest to the customer as he/she will not be able to duplicate those velocities in the real world, where it matters.
➤ 1,931 fps -- Marlin 1895, 22-inch barrel
➤ 1,914 fps -- Marlin 1895, 18-inch barrel
Many shooters do not understand why the 45-70 needs very little barrel length to obtain maximum velocities. As evidenced by the above velocities, ANY straight walled (not a bottleneck case such as the 06 or any number of casings that have a shoulder) case that uses relatively fast burning rifle powders, will generate all the velocity possible in barrels much shorter than bottleneck chamberings.
Item 8G - Exterior Ballistics Charts for several Muzzle Velocities
_______________________________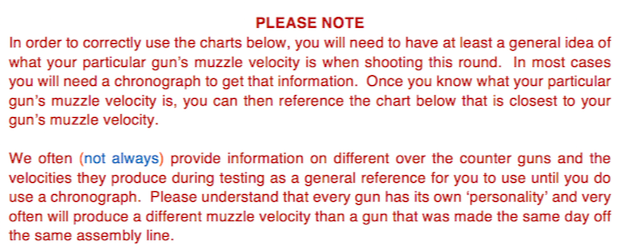 Muzzle Velocity @ 2200 fps for Item 8G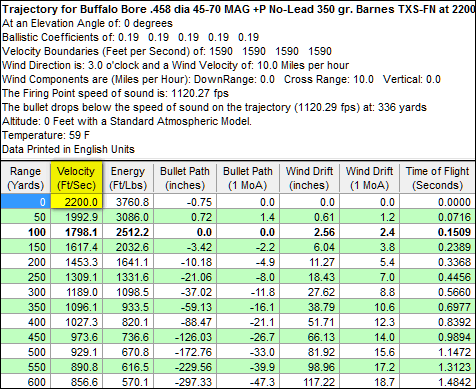 Muzzle Velocity @ 2100 fps for Item 8G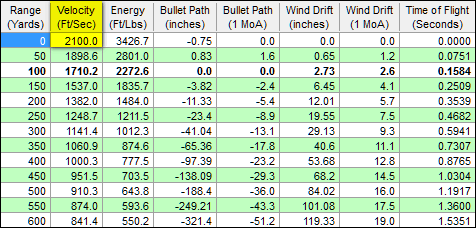 Muzzle Velocity @ 2000 fps for Item 8G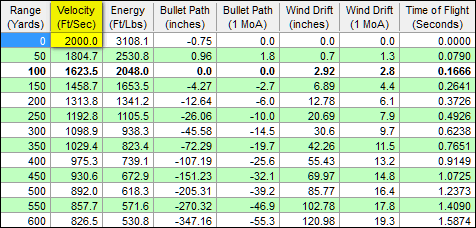 Muzzle Velocity @ 1900 fps for Item 8G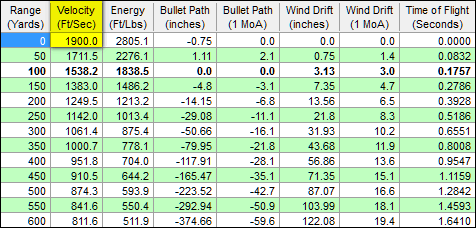 Muzzle Velocity @ 1800 fps for Item 8G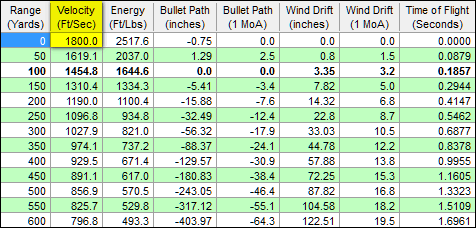 Muzzle Velocity @ 1700 fps for Item 8G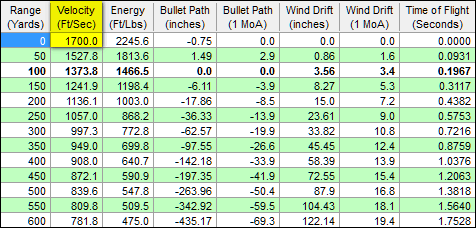 Muzzle Velocity @ 1600 fps for Item 8G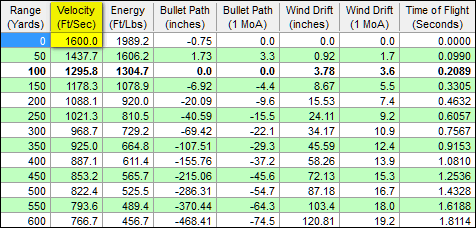 Field Proven rifle and gun ammo. Maximum firepower ammo. Best ammunition for rifles and guns for sale. Buffalo Bore. Strictly big bore. Strictly Business.
Attention!
You must be 18 or older to order ammunition. Ammunition must ship UPS ground. Due to Department of Transportation regulations, we cannot accept returns on Ammunition. Make sure to use the correct ammunition in your gun. Check local laws before ordering.