Your cart is currently empty
BUFFALO-BARNES 357 SIG LEAD FREE
BUFFALO-BARNES LEAD-FREE 357 SIG
125 gr. Barnes TAC-XP, LOW-FLASH @ 1425 fps
20 Round Box
ITEM 25C
For those wanting a 357 SIG load utilizing an expanding bullet, that penetrates very deep, this is it. This lead-free, all copper Barnes TAC-XP bullet, will penetrate roughly 20+ inches in flesh and bone, yet it expands to roughly 55 caliber.
We are utilizing a flash retarded powder in this load so that the vision of the shooter will not be significantly impaired should he be required to drop the hammer in low light. Roughly 95% of all civilian shootings in the US happen in low light when the criminal element is most active. Not being blinded by your own gunfire can be a significant advantage.
In small cartridge casings such as 40 S&W, 9mm, 380 auto, 357 SIG, etc., these long-for-weight all copper bullets, crowd precious and limited powder capacity and force us to load the bullet to lower velocities than we would like. However, the advantages to these Barnes all copper bullets, outweigh the disadvantages for most applications.
My single 357 SIG pistol obtained the below velocity with this new load. At Buffalo Bore, we always use real world pistols to generate our advertised velocities. We disagree with the industry wide duplicitous practice of using extra long laboratory barrels which generate false high velocities the end user will never see in the real world when using real-world firearms.
➤ 1,301 fps -- SIG P229, 4-inch barrel
Item 25C - Exterior Ballistics Charts for several different Muzzle Velocities
_______________________________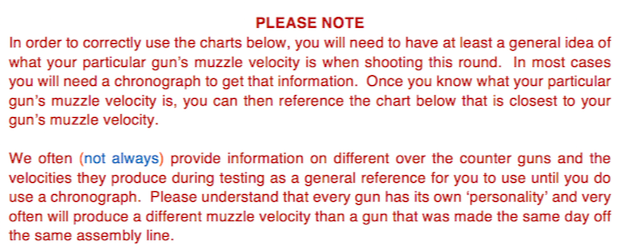 Muzzle Velocity @ 1600 fps for Item 25C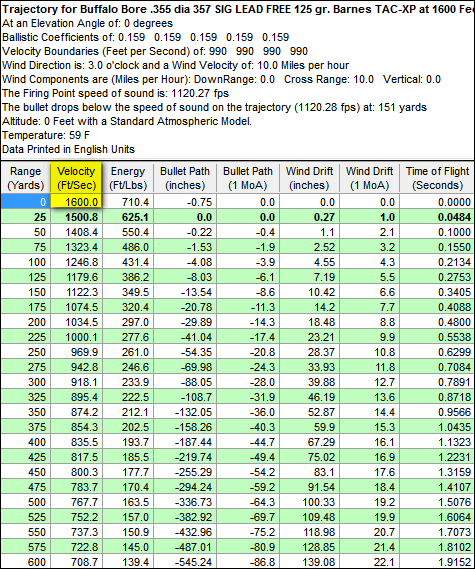 Muzzle Velocity @ 1500 fps for Item 25C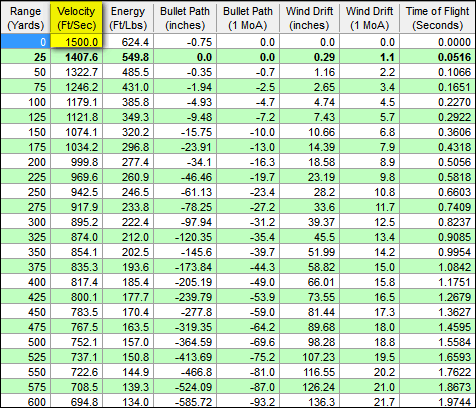 Muzzle Velocity @ 1400 fps for Item 25C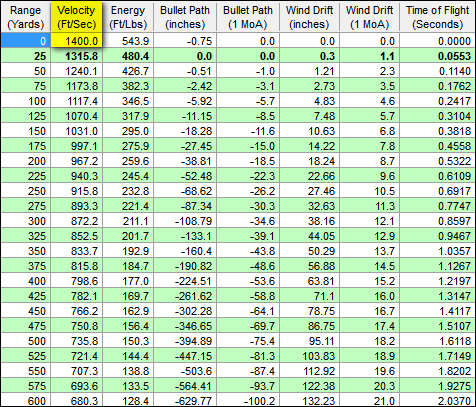 Muzzle Velocity @ 1300 fps for Item 25C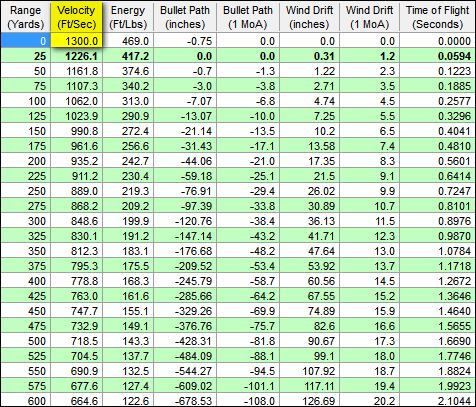 Muzzle Velocity @ 1200 fps for Item 25C
Muzzle Velocity @ 1100 fps for Item 25C
Muzzle Velocity @ 1000 fps for Item 25C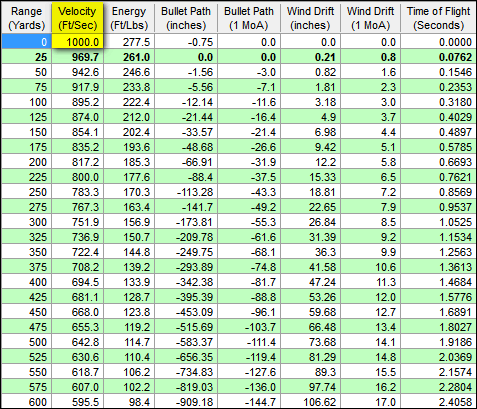 Field Proven pistol and handgun ammo. Maximum firepower ammo. Best ammunition for pistols and handguns for sale. Buffalo Bore. Strictly big bore. Strictly Business.
Attention!
You must be 18 or older to order ammunition. Ammunition must ship UPS ground. Due to Department of Transportation regulations, we cannot accept returns on Ammunition. Make sure to use the correct ammunition in your gun. Check local laws before ordering.
Currently there are no reviews for this product. Share your opinion with others, be the first to write a review.