Your cart is currently empty
BUFFALO-BARNES 9mm +P+ LEAD FREE
BUFFALO BARNES 9MM +P+ LEAD-FREE
115gr. Barnes TAC-XP LOW FLASH LEAD-FREE @ 1,400 fps
20 Round Box
ITEM 24H
This new 9mm+P+ load is a serious personal defense cartridge for 9MM. The all copper bullet penetrates deeply—expect roughly 17 inches of penetration in ballistic gel. The long-for-weight bullet uses up a great deal of powder space in the casing which raises pressures and keeps us from achieving higher velocities. Still, 1300 fps with an all copper bullet is formidable in 9MM.
Nearly all Buffalo Bore tactical/self-defense ammo features low flash powder and this load is no exception. Low flash powder offers an enormous tactical advantage to the shooter as almost all civilian shootings in the US occur in low light when the criminal element is most active and this ammo will not blind the user after the first shot.
As with all Buffalo Bore ammunition, we generate our advertised velocities from real-world guns. The industry-wide duplicitous practice of using extra long laboratory test barrels, which generate unrealistically high velocities, is misleading to the customer as such laboratory type velocities will not be reached in the real world where it counts.
NOTE MY REAL WOLRD VELOCITIES OBTAINED FROM REAL WORLD GUNS:
➤ 1,329 fps -- Walther P88, 4-inch
➤ 1,295 fps -- Browning Hi-Power, 4 ¾-inch
➤ 1,289 fps -- Glock 19, 4-inch
➤ 1,241 fps -- Beretta 92F, 4 ¾-inch
You'll note that some of the shorter barrels developed faster velocities than some of the longer barrels. This is due to internal barrel dynamics such as surface smoothness, land and groove dimensions, chamber dimensions, etc. Barrel length alone is not always an accurate determinate of velocity generated in any given load.
Item 24H - Exterior Ballistics Charts for several different Muzzle Velocities
_______________________________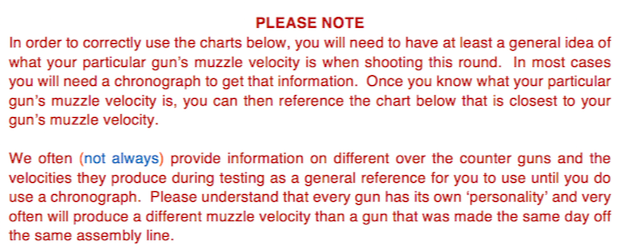 Muzzle Velocity @ 1700 fps for Item 24H
Muzzle Velocity @ 1600 fps for Item 24H
Muzzle Velocity @ 1500 fps for Item 24H
Muzzle Velocity @ 1400 fps for Item 24H
Muzzle Velocity @ 1300 fps for Item 24H
Muzzle Velocity @ 1200 fps for Item 24H
Muzzle Velocity @ 1100 fps for Item 24H
Muzzle Velocity @ 1000 fps for Item 24H
Field Proven pistol and handgun ammo. Maximum firepower ammo. Best ammunition for pistols and handguns for sale. Buffalo Bore. Strictly big bore. Strictly Business.
Attention!
You must be 18 or older to order ammunition. Ammunition must ship UPS ground. Due to Department of Transportation regulations, we cannot accept returns on Ammunition. Make sure to use the correct ammunition in your gun. Check local laws before ordering.
Currently there are no reviews for this product. Share your opinion with others, be the first to write a review.