Your cart is currently empty
BUFFALO-BARNES 9mm +P+ LEAD FREE
BUFFALO BARNES 9MM +P+ LOW FLASH, LEAD-FREE
+P+ 95gr. Barnes TAC-XP @ 1,550 fps
20-Round Box
ITEM 24G
This loading features some positive developments for the 9MM, for those wanting an expanding bullet. First, the lightweight 95gr. Barnes X-type bullet generates very little felt recoil, which aids in fast follow-up shots. Second, as do all X-type bullets, that all copper bullet, penetrates very deeply for a .355 diameter bullet that only weighs 95grs. Expect roughly 13 inches of penetration in ballistic gelatin.
Nearly all Buffalo Bore Tactical/self-defense ammo features low flash powder and this load is no exception. We think low flash powder offers a huge tactical advantage to the shooter as almost all civilian shootings in the US happen in low light when the criminal element is most active and this ammo will not blind the shooter.
As with all Buffalo Bore loadings, we advertise real world velocities from real over-the-counter firearms, so the shooter can know what the ammo is actually achieving. The longtime industry standard of using extra long test barrels to generate advertised velocities is dishonest to the customer as the customer has no idea what type of performance the ammunition actually delivers in the real world, which is the only place it matters.
NOTE MY REAL WORLD VELOCITIES FROM REAL WORLD FIREARMS:
➤ 1,524 fps -- Walther P88 4-inch barrel
➤ 1,374 fps -- Glock 19 4-inch barrel
➤ 1,508 fps -- Browning Hi Power MK111 4.6-inch barrel
➤ 1,496 fps -- Beretta 92F 4.9-inch barrel
You'll note that some of the shorter barrels developed faster velocities than some of the longer barrels. This is due to barrel internal dynamics such as surface smoothness, land and groove dimensions, chamber dimensions, etc. Barrel length alone is not always an accurate determinate of velocity generated with any given load.
This load was reliable in all test pistols and exhibited excellent to good accuracy in all test pistols.

Item 24G - Exterior Ballistics Charts for several different Muzzle Velocities
_______________________________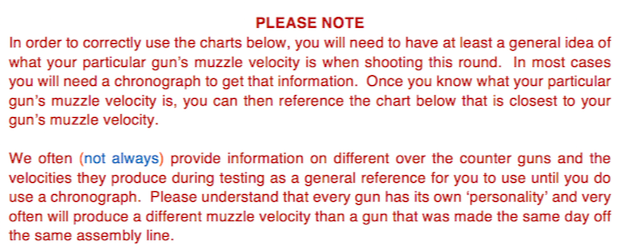 Muzzle Velocity @ 1800 fps for Item 24G
Muzzle Velocity @ 1700 fps for Item 24G
Muzzle Velocity @ 1600 fps for Item 24G
Muzzle Velocity @ 1500 fps for Item 24G
Muzzle Velocity @ 1400 fps for Item 24G
Muzzle Velocity @ 1300 fps for Item 24G
Muzzle Velocity @ 1200 fps for Item 24G
Muzzle Velocity @ 1100 fps for Item 24G
Field Proven pistol and handgun ammo. Maximum firepower ammo. Best ammunition for pistols and handguns for sale. Buffalo Bore. Strictly big bore. Strictly Business.
Attention!
You must be 18 or older to order ammunition. Ammunition must ship UPS ground. Due to Department of Transportation regulations, we cannot accept returns on Ammunition. Make sure to use the correct ammunition in your gun. Check local laws before ordering.
Recently tested this load from a Glock 26 into an FBI spec Clear Ballistics block. Thru a t-shirt, sweatshirt and a layer of denim it penetrated 13.0 inches and expanded to 62 caliber. 100% weight retention
Fired this load thru my Kahr K9 and found it very accurate and easy to control. Recoil is surprisingly mild.
this stuff is effective! im a huge buffalo bore fan. carried daily in my glock 19 while working in deep south tx.where you may need fast stopping power combined with accuracy in a hurry.this is the ne-plus ultra sd ccw carry load.wont speak to how i know.its the real deal.