Your cart is currently empty
40 Smith & Wesson "Standard Pressure" LEAD FREE Pistol and Handgun Ammo
BUFFALO BARNES LEAD-FREE 40 S&W STANDARD PRESSURE, LOW FLASH
125gr. Barnes TAC-XP @ 1,425 fps
20 Round Box
ITEM 23D
This is a high-performance STANDARD PRESSURE 40 S&W loading, which means it is safe to fire in all 40 S&W chambered firearms that are in normal operating condition.
The lightweight 125gr. all copper Barnes bullet will mushroom readily, yet penetrate as deeply as a typical 165gr. JHP style bullet, while generating the low recoil and fast velocities of a lightweight projectile. This aids in fast/accurate follow-up shots. Expect roughly 12 to 13 inches of penetration in living flesh and bone.
This load utilizes a flash suppressed powder, which gives the shooter an important advantage as most shootings in the US occur in low light when the criminal element is most active. Firing to save your life in the dark is likely if you find yourself forced to fire. Blinding yourself with your first shot leaves you very vulnerable.
Accuracy was excellent in every test pistol. Feeding and function were also 100% in every test pistol.
As always, we have used real-world firearms to generate our published velocities. We feel the industry wide duplicitous practice of producing velocities from extra long laboratory barrels is dishonest to the customer as he/she will not be able to duplicate those velocities in the real world, where it matters.
➤ 1420 fps -- Caspian 1911, 5-inch barrel
➤ 1302 fps -- Taurus PT100, 4.7-inch barrel
➤ 1300 fps -- Glock Mod. 23, 4-inch barrel
➤ 1303 fps -- Kahr PM40, 3-inch barrel
You'll note that the shortest barrel did not give the slowest velocity. This shows that there is often internal barrel dynamics that influence velocity, more than barrel length alone.
Item 23D - Exterior Ballistics Charts for several Muzzle Velocities
_______________________________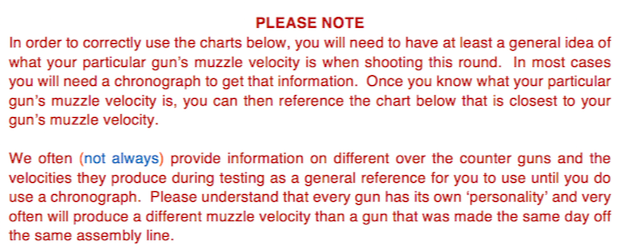 Muzzle Velocity @ 1700 fps for Item 23D
Muzzle Velocity @ 1600 fps for Item 23D
Muzzle Velocity @ 1500 fps for Item 23D
Muzzle Velocity @ 1400 fps for Item 23D
Muzzle Velocity @ 1300 fps for Item 23D
Muzzle Velocity @ 1200 fps for Item 23D
Muzzle Velocity @ 1100 fps for Item 23D
Muzzle Velocity @ 1000 fps for Item 23D
Field Proven pistol and handgun ammo. Maximum firepower ammo. Best ammunition for pistols and handguns for sale. Buffalo Bore. Strictly big bore. Strictly Business.
Attention!
You must be 18 or older to order ammunition. Ammunition must ship UPS ground. Due to Department of Transportation regulations, we cannot accept returns on Ammunition. Make sure to use the correct ammunition in your gun. Check local laws before ordering.
Sd40ve loves these best 40sw i have found !!!!