Your cart is currently empty
.45 ACP +P BUFFALO-BARNES Low Flash Pistol and Handgun Ammo - Photographs may differ slightly from product
BUFFALO BARNES 45 ACP+P
185gr. TAC-XP, LEAD-FREE, LOW FLASH @ 1,150 fps
20 Round Box
ITEM 45-185LF
This load is a very high performance +P 45 ACP load. The 185gr. hollow cavity Barnes all-copper bullet mushrooms readily and still penetrates deeply for such a light bullet, while giving the low recoil and high velocity of a light bullet. This helps fast sight acquisition for quick/accurate follow-up shots. Expect roughly 13 to 14 inches of penetration in flesh and bone.
This load utilizes a low flash powder which gives an important tactical advantage to the shooter as most shootings in the US occur in low light when the criminal element is most active. Being blinded by your own gunfire after the first shot leaves you very vulnerable.
As usual, Buffalo Bore tests and obtains our advertised velocities from real world over-the-counter firearms. We believe that the industry-wide established practice of utilizing extra long test barrels to generate advertised velocities is dishonest and creates expectations that cannot be realized in real guns, in the real world, where it matters. With Buffalo Bore ammo, you'll actually obtain the velocities we advertise.
➤ 1,193 fps -- Colt Series 90 Gold Cup, 5-inch
➤ 1,183 fps -- H&K, USP Tactical, 5-inch
➤ 1,158 fps -- Glock Model 21, 4.6-inch
➤ 1,159 fps -- Colt series 80 Commander, 4.25-inch
➤ 1,110 fps -- Glock model 30, 3.5-inch
In one of the above instances, you'll note that a longer barrel gave velocities lower than one of the shorter barrels, showing that there is more to internal ballistics than just barrel length.
This load reliably fed and exhibited very good accuracy in all test pistols.
Item 45-185LF - Exterior Ballistics Charts for several Muzzle Velocities
_______________________________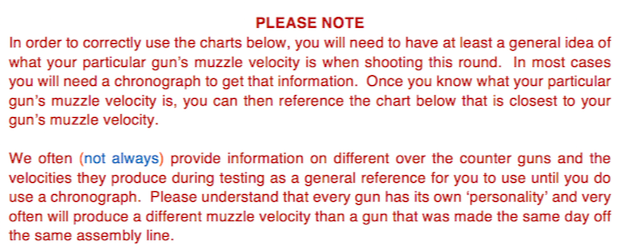 Muzzle Velocity @ 1500 fps for Item 45-185LF
Muzzle Velocity @ 1400 fps for Item 45-185LF
Muzzle Velocity @ 1300 fps for Item 45-185LF
Muzzle Velocity @ 1200 fps for Item 45-185LF
Muzzle Velocity @ 1100 fps for Item 45-185LF
Muzzle Velocity @ 1000 fps for Item 45-185LF
Muzzle Velocity @ 900 fps for Item 45-185LF
Muzzle Velocity @ 800 fps for Item 45-185LF
Field Proven pistol and handgun ammo. Maximum firepower ammo. Best ammunition for pistols and handguns for sale. Buffalo Bore. Strictly big bore. Strictly Business.
Attention!
You must be 18 or older to order ammunition. Ammunition must ship UPS ground. Due to Department of Transportation regulations, we cannot accept returns on Ammunition. Make sure to use the correct ammunition in your gun. Check local laws before ordering.
These are magnificent. I ran two boxes through my mil-spec yesterday and they are very impressive. I shot several rounds at night... The muzzle-flash is significant, but far less than one would expect from a full-house 45 auto. And the flash is more of a dull yellow so it isn't blinding.