Your cart is currently empty
38 SPL +P BUFFALO-BARNES LEAD FREE, Short-Barrel, Low-Flash
38 SPL +P BUFFALO-BARNES LEAD-FREE
110 gr. BARNES TAC-XP @ 1,125 fps
20 Round Box
ITEM 20F


PRESS RELEASE FOR BUFFALO BARNES 38 SPL +P 110gr. SHORT BARREL LOW FLASH TAC-XP
For those wanting a deep penetrating all copper expanding 38SPL+P load, this is it. Depending on individual impact velocity, (barrel lengths and distance to target vary) you can expect between 12 to 14 inches of penetration in flesh and bone.
Buffalo Bore was able to engineer a flash suppressed powder for this load and therefore the shooter will not be blinded by his own gunfire in low light. This creates a huge tactical advantage as most civilian shootings in the US occur in low light when the criminal element is out and about.
See the below real world velocities fired from real world revolvers, not extra long laboratory test barrels that give false extra high velocities, that cannot be duplicated in real life. With Buffalo Bore Ammunition, you'll always get real world, usable velocities.
➤ 1438 fps -- Ruger GP 100, 6-inch barrel
➤ 1287 fps -- S&W Model 15, 4-inch barrel
➤ 1210 fps -- S&W Model 66, 3-inch barrel
➤ 1202 fps -- Ruger SP101, 3-inch barrel
➤ 1149 fps -- S&W Model 66, 2.5-inch barrel
➤ 1119 fps -- S&W Model 60, 2-inch barrel
➤ 1104 fps -- S&W Model 340, 2-inch barrel
This load is safe to fire from all 38SPL +P rated and all/any 357 firearms that are in normal operating condition. However, when fired from super lightweight alloy J frame revolvers, recoil is stiff. This cartridge is designed so the bullet will not jump crimp when subjected to recoil from firing in super light 12 OZ revolvers, provided you do not subject any cartridge to the recoil of more than six or seven firings.
With great pleasure, we noted that every test gun delivered tiny little groups at 25 yards. It is normal when we observe good accuracy from most test guns and exceptional accuracy from some test guns with any load we are developing, but this load gave exceptional accuracy from every test gun. Most of our adjustable sighted test guns needed the rear sight raised as this high speed, lightweight bullet shot to a lower point of impact than normal loads our guns were already sighted in for, but the groups (accuracy potential) were very small, none-the-less.
Item 20F - Exterior Ballistics Charts for several different Muzzle Velocities
_______________________________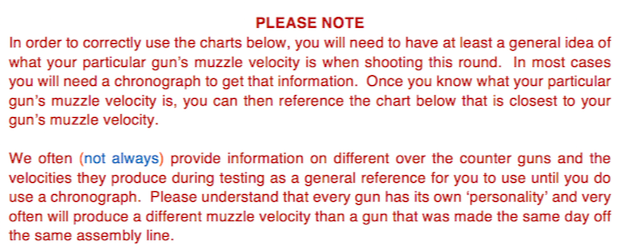 Muzzle Velocity @ 1500 fps for Item 20F
Muzzle Velocity @ 1400 fps for Item 20F
Muzzle Velocity @ 1300 fps for Item 20F
Muzzle Velocity @ 1200 fps for Item 20F
Muzzle Velocity @ 1100 fps for Item 20F
Muzzle Velocity @ 1000 fps for Item 20F
Field Proven pistol and handgun ammo. Maximum firepower ammo. Best ammunition for pistols and handguns for sale. Buffalo Bore. Strictly big bore. Strictly Business.
Attention!
You must be 18 or older to order ammunition. Ammunition must ship UPS ground. Due to Department of Transportation regulations, we cannot accept returns on Ammunition. Make sure to use the correct ammunition in your gun. Check local laws before ordering.
From a Ruger sp101 2.25 in this round penetrated 15.5 inches and expanded to 58 cal. This was in a clear ballistics FBI spec block covered by a t shirt, sweatshirt and a layer of denim