Your cart is currently empty
PRESS RELEASE FOR BUFFALO-BARNES LEAD-FREE 30-30
BUFFALO-BARNES HEAVY 30-30, 150gr. Barnes TSX @ 2,350 fps
20 Round Box
ITEM 28B
This new 30-30 load was designed as the single 30-30 load for all big game hunting. The Barnes TSX opens fast enough to be brutal on deer sized critters, yet penetrates like TSX bullets normally do, so it gives ample penetration for larger species such as elk. While we feel the 30-30 is marginal for big bull elk, this is the load to use if you choose to pursue elk with a 30-30 and then use the same load to hunt deer, so you don't have to readjust your sights for differing loads. This is the perfect load to hunt black bear of all sizes with as the bullet will expand fast enough to deliver terminal devastation on a smallish bear, but will penetrate deeply enough for 500+ lb bear.
The below velocities were shot from my personal rifles. We believe the industry-wide use of extra long laboratory test barrels gives unrealistic high velocities that you'll never realize in hunting rifles. So, we give you real world velocities from real world rifles, so you know what to expect in the real world, where it matters.
➤ 2,271 fps -- Winchester 1894, 20-inch (circa 1953)
➤ 2,247 fps -- Winchester 1894, 20-inch (circa 1963)
➤ 2,198 fps -- Winchester 1894, 16-inch Trapper (circa 1993)
This 30-30 loading (Item 28B/20) is safe to use in ANY/ALL 30-30 chambered firearms that are in normal operating condition—no exceptions, no need to "double check" with us.
Item 28B - Exterior Ballistics for several Muzzle Velocities
_______________________________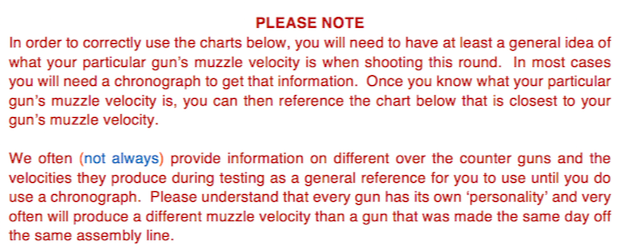 Muzzle Velocity @ 2500 fps for Item 28B
Muzzle Velocity @ 2400 fps for Item 28B
Muzzle Velocity @ 2300 fps for Item 28B
Muzzle Velocity @ 2200 fps for Item 28B
Muzzle Velocity @ 2100 fps for Item 28B
Muzzle Velocity @ 2000 fps for Item 28B
Muzzle Velocity @ 1900 fps for Item 28B
Muzzle Velocity @ 1800 fps for Item 28B
Muzzle Velocity @ 1700 fps for Item 28B
Field Proven rifle and gun ammo. Maximum firepower ammo. Best ammunition for rifles and guns for sale. Buffalo Bore. Strictly big bore. Strictly Business.
Attention!
You must be 18 or older to order ammunition. Ammunition must ship UPS ground. Due to Department of Transportation regulations, we cannot accept returns on Ammunition. Make sure to use the correct ammunition in your gun. Check local laws before ordering.
Outstanding performance on game and very consistent performance at the range. I sighted in my Marlin 336 with a Redfield 2-7X and these grouped very nicely at 100 yards. The rifle likes them. In the field, it was one shot in very thick New Mexico high country at about 90 yards. The buck - a healthy sized mulie forkhorn - made it about 20 yards. I found his heart was disintegrated. I am a meat hunter so bullet performance - both for humane purposes and meat quality - is critical for me. Have faith in this combination. It works. Thanks BB.
Shot a good size boar with impressive results. Enough power to destroy shoulder bone and continue through into chest cavity destroying any vitals in it's path.
This load is the ticket for those of us who hunt with the .30-30. They open wide, penetrate deep and hold together when other lead core jacketed soft tips or hollow points fragment. In my honest opinion I think these are a better choice for the .30-30 than the Leverevolution ammo.