Your cart is currently empty
BUFFALO-BARNES 380 Auto +P Pistol and Handgun Ammo
BUFFALO-BARNES LEAD-FREE 380 Auto +P Ammo
80 gr. Barnes TAC-XP (1275 fps/ME 289 ft. lbs.)
20 Round Box
ITEM 27H
PRESS RELEASE FOR

BUFFALO/BARNES

80gr.

TAC-XP

380 AUTO+P AMMUNITION


This load is the direct result of customers wanting the deep penetration of the expanding Barnes X style bullet in a 380 auto+P load.
See the below real world velocities from my stock real world pistols. We always use over-the-counter firearms to establish our velocities as using extra long laboratory test barrels gives false high-velocity readings and is misleading to the customer who will be firing the ammunition in the real world, not a lab.
➤1,231 — fps - Browning Double Action 3.75-inch barrel
➤1,235 — fps - Walther PPK 3.5-inch barrel - (faster than longer barrel above, not a typo)
➤1,130 — fps - Kel Tec PA3T 2.75-inch barrel
➤1,136 — fps - Kahr P380 2.53-inch barrel
The all copper, long-for-weight, Barnes bullet is so long that when seated to an OAL of .940 to .950 inch, the base of the bullet will make a slight bulge in the case, but this DOES NOT affect feeding or chambering as the bulge is not pronounced enough to cause any problems, but in order to avoid endless emails, I'm mentioning it here. In fact, that bulge provides enough resistance to the bullet base, to stop the bullet from being battered deeper into the case upon feeding, which is a very good thing. If we load to a longer cartridge OAL, to eliminate the bulge, the cartridge will be too long to fit some magazines. Feeding was 100% in our over-the-counter test guns.
We are using a flash suppressed powder so the shooter will not be blinded if dropping the hammer in low light, which is when almost all civilian shootings occur in America.
Item 27H - Exterior Ballistics Charts for several different Muzzle Velocities
_______________________________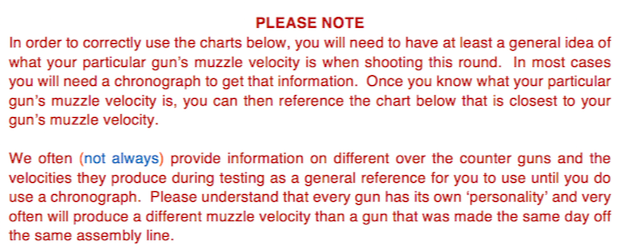 Muzzle Velocity @ 1400 fps for Item 27H
Muzzle Velocity @ 1300 fps for Item 27H
Muzzle Velocity @ 1200 fps for Item 27H
Muzzle Velocity @ 1100 fps for Item 27H
Muzzle Velocity @ 1000 fps for Item 27H
Muzzle Velocity @ 900 fps for Item 27H
Muzzle Velocity @ 800 fps for Item 27H
Field Proven pistol and handgun ammo. Maximum firepower ammo. Best ammunition for pistols and handguns for sale. Buffalo Bore. Strictly big bore. Strictly Business.
Attention!
You must be 18 or older to order ammunition. Ammunition must ship UPS ground. Due to Department of Transportation regulations, we cannot accept returns on Ammunition. Make sure to use the correct ammunition in your gun. Check local laws before ordering.
Great rounds.tested trough 4 layers of denim and 3 water jugs.against hornady z max 90 grain.both rounds stopped in 3rd jug but the 80 grain buffalo barnes had nearly twice the expansion!