Your cart is currently empty
BUFFALO-BARNES PREMIUM 35 WHELEN SUPERCHARGED
BUFFALO-BARNES LEAD-FREE Premium 35 Whelen Supercharged
225 gr. TSX @ 2,800 fps
20 Round Box
Item 42B
PRESS RELEASE FOR BUFFALO BORE 35 WHELEN SUPERCHARGED AMMUNITION
Again, as per customer request, Buffalo Bore has developed two new 35 Whelen loads. Item 42A features a Sierra 225gr. SPTZ-BT bullet @ 2705 fps out of my Remington 700. (24-inch bbl) At the expected impact velocities, this bullet will mushroom readily but hold together on large game like bull elk. We recommend this load for use on smallish big game (like whitetail deer) through Yukon Moose and Bison. However, on very tough (other than broadside) angling shots on large big game, we recommend the use of our item 42B, which features a 225gr. Barnes TSX bullet @ 2654 fps out of the same rifle. The TSX load is a bit slower than the Sierra load because the long-for-weight all copper TSX uses up more case/powder capacity than the shorter Sierra bullet of the same weight.
If you desire the deepest possible penetration from an expanding bullet in 35 Whelen, the 225gr. Barnes TSX bullet delivers. It will out penetrate a 250gr. typical premium partition bullet, but gives the advantage of higher velocity, flatter trajectory and reduced recoil of the lighter 225gr. bullet. You can use this TSX load for bad angle (quartering or going straight away) shots on the largest North American big game.
This ammo is designed to be the highest quality, most powerful/versatile, 35 Whelen ammo, in the world. It exhibits sub MOA accuracy in our test rifle.
Item 42B - Exterior Ballistics Charts for several Muzzle Velocities
_______________________________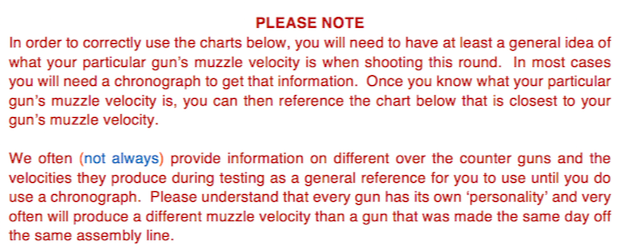 Muzzle Velocity @ 2900 fps for Item 42B
Muzzle Velocity @ 2800 fps for Item 42B
Muzzle Velocity @ 2700 fps for Item 42B
Muzzle Velocity @ 2600 fps for Item 42B
Muzzle Velocity @ 2500 fps for Item 42B
Muzzle Velocity @ 2400 fps for Item 42B
Muzzle Velocity @ 2300 fps for Item 42B
Muzzle Velocity @ 2200 fps for Item 42B
Field Proven rifle and gun ammo. Maximum firepower ammo. Best ammunition for rifles and guns for sale. Buffalo Bore. Strictly big bore. Strictly Business.
Attention!
You must be 18 or older to order ammunition. Ammunition must ship UPS ground. Due to Department of Transportation regulations, we cannot accept returns on Ammunition. Make sure to use the correct ammunition in your gun. Check local laws before ordering.
I had an opportunity to use the 225 grain TSX load on an exotic game hunt in Texas last weekend. The rifle used was a custom built .35 Whelen set up as a scout rifle with 20 inch barrel and 2-7 EER Scope. This load is amazing! The first day I shot a very large Blackbuck weighing 120lbs at 250 meters ten minutes before dark. The Blackbuck ran approximately 30 meters after being shot and went down dead. The following day I spent about four hours stalking a 400 pound Scimitar Oryx. I finally caught him skimming a ridge line 125 meters away. On impact the Oryx was knocked off it's feet, managed to get up and run 10 meters, then collapsed dead. Shots on both animals were complete pass throughs with large exit wounds. I love my .35 Whelen and I will never use another ammo for it besides Buffalo Bore!!!!!!