Your cart is currently empty
Deer Grenade .44 Magnum +P Pistol and Handgun Ammo
Deer Grenade .44 Magnum +P Ammo
240 gr. Soft Cast - G.C. @ 1,550 fps
20 Round Box
ITEM 4F

PLEASE NOTE: This DEER GRENADE round is too long to cycle in the Henry Big Boy rifle.

Buffalo Bore's Deer Grenade 44 Mag. +P is a 240gr. Massive, Hollow Nosed, 12 BHN cast bullet with a gas check traveling at the below velocities out of stock, real world, over-the-counter firearms:
➤ 1,935 fps -- Marlin 1894 20 inch
➤ 1,897 fps -- Marlin 1894 18 inch
➤ 1,871 fps -- Marlin 1894 16.5 inch
➤ 1,578 fps -- Ruger Super Blackhawk 5.5 inch
➤ 1,535 fps -- Ruger Redhawk 5.5 inch
➤ 1,466 fps -- S&W MT Gun 4 inch
This load is designed as the world's premier deer load for 44 Mag. The cast bullet is not considered soft, but it is not really a HARD cast bullet either as it only has a BHN (Brinell Hardness Number) of 12 so, it could be termed a medium/hard cast bullet. It performs as follows:
◼︎ At an impact velocity of 1,100 fps it will mushroom to about 75 Cal. and should push right through any deer with a broadside shot.
◼︎ At an impact velocity of 1,500 fps it will mushroom and some of the mushroom will fragment off and send bullet particles flying through the deer, but much of the mushroom and shank will remain intact and should push through any deer hit broadside.
◼︎ At an impact velocity of 1,900 fps the entire mushroom will turn into shrapnel and send bullet particles all throughout the deer. The shank will remain intact, but will re-mushroom and do horrific damage inside the deer and will probably push through any deer hit broadside.
◼︎ Of course all these results will vary depending on how much bone, if any, you hit, etc. This load was designed specifically to do horrific damage to deer sized game and as such does not penetrate like a hard cast flat nosed bullet. This bullet only penetrates about 30% as deep as a typical flat nosed hard cast bullet, which is perfect penetration for a shallow game like deer, and medium-sized pigs or black bear. This load is your best bet for immediately anchoring any deer with the 44 Mag. cartridge that is not CNS (central nervous system) hit.
This bullet is properly alloyed, lubed and is gas checked; it will NOT lead-foul barrels.
This load is designed to be safe in ALL/ANY, all steel firearms that are in normal operating condition. We do not recommend its use in lightweight alloyed revolvers as the bullets may jump the crimp.
Item 4F - Exterior Ballistics Charts for several Muzzle Velocities
_______________________________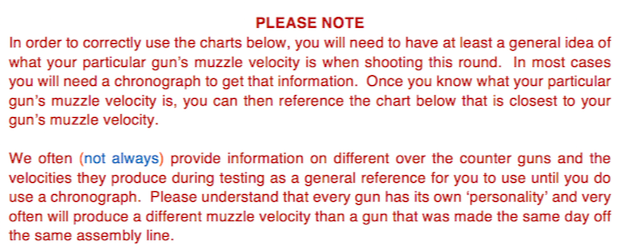 Muzzle Velocity @ 2200 fps for Item 4F
Muzzle Velocity @ 2100 fps for Item 4F
Muzzle Velocity @ 2000 fps for Item 4F
Muzzle Velocity @ 1900 fps for Item 4F
Muzzle Velocity @ 1800 fps for Item 4F
Muzzle Velocity @ 1700 fps for Item 4F
Muzzle Velocity @ 1600 fps for Item 4F
Muzzle Velocity @ 1500 fps for Item 4F
Muzzle Velocity @ 1400 fps for Item 4F
Field Proven pistol and handgun ammo. Maximum firepower ammo. Best ammunition for pistols and handguns for sale. Buffalo Bore. Strictly big bore. Strictly Business.
Attention!
You must be 18 or older to order ammunition. Ammunition must ship UPS ground. Due to Department of Transportation regulations, we cannot accept returns on Ammunition. Make sure to use the correct ammunition in your gun. Check local laws before ordering.
Well, the Deer Grenades got it DONE!!! Shot a deer at 75 yards broadside, dropped where is stood! Exit hole was 3 inches, my butcher said. Second whitetail I've harvested with these, I really like how they perform on an animal the size of the Ohio Whitetail. Thanks for making such a great product!
Just an update, shot a small buck this year, after 4 days of high wind and rain, with the Deer Grenade at a little over 2000 fps. Pure lung pass through, 1 1/2" entrance with some blow back, 4" hole through lungs with another 1 1/2" shredded around the hole, shrapnel tracks and a 1/4" hole in the heart, shank size exit wound. Ran about 30 feet hunched up then rolled down the hill. Only one deer so far but wounding and dead run way better than conventional 44 mag bullets.
2013-2040 fps out of CVA scout 22", 1-1/4" @ 100 yds. Impressed as heck with the speed and accuracy, hopefully not too fast for the bullet.
I was excited to receive my rounds this week. Like a previous review the rounds will not cycle in my Henry Big Boy. It was disappointing but I can still use them in my Ruger BH hunter just fine.
Killed 4 deer with this round last year great round ,the problem is this round will not cycle through my henry big boy 44 Mag
Used this round on a black bear hunt in Ontario using a Henry Bigboy. Took a 220 lb sow at 40 yrds. Nearly instant kill, massive damage. This is a tremendously destructive round. It's also a lot of fun to shoot watermelons with it. R.Lee Ermy would be proud!!
I would like to revise my previous post. Turns out my optics were to blame for the poor accuracy I was getting. With new optics installed, I was able to harvest a large doe this season with a 40 yd broadside shot thru the lungs. She went another 40 than crashed. While processing we could not believe how much internal damage this round did. It truly lives up to its name.
Always carry a hand gun with me on all my deer hunts along with a rifle of course. Just bought a raging bull 44mag w/6.5in a few weeks before deer season, couldn't turn away the price I got it for. But back to the 44mag P deer grenade ammo, did a little target practice with a couple fresh pumpkin. Set them out about fifty paces, didn't have a range finder on me but probably close to 50 yards, it had a small 1inx2in ID sticker on it and that was what I was aiming for. Choose to shoot a pumpkin to see really what kinda damage these rounds could inflect. First shot was just from a standing position and was able to punch one right in the sticker, but that wasn't even the best part. After shooting it that first time I was excited to see what kinda damage I inflected, to nobodies surprise there were two mian holes small in the front and larger in the back but surrounding the larger exit hole was several smaller holes where that bullet was able to fragment @ pistol vilocities. Just showed me how devistating this round can be when deer hunting. Ended up putting 2 out of 3 shot in that sticker.
This is indeed a devastating round for whitetail. I use it when hunting thick woods and I need to be mobile. I had a big-bodied Tennessee whitetail step out of the woods behind me just before dark, I was ground hunting, no blind, in some pine trees, I got off a quick shot and busted him with my Marlin 1894 lever at about 40 yards. He ran maybe 30 yards into the woods, heavy blood trail, deader'n 4 o'clock. Big body, at least for here, 200-plus pounds, fair amount of tissue/meat damage but nothing to worry about. The round crashed his boiler room, huge exit hole. Later in the season I shot a sausage doe, also from the ground through thick woods, she was about 60 yards away, it was a heart shot, actually about 6 inches lower than my aim point, but she only staggered a few feet and went down. so there was some drop. Bottom line, this is a very bad-ass round particularly well-suited for heavy country. It's all I use in my .44 lever and would recommend to anybody, along with any other ammo available here.
Just shot this at the range today for the first time with a Handi-Rifle. Didn't group as well as I would have like but all shots would be within the kill zone of any deer at 50 yrds. Season starts this wknd. hope to see how it performs.
Great Whitetail round ! Shot large doe at 40 yards ..thru and thru ..doe ran 15 yards with outstanding blood trail...will use this in my Winchester 1894 all season ...thanks for a great product
I purchased the Buffalo Bore .44 Mag P to use for whitetail hunting with my Ruger 77/44 Mag rifle. If you don't want to track a deer, this is the perfect round. From 35 yards, I dropped a doe on the spot, no exit wound. Thanks, Buffalo Bore, you made my hunting experience easier.