Your cart is currently empty
380 Auto +P Pistol and Handgun Ammo
380 Auto +P Ammo
95 gr. Jacketed Hollow Point - (1125 fps M.E. 267 ft. lbs)
20 Round Box
ITEM 27D
The 380 auto inhabits a valuable and useful place in our society, mostly because of the easily concealable, tiny pistols chambered for it. HOWEVER, because of the very limited size of the cartridge, it is plagued with limited power and therefore most of the existing ammo in 380 auto suffers from not being reliable as a man-stopper. We've studied and played with nearly all of the existing available 380 ammo and find it wanting as a reliable means of self-defense, especially against a large, insane, drugged up/pain-free, determined attacker.
Here's the problem:
The current 380 auto frangible ammo delivers a large amount of surface trauma but lacks serious penetration. For example, if you shot me or another sane man in the face with modern frangible 380 ammo, it would blow off a big portion of my cheek and send a few teeth down my throat, I would undoubtedly fall to the ground in shock and pain, but I would be very much alive and functional if I could get past the shock and pain as that frangible bullet would have stopped somewhere inside my face, never making it to my brain. However, if you shot a drugged up maniac in the face with that same frangible 380 ammo and blew half his cheek off, he would keep right on coming because he is insane and is not thinking like you or I. Plus, he is likely pain free and fear free and won't know that half his cheek is missing and if he did know, he would not care. So whatever 380 ammo you shoot him in the face with, had better go through his face and blow his brain stem out the back of his head, because only a CNS (central nervous system) hit with a 380 is going to stop him. Likewise, a torso hit to the sternum needs to penetrate deep enough to blow all the way through his spine in order to shut him down spontaneously. If you fail to shut him down instantly, you and your loved ones are going to have to find a way to survive while you wait for him to bleed out and pass out. The best chance of survival for you and your family is to shut down the attacker instantly. So, we've designed a few 380 auto +P loads to keep you and your loved ones alive under the worst of scenarios.
This 380 Auto+P ammo will better all American made 380 Auto ammo by 150 fps to 200 fps in all bullet weights we make.
This is a serious improvement in this typically anemic cartridge. This 380 auto+P ammo is more powerful than the typical 38SPL ammo made by most American ammo makers and you'll get 7 shots of it in a small/flat/lightweight 380 versus 5 shots out of a bulkier 38 SPL J frame revolver. Additionally, with the 380 you'll get much faster reloads and the little magazines are flatter than a speed-loader used for a J frame.
Check out my "real world" velocities from my "real world" pistols below.
➤ 1,145 fps -- BDA-3.75-inch barrel
➤ 1,120 fps -- Walther PPK-3.5-inch barrel
➤ 1,042 fps -- Colt Mustang Pocket Lite-2.75-inch barrel
➤ 1,019 fps -- Keltec - 2.75-inch barrel
Item 27D - Exterior Ballistics Charts for two different Muzzle Velocities
_______________________________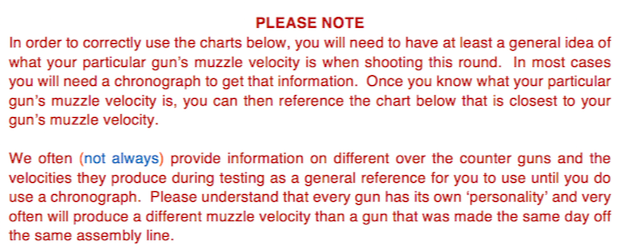 Muzzle Velocity @ 1300 fps for Item 27D
Muzzle Velocity @ 1200 fps for Item 27D
Muzzle Velocity @ 1100 fps for Item 27D
Muzzle Velocity @ 1000 fps for Item 27D
Muzzle Velocity @ 900 fps for Item 27D
Muzzle Velocity @ 800 fps for Item 27D
Field Proven pistol and handgun ammo. Maximum firepower ammo. Best ammunition for pistols and handguns for sale. Buffalo Bore. Strictly big bore. Strictly Business.
Attention!
You must be 18 or older to order ammunition. Ammunition must ship UPS ground. Due to Department of Transportation regulations, we cannot accept returns on Ammunition. Make sure to use the correct ammunition in your gun. Check local laws before ordering.
Smooth shooting and very hard hitting at 5 and 7 yards away. Will be checking it out at further distances soon. Had cardboard target propped up against a cinder block, I am hard to impress but it did just that as it pulverized the block. I have shelved the CorBon's in favor of these.