Your cart is currently empty
460 Smith & Wesson Pistol and Handgun Ammo
460 Smith & Wesson Ammo - 360 gr. L.B.T.-L.F.N. (1,900fps/M.E. 2,860 ft. lbs.)
20 Round Box
Item 26B - Exterior Ballistics Charts for several Muzzle Velocities
_______________________________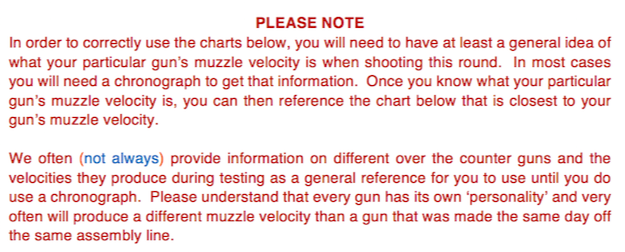 Muzzle Velocity @ 2300 fps for Item 26B
Muzzle Velocity @ 2200 fps for Item 26B
Muzzle Velocity @ 2100 fps for Item 26B
Muzzle Velocity @ 2000 fps for Item 26B
Muzzle Velocity @ 1900 fps for Item 26B
Muzzle Velocity @ 1800 fps for Item 26B
Muzzle Velocity @ 1700 fps for Item 26B
Muzzle Velocity @ 1600 fps for Item 26B
Field Proven pistol and handgun ammo. Maximum firepower ammo. Best ammunition for pistols and handguns for sale. Buffalo Bore. Strictly big bore. Strictly Business.
Attention!
You must be 18 or older to order ammunition. Ammunition must ship UPS ground. Due to Department of Transportation regulations, we cannot accept returns on Ammunition. Make sure to use the correct ammunition in your gun. Check local laws before ordering.
A real heavy hitter. During testing, it broke my plate rack. The rack has taken a steady diet of hits from AR's and AK's, but four shots from this round out of my XVR sent three plates flying into the berm, and the fourth bent 90* sideways from 25 yards. I would not hesitate to hit anything in North America with this cartridge.
I have shot everything from 380 to 223 to 460 and believe in Buffalo Bore. So when I go hunting any game with my revolver it's loaded with the best, this December I harvested a very large black bear with my 460 S
excellent ammo. very stout recoil. i was shooting corbon loads looking for more powerful rounds and stumbled across this at one of the local shops. so i figured id try it out since the ballistics on the box were far higher than cobon's. holds true to the load data if not higher. definately felt the difference. love it
This ammunition is the most powerful that I have found for the 460. I've taken it to the field, but haven't had chance to see how it performs on game (saw three does and zero bucks!). This ammo will destroy pumpkins and milk jugs with ease! The recoil is stout - your hands and your target will definitely know that the hammer has fallen! The accuracy out of my S