Your cart is currently empty
9mm Luger +P+ Pistol and Handgun Ammo
9MM Luger +P+ Pistol and Handgun Ammo
(+P+) 147 gr. Jacketed Hollow Point - (1,175 fps/M.E. 451 ft. lbs.)
20 Round Box
ITEM 24C
All Buffalo Bore 9mm +P and +P+ ammunition are loaded with flash suppressed powder so you won't be blinded if you have to drop the hammer in low light. Over 90% of all human shootings are in low light, so flashed suppressed powder can be a life saver as no one wants to be blind after they fire one shot in a real critical situation.
There is such a variety of 9mm pistols in public use that we will not determine what guns are compatible with which 9mm loads. It is up to you to determine the compatibility of any ammo with your particular pistols.
Check out the below velocities that we shot with our ammo in several modern pistols. We don't believe that test barrels are a very real way of determining the true velocities of ammo out of real guns. So, as with all of our ammo, we use real firearms to determine real velocities. Note that the longest barrel did not generate the highest velocities with any load. This suggests that there are a lot more factors involved with velocities in internal ballistics than just barrel length.
Item 24C/20 (+p+) 147gr. Jacketed Hollow Point
➤ 1,179 fps -- Browning Hi Power MK111, 4.6-inch barrel
➤ 1,131 fps -- Beretta 92F, 4.9-inch barrel
➤ 1,165 fps -- Glock 19, 4.0-inch barrel
Item 24C - Exterior Ballistics Charts for several different Muzzle Velocities
_______________________________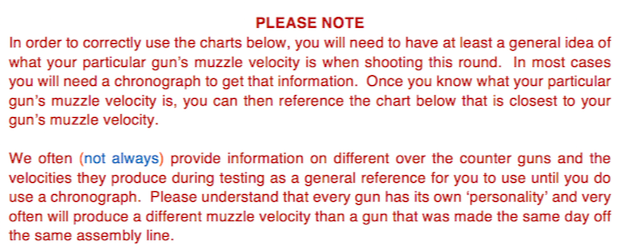 Muzzle Velocity @ 1400 fps for Item 24C
Muzzle Velocity @ 1300 fps for Item 24C
Muzzle Velocity @ 1200 fps for Item 24C
Muzzle Velocity @ 1100 fps for Item 24C
Field Proven pistol and handgun ammo. Maximum firepower ammo. Best ammunition for pistols and handguns for sale. Buffalo Bore. Strictly big bore. Strictly Business.
Attention!
You must be 18 or older to order ammunition. Ammunition must ship UPS ground. Due to Department of Transportation regulations, we cannot accept returns on Ammunition. Make sure to use the correct ammunition in your gun. Check local laws before ordering.
WOW! MY G43 IS NOW A BEAST, NOW IT IS LIKE MY MINI G20 or MY 460 ROWLAND.
killed a 300 lb. hog at 20 yards with one shot
these rounds are almost like have a .40 heavy bullet fast and incredible penetration.