Your cart is currently empty
Heavy .40 Smith & Wesson +P Pistol and Handgun Ammo
Heavy .40 Smith & Wesson +P Ammo
180 gr. F.M.J. - (1,100 fps/M.E. 484 ft. lbs.)
20 Round Box
ITEM 23C
All Buffalo Bore Heavy 40 S&W +P loads use flash suppressed powders that give high velocities at low pressures. Since over 90% of all human shootings in the USA happen in low light, we believe that flash suppressed powders are a potential life-saving advantage - you don't want to be blind after you fire one shot in a life-threatening, high-stress situation.
There is such a variety of 40 S&W pistols in public use that we will not determine what pistols are compatible with which 40 S&W +P loads - this is your responsibility! We will add that this ammo is safe in pistols that use a fully supported chamber. Please read the safety notices below. The first one is taken from the Speer #13 loading manual. The second is taken from Hodgdons #27 loading manual.
SAFETY NOTICE
"Some pistols chambered for the 40 S&W cartridges may not provide complete support of the case head. If this condition exists, normal pressure loads such as those shown here can cause the case wall to bulge or rupture at the unsupported point. Contact your firearm manufacturer to determine if your pistol completely supports the case head, or ask a gunsmith to inspect your pistol before using it with ANY ammunition. It is the gun owners responsibility to know his firearm and its capabilities and limitations."
40 S&W WARNING
"This data is intended for use in firearms which fully support the cartridge in the chamber. Use of this data in firearms which do not fully support the cartridge may result in bulged cases, ruptured cases, case head separation, or other conditions which may result in damage to the firearm and/or result in injury or death to the shooter or bystanders."
Glock happens to chamber their 40 S&W pistols without a fully supported chamber and both of those above safety notices are likely aimed at Glock. I know of no other 40 S&W handguns being sold in the US that don't have fully supported chambers. If you really want to shoot our 40S&W ammo in your Glock, have an after market barrel that uses a supported chamber, dropped into it. This is a fairly common practice and will give you the safety margin needed to fire our ammo in your Glock. It will also likely give you more velocity than the factory Glock barrel. I personally own two Glock Model 23's. Both of mine are going to get after market barrels dropped in so that I can use this excellent ammo in them. The issue of Glock pistols not having a fully supported chamber is with the 40 S&W cartridges only, not 45 ACP, 10mm, 9mm or 380 Auto. While Glocks chambers are not fully supported in any of those calibers, only the 40 S&W brass is weak enough in the web for it to be a safety issue. I REPEAT, only the 40 S&W is a safety issue with chambers that are not fully supported. You do not need to be concerned with this issue when using our 45acp+, 10mm, 380 auto+P or 9mm+P or +P+ ammunition in Glock pistols.
Check out the velocities below that I shot with these loads in several modern pistols that I own. We don't believe that test barrels are a very real way of determining real life velocities out of real life guns that you will be using. So, as with all of our ammo, we use real firearms to determine real velocities.
Item 23C/20: 180gr. TMJFN
➤ 1111 fps -- Custom made 1911 with Nowlin (5-inch barrel)
➤ 1042 fps -- Taurus PT 100 (4.9-inch barrel)
➤ 1038 fps -- Sig 229 (3.75-inch barrel)
Item 23C - Exterior Ballistics Charts for several Muzzle Velocities
_______________________________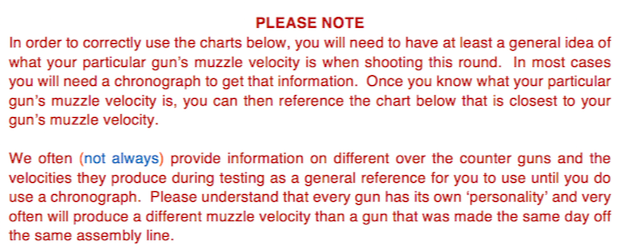 Muzzle Velocity @ 1300 fps for Item 23C
Muzzle Velocity @ 1200 fps for Item 23C
Muzzle Velocity @ 1100 fps for Item 23C
Muzzle Velocity @ 1000 fps for Item 23C
Field Proven pistol and handgun ammo. Maximum firepower ammo. Best ammunition for pistols and handguns for sale. Buffalo Bore. Strictly big bore. Strictly Business.
Attention!
You must be 18 or older to order ammunition. Ammunition must ship UPS ground. Due to Department of Transportation regulations, we cannot accept returns on Ammunition. Make sure to use the correct ammunition in your gun. Check local laws before ordering.
I carry these in my .40 cal Sig. Don't know what they clock, but don't care. they shoot fast, and straight. I use Buffalo Bore for a number of hunting as well as personal protection. I will use Buffalo Bore for as long as this company continues to make such great products. If there is no better load on the market.