Your cart is currently empty
Heavy 10mm Pistol and Handgun Ammo
Heavy 10mm Ammo
200 gr. F.M.J. - (1,200 fps/M.E. 639 ft.lbs.)
20 Round Box
ITEM 21A
The Buffalo Bore Heavy 10 mm ammo is the result of many years of customer's requests that we produce several such loads for the 10 mm.
These loads bring out the full potential of the 10MM but operate at standard pressures and as such, are safe to use in any standard 10mm pistol. Please don't phone us and ask if these loads are safe in your 10mm - THEY ARE - provided your 10mm is a normal operating pistol in good condition.
We are using flash-suppressed powders so your vision will not be materially affected should you be required to drop the hammer in low light.
If you are firing this 10mm ammo from an autoloader and experience high extreme spreads in velocity, it is not the ammo. Here is why and how to remedy the situation.
Full power 10mm ammo has always generated enough recoil and pressure to require a pretty stiff recoil spring in your handgun - that, of course, depends on several variables such as your slide weight, etc. When the cartridge fires, it generates enough pressure/recoil to prematurely open your breech face in some guns. When this happens, the opening breech face has an effect on the burn rate of the powder. This can result in some fairly high extreme spreads in velocity. If you are experiencing extreme velocity spreads of more than 50 fps, simply install a stiffer recoil spring.
For Example:
I have an original Colt Delta Elite. This gun with the factory spring runs extreme spreads of about 35 fps with both of these 10mm loads. I am happy with 35 fps, so I leave the Delta Elite as is. I also have a custom built Para Ordnance with a Nowlin barrel. It runs extreme spreads of about 70 fps with its original recoil spring. When I install a spring that is 4 lbs stiffer, the extreme spread drops to about 35 fps. The new Glock model 20 comes with a recoil spring that allows the breech face to open too soon and my new Glock model 20 will get extreme spreads of about 100fps with the factory spring installed. When I go to a stiffer recoil spring, the extreme spreads drop to about 50 fps in my new Glock model 20. Of course, none of this will be an issue in a revolver. None of this will be an issue in real life either, as these high extreme spreads don't hurt accuracy or function. However, I mention this because if you are like me and want things to be as correct as possible, I have outlined the problem and the solution. The industry fixed all these problems initially, by watering down the 10mm ammo over the last several years. The watered down 10mm ammo does not generate the pressure/recoil to open the breech face early. If you want the full powered 10mm ammo we make, you simply need to tweak your pistol. Or just realize that you are getting some fairly high extreme spreads and ignore it or live with it. It's not hurting anything in reality.
Please understand that we get hundreds of emails per day. If we don't answer your email, it is not because we don't value your patronage, but it is because we simply don't have the manpower to answer so many emails. Thank you for your business. Have fun and be safe.
Please note below, my personal velocities taken from real pistols:
➤

1198 fps - Glock model 20 4.6-inch barrel
➤ 1223 fps - Colt Delta Elite 5-inch barrel
➤ 1244 fps - Para Ordinance 1911 with Nowlin 5-inch barrel
Item 21A - Exterior Ballistics Charts for several Muzzle Velocities
_______________________________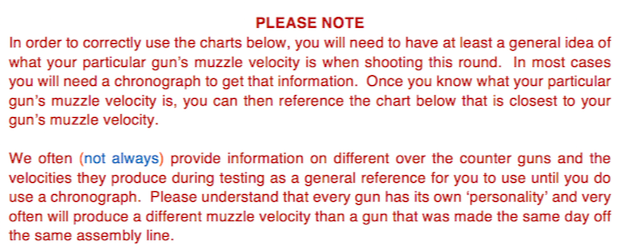 Muzzle Velocity @ 1500 fps for Item 21A
Muzzle Velocity @ 1400 fps for Item 21A
Muzzle Velocity @ 1300 fps for Item 21A
Muzzle Velocity @ 1200 fps for Item 21A
Muzzle Velocity @ 1100 fps for Item 21A
Muzzle Velocity @ 1000 fps for Item 21A
Field Proven pistol and handgun ammo. Maximum firepower ammo. Best ammunition for pistols and handguns for sale. Buffalo Bore. Strictly big bore. Strictly Business.
Attention!
You must be 18 or older to order ammunition. Ammunition must ship UPS ground. Due to Department of Transportation regulations, we cannot accept returns on Ammunition. Make sure to use the correct ammunition in your gun. Check local laws before ordering.
This ammo is great! Packs a punch and is 100% reliable after upgrading recoil and hammer spring. Primers seemed a little soft so I was getting firing pin drag, new firing pin spring fixed that though.
I completely agree with the reviewer before me, J.H. This round will penetrate beyond expectations. As a result, it's a fabulous woods load, where straight line penetration is needed for dangerous game. If 15 of these in a Glock 20 aren't enough protection, you're probably missing with every shot. Accuracy is also fine. To comment on the standard deviation warnings for high-powered ammo in a Glock 20, I chronographed these at 1225 with standard 4.6" barrel. Deviation less than 35 or -. Mine is the Gen 4 with double recoil spring. GOOD STUFF FOR SURE!
This is a penetrator. I shot this load out of a stock Glock 20 through two old pick-up truck doors (sheet steel and regulator) and through 3/4" plywood behind the doors. If it wasn't for the packed dirt mound behind all the "test media" the bullet would still be going. If you want perfect function, good power, and lots of penetration - this is the load.