Your cart is currently empty
Standard Pressure Short Barrel Low Flash Heavy .38 Special Pistol and Handgun Ammo
Standard Pressure Short Barrel Low Flash Heavy .38 Special Ammo
125gr. Jacketed Hollow Point - (900 fps/M.E. 225 ft. lbs.)
20 Round Box
ITEM 20E
Due to customer demand, we've developed this defensive 38SPL ammo. Our customers wanted some devastating 38SPL loads that would fill the following criteria.
1. It won't hurt older/fragile/alloy revolvers. (Non +P)
2. Is effective as a "fight stopper" through the use of proper bullets.
3. Is more powerful than typical/standard, weak 38SPL ammo.
4. Generate much less recoil than our +P 38SPL ammo.
5. Is flash suppressed.
Buffalo Bore is introducing these three different heavy, yet standard pressure loadings for 38 SPL. These offerings are loaded at standard pressure, but they are much more powerful than normal 38 SPL ammo. These loads will not harm older more fragile revolvers. So, these loads are safe for use in ANY 38 SPL revolver, provided it is in normal working condition. As stated above, the "POWER" level of these loads is really closer to a typical +P power level, but the pressure is standard. We are able to develop these powerful standard pressure loads with modern non-canister powders. Again, these loads recoil far less than our +P 38 SPL ammo.
This load is flash suppressed, so firing it in the dark won't blind you. We use flash suppressed powder in our defensive ammo, in the loadings where we can, because over 90% of all civilian shootings in America occur in low light when the criminal element is at work. We don't want you blinded by your own gunfire after the first shot.
Item 20E utilizes a Jacketed Hollow Point 125 gr. Jacketed hollow nose bullet. This bullet is designed to expand at low speeds and has no problem opening up at considerably less velocity than our advertised 900 fps, from two-inch barrels. Penetration in human tissue is roughly 12 inches. Note my test velocities below from real world, "over the counter" revolvers - NOT TEST BARRELS!
➤ 921 fps (235 ft. lbs.) -- S&W mod. 60, 2-inch barrel
➤ 938 fps (244 ft. lbs.) -- S&W mod. 66, 2.5-inch barrel
➤ 1019 fps (288 ft. lbs.) -- Ruger SP101, 3-inch barrel
➤ 1078 fps (322 ft. lbs.) -- S&W Mt. Gun, 4-inch barrel
Item 20E - Exterior Ballistics Charts for several different Muzzle Velocities
_______________________________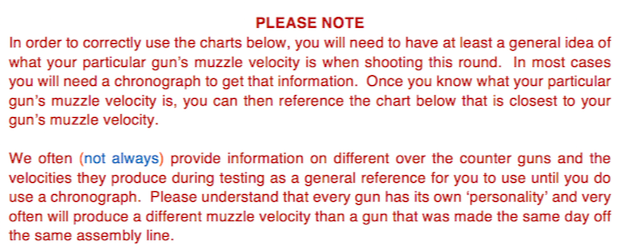 Muzzle Velocity @ 1300 fps for Item 20E
Muzzle Velocity @ 1200 fps for Item 20E
Muzzle Velocity @ 1100 fps for Item 20E
Muzzle Velocity @ 1000 fps for Item 20E
Muzzle Velocity @ 900 fps for Item 20E
Field Proven pistol and handgun ammo. Maximum firepower ammo. Best ammunition for pistols and handguns for sale. Buffalo Bore. Strictly big bore. Strictly Business.
Attention!
You must be 18 or older to order ammunition. Ammunition must ship UPS ground. Due to Department of Transportation regulations, we cannot accept returns on Ammunition. Make sure to use the correct ammunition in your gun. Check local laws before ordering.
On August 20th I chrongraphed this load thru my 3 in Ruger sp101 357. The average velocity was 1010 fps with a high of 1013 and a low of 993. Zero flash, accurate and right on spec.
Accurate and powerful. Five shot average of 940fps out of my S