Your cart is currently empty
Standard Pressure Short Barrel Low Flash Heavy .38 Special Pistol and Handgun Ammo
Standard Pressure Short Barrel Low Flash Heavy .38 Special Ammo
150 gr. Hard Cast Wad Cutter - (850 fps/M.E. 241 ft. lbs.)
20 Round Box
ITEM 20D
Due to customer demand, we've developed this defensive 38 SPL ammo. Our customers wanted some devastating 38 SPL loads that would fill the following criteria.
1. It won't hurt older/fragile/alloy revolvers. (Non +P)
2. Is effective as a "fight stopper" through the use of proper bullets.
3. Is more powerful than typical/standard, weak 38SPL ammo.
4. Generate much less recoil than our +P 38SPL ammo.
5. Is flash suppressed.
Buffalo Bore is introducing these three different heavy, yet standard pressure loadings for 38 SPL. These offerings are loaded at standard pressure, but they are much more powerful than normal 38 SPL ammo. These loads will not harm older more fragile revolvers. So, these loads are safe for use in ANY 38 SPL revolver, provided it is in normal working condition. As stated above, the "POWER" level of these loads is really closer to a typical +P power level, but the pressure is standard. We are able to develop these powerful standard pressure loads with modern non-canister powders. Again, these loads recoil far less than our +P 38 SPL ammo.
This load is flash suppressed, so firing it in the dark won't blind you. We use flash suppressed powder in our defensive ammo in the loadings whenever possible as over 90% of all civilian shootings in America, occur in low light when the criminal element is at work. We don't want you blinded by your own gunfire after the first shot.
Item 20D utilizes a very hard cast 150gr. WAD CUTTER bullet. The bullet is made hard, so it won't deform or mushroom. It cuts/crushes a "cookie cutter", full diameter hole in human flesh just like it does on a paper target. It penetrates deeply (roughly 14 to 16 inches in human tissue) and its full diameter profile maximizes blood loss as it cuts and crushes (not slips or slides) its way through tissue. Although I've never been shot with a full profile wad cutter bullet, I must assume that the initial impact of that wide flat nosed bullet, is crushingly formidable. As a teenager, I took to the woods on a regular basis and killed many a critter with heavily loaded 38SPL wadcutters'. The effect of a full profile wad cutter on small game was obvious and amazing, compared to regular round nosed bullets. That flat nose literally hammers living things. These bullets are hard and properly lubed and will NOT lead your barrel. Note my velocities from real world "over the counter" revolver s- NOT TEST BARRELS!
➤ 868 fps (251 ft. lbs.) -- S&W mod. 60, 2-inch barrel
➤ 890 fps (264 ft. lbs.) -- S&W mod. 66, 2.5-inch barrel
➤ 961 fps (308 ft. lbs.) -- Ruger SP101, 3-inch barrel
➤ 1005 fps (336 ft. lbs.) -- S&W Mt. Gun, 4-inch barrel
Item 20D - Exterior Ballistics Charts for different Muzzle Velocities
_______________________________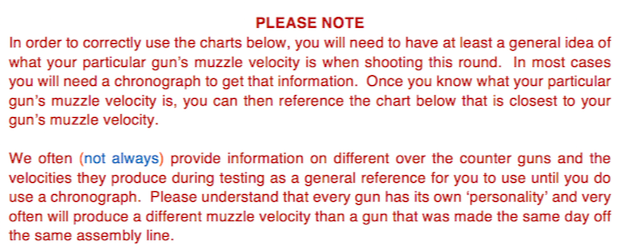 Muzzle Velocity @ 1200 fps for Item 20D
Muzzle Velocity @ 1100 fps for Item 20D
Muzzle Velocity @ 1000 fps for Item 20D
Muzzle Velocity @ 900 fps for Item 20D
Muzzle Velocity @ 800 fps for Item 20D
Field Proven pistol and handgun ammo. Maximum firepower ammo. Best ammunition for pistols and handguns for sale. Buffalo Bore. Strictly big bore. Strictly Business.
Attention!
You must be 18 or older to order ammunition. Ammunition must ship UPS ground. Due to Department of Transportation regulations, we cannot accept returns on Ammunition. Make sure to use the correct ammunition in your gun. Check local laws before ordering.
excellent quality , fast delivery - well packaged - couldn't be happier ! 5rds went straight into my Smith&Wesson MP 340 CT !
Use these in a 3" Derringer (1000fps!) and my wife's 4" .38spl. Would NOT want to get hit with either one. Makes .38spl a real defensive round. Back in the day, detectives used wadcutters in their back-up ankle guns because they actually got the job done.
I prefer this hard cast wadcutter over the many 38 special +P hollow points I've fired out of my full weight steel frame snubbies. Most +P hollow points fired out of a 1 7/8 or 2-inch snubby don't have the powder burn time before the bullet exits the bore to achieve the velocity needed to expand on impact. Most act much like a full metal jacket round remaining near fully formed on retrieval and examination. It is what it is.
I use this load as my winter carry load . People here in Michigan wear multiple layers of heavy clothing in the winter and I'm confident of the 150gr wadcutter's ability to penetrate deeply enough to stop a fight. I carry it in a ported S&W mod 642 and it's comfortable to shoot and very accurate altough it doesn't shoot to POA of the revolver which I believe is regulated for 125 gr ammo.Very consistent and very high quality ammo. Thank you BB for your great quality. You are always my go to brand
The only drawback of this .38 ammo, is that because of it's sharp edges, it's difficult to load fast from a speed loader. Other than this, it would be the "ONLY" .38 ammo I would use in my Smith and Wesson 637 Snubby. Very controllable out of an airweight J-Frame, I can group all five rounds in a 2.5 inch group at 10 yards with it, and I've no doubt it can deliver on the defensive end. I try to preach it's use to everyone with a Compact Revolver. Good stuff.
Recently purchased some of this load to replace my dwindling supply of remington 158 p lswchp. The Remington load has always been my carry load, it chronographs at about 800 fps from my s&w 638 airweight. The buffalo bore wadcutter load averaged 863 fps out of the same gun and had the same perceived recoil. I recently used the wadcutter load to shoot a very large 'possum stealing eggs from my chicken house. The bullet enter the head just above the nose and exited the left hip of the 'possum the proceeded to bore a hole all the way through a 2x4 in the wall and came to rest in the ground outside. The recovered bullet looked as though it could be loaded and fired again. The 'possum was killed instantly. Although a 'possum is not an especially tough critter this account is a testament to the penetration of this load. This load shoots perfectly to the sights on my snub and will group a whole cylinder inside a beer cap at 7 yds. I'll be buying more. Thanks Buffalo bore keep'em coming.
I am somewhat skeptical of hollow point designs, even in today's market. I want a round that will perform flawlessly every time. I see hollow points fail to expand, which for me makes them guess work if they will work or not regardless of the probability they will (especially with older calibers such as 38 Special (lower velocity)). As a result, I try to find the best suitable non-expanding ammunition in the caliber in question. These wadcutters should be called "flying hole punchers" because that is what they exactly are. In my tests they out-penetrate every other 38 Special round (standard velocity) and leave a more devastating wound path. Self defense situations are fast, with these you don't need to worry about their hand/arm being in the way in order to put it into their ribcage.