Your cart is currently empty
Heavy .38 Special +P Pistol and Handgun Ammo
Heavy .38 Special +P Ammo
125 gr. L.V. Jacketed Hollow Point (1,050fps/M.E. 306 ft. lbs.)
20 Round Box
The new Buffalo Bore Heavy 38 SPL +P ammo will maximize the effectiveness of your 38 SPL revolver. The powders are flash suppressed so as to not hinder your vision should you be required to drop the hammer in low light.
Item 20B/20 uses the low velocity (LV) Jacketed Hollow Point bullet that is designed to expand at as little as 800 fps, so you will get the expansion out of very short barrels.
Whether you prefer the very soft semi wadcutter lead bullet, or a very soft JHC, (jacketed hollow cavity) these HVY 38 SPL +P loads will turbo charge your 38 SPL revolver.
The tactical reload:
Short (2 to 2.5 inch) barreled revolvers have short ejectors. Those short ejectors typically used on 2 inches to 2.5-inch barreled revolvers are not long enough to fully eject 357 magnum brass. So if you are forced into a situation where you need to reload your weapon under fire, you will find yourself picking your fired/empty 357 brass out of the cylinder one at a time - this is very bad. On the other hand, 38 SPL brass is shorter than 357 brass and those short ejectors will often fully eject 38 SPL brass. We have experimented a great deal with short barreled revolvers and have found that 38SPL brass normally offers an advantage if you need to reload your "snub nose" revolver, in a hurry.
Check out the below velocities that I fired from my personal revolvers. We believe that real world, stock, "over the counter" guns, give real world results, so we don't advertise velocities that are fired from long test barrels.
These 38 SPL +P loads are generating low-end 357 Magnum, ballistics. If you have an older or more fragile 38 SPL, or if you are recoil sensitive, consider using our HVY Standard Pressure 38 SPL ammunition. It is safe to be fired in any 38 SPL revolver and it still packs much more punch than ordinary 38 SPL ammo.
Item 20B: 125gr. Jacketed Hollow Point. This is the Low velocity version designed to expand under 800 fps. It will mushroom violently and penetrate roughly 12 inches in human flesh.
➤ 1072 fps (319 ft. lbs.) -- S&W mod 60, 2-inch
➤ 1108 fps (341 ft. lbs.) -- S&W mod 66, 2.5-inch
➤ 1180 fps (386 ft. lbs.) -- Ruger SP101, 3-inch
➤ 1258 fps (439 ft. lbs.) -- S&W Mt. Gun, 4-inch
Item 20B - Exterior Ballistics Charts for several different Muzzle Velocities
_______________________________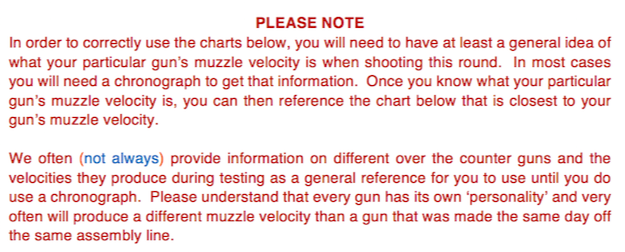 Muzzle Velocity @ 1500 fps for Item 20B
Muzzle Velocity @ 1400 fps for Item 20B
Muzzle Velocity @ 1300 fps for Item 20B
Muzzle Velocity @ 1200 fps for Item 20B
Muzzle Velocity @ 1100 fps for Item 20B
Muzzle Velocity @ 1000 fps for Item 20B
Field Proven pistol and handgun ammo. Maximum firepower ammo. Best ammunition for pistols and handguns for sale. Buffalo Bore. Strictly big bore. Strictly Business.
Attention!
You must be 18 or older to order ammunition. Ammunition must ship UPS ground. Due to Department of Transportation regulations, we cannot accept returns on Ammunition. Make sure to use the correct ammunition in your gun. Check local laws before ordering.
Another great product from Buffalo Bore. I keep finding their stuff on the rack at my local Cabellas and then bring it home to try; this .38 spl load is another home run! Hits over 1050fps from a chief's special and an aluminum airweight, 11-14" penetration and a DRAMATIC wound cavity in my own gel testing, much more resembling .357 mag and Sig loads than typical .38 loads. Also this round expanded every time out of 20 test shots into water, ballistic gel and testing through drywall board and yellow pine wood. This is replacing the "FBI load" and Speer's 135gr GDHP as my go to carry load for my backup snubbies. Also to the guys loading this up, keep up the good work and I'll be placing my own online order soon!
LOVE this round. Shoot it out of my SW442 airweight...snappy recoil but first shot placement Dead Center @ 10yds no problem. This is my go to self-defense round for my "little" .38special.
now when people try and tell me why do you carry a lil snub 38 i tell them about this round and they shut up lol
Great ammo. I shot it out of a SW 642. Accuracy is dead on. Very powerful round. Recoil is noticeable compared to other P. With that being said this is the round I would reach for when the SHTF.